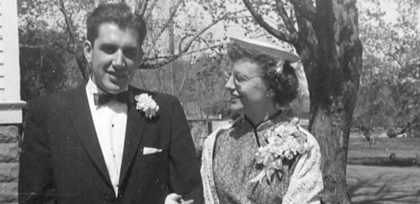 Dale and Dorothy Weir
Sometimes, philanthropy shines in the most unexpected of ways.
Odds are, if you've lived in Sioux Falls long enough, you've likely seen the large evergreen tree on Minnesota Avenue, near downtown, that's adorned with thousands of colorful lights each holiday season.
Beginning each December for more than 20 years now, this lighted tree has stood tall over the heart of the city, symbolizing the magic and joy of the holiday season
But you might not know that this special tree came to be because of philanthropy.
It all started one afternoon when Dale Weir and his wife, Dorothy, were out for a drive. He asked Dorothy what she wanted for Christmas.
Dorothy pointed out the window to a 60-foot evergreen tree outside.
"That tree," she said, "only with lights and decorations, to celebrate the magic of the holiday season."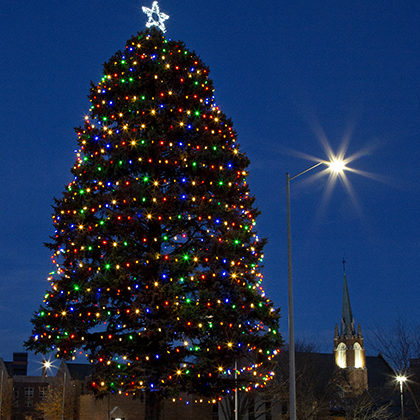 Her wish made an impression on Dale. After they returned home, he purchased the tree and had it decorated for his beloved Dorothy for Christmas.
That first lighting soon created a tradition with the Weirs overseeing the decorating of the tree each year as a gift to the community they loved so much.
Years later, Dale worked with the Community Foundation to develop his legacy plan. Among his wishes: he wanted to do something to share the joy of the holiday season with everyone in Sioux Falls.
We helped him build a plan that includes an endowment to pay for the lighting of what has become known as "Dorothy's Tree," located in front of First United Methodist Church on Minnesota Avenue, each year.
Today, that tree symbolizes all the love this couple had for each other, and for the community they called home.
Since 1984, the Community Foundation has had the pleasure of helping donors like Dale and Dorothy Weir think through and document the causes and organizations that mean the most to them, explore the scope of impact they wish to make after their life, and establish a plan for how to provide charitable support to these causes after they've passed on; a plan that honors their legacies.
If you haven't already, we encourage you to think about how you will continue to support the causes and organizations that are important to you after your life. Having a legacy plan in place provides the maximum benefit to your community and the organizations which mean the most to you.
Once your legacy plan is established, the Community Foundation will be here to carry out your charitable vision and ensure that your philanthropic wishes are fulfilled, for good, for ever.