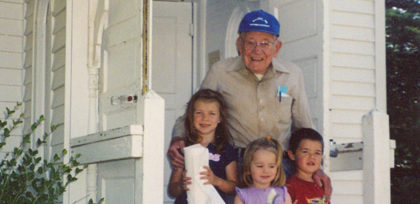 Arthur "Art" Moe
When the Japanese bombed Pearl Harbor two weeks before his 28th birthday, Arthur "Art" Moe knew his life was about to change forever.
A short time later, Moe climbed aboard one of the first trains outbound from Sioux Falls, freshly enlisted in the U.S. Army and ready to do his part.
After the war, Moe returned to Sioux Falls and worked for John Morrell & Company.
Later, after his parents died, Moe stayed on at the family farm near Renner, determined to hold onto the land where he and his eight siblings had been raised.
West Nidaros Lutheran Church in rural Crooks was a big reason why Moe's ties to the area were so strong.
Doing things for his church was a big part of his day-to-day life. In addition to teaching Sunday School, Moe launched a series called "Our Neighbor's Faith" to explore world religions. He served on a task force to plan for the church's future needs and even created a one-third scale replica of the original Nidaros church by hand.
So, when it became clear to Moe that he wouldn't always be around to steward his church, he decided to take steps to provide for its future.
After his death in 2007, Moe's estate provided for his family, for the upkeep of the replica he'd created and for charities and clubs he cared about. The remainder of his assets went to the Sioux Falls Area Community Foundation to establish the Arthur M. Moe Fund, a permanent endowment benefiting West Nidaros Lutheran Church.
The Community Foundation also holds a scholarship in Moe's name to benefit graduating seniors of Baltic High School who plan to attend an accredited college, university, vocational, or technical school.