For the Love of Education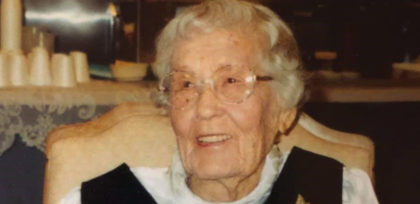 Elvira "Vera" Larson
Born in Platte, South Dakota, in 1910 to a long line of teachers, Elvira "Vera" Larson followed in her family's footsteps and completed a two-year teacher-training course after high school. She went on to teach in rural schools throughout Charles Mix County.
After WWII broke out, she left teaching to support the war effort, working at Woodard Governor, an aircraft engine control system manufacture, in Rockford, Illinois.
After the war, she returned to South Dakota and eventually settled in Sioux Falls in the late 1950s. Here, she found her way back to the classroom, teaching fifth grade at Hawthorne and Jane Addams elementary schools. Later in life, she returned to school to obtain her four year teaching degree from the University of Sioux Falls.
"She was strong willed and she knew what she liked," said Karen Hattervig, Larson's niece. "She just plowed ahead."
For Larson, teaching was her life, which meant she went above and beyond to help her students.
"She often rounded up our hand-me-downs and gave them to her students who needed them," Hattervig said.
Before Larson died in 2005 at the age of 94, she made the decision to use a portion of the proceeds from her life insurance to establish an endowment at the Sioux Falls Area Community Foundation.
Today, her legacy lives on through endowed funds created in her name that provide annual support for Trinity Lutheran, her hometown church in Platte, the Sioux Falls Area Retired Teacher's Scholarship Fund and scholarship programs at the University of Sioux Falls.