Giving Now and Beyond
We can help your clients establish a deferred gift to help carry out their philanthropic vision and goals. Working with the Foundation ensures your clients' wishes are documented and carried out as intended.
Adding More Value to Your Estate Planning Process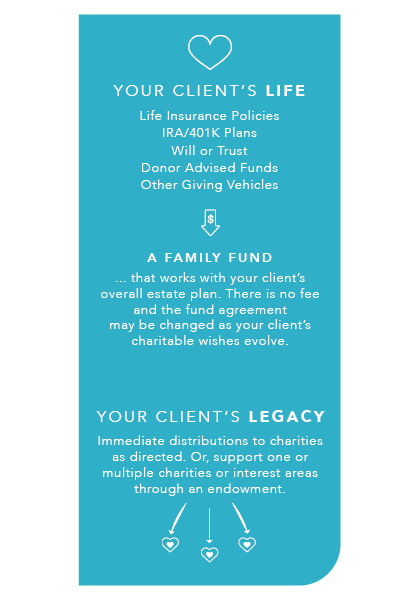 The Community Foundation is here to serve as a hub for your client's philanthropy, simplifying and maximizing their giving during their lifetime, keeping detailed plans for how they wish to give after their life, and upholding their charitable legacy for generations to come.

For nearly four decades, we've been working as a trusted partner to advisors who are helping clients develop their estate plans.
Working with you and your team, we can add value to your process by developing a tailored legacy plan that works in conjunction with your client's trust or will.
Planned Giving Options
Working with you and your client, we help create a plan to both maximize tax savings and match your clients intent. Whether it's an income producing charitable giving vehicle, or an asset left through a will or trust, we can help guide the process.
We are experts in working with a variety of planned giving options, including:
Bequests
Retained Life Estates
Life Insurance Policies
IRA/401K Plans
Charitable Lead Trusts and Charitable Remainder Trusts
Charitable Gift Annuities
Leaving a Legacy
By bequeathing a percentage of their trust or will to their fund at the Community Foundation, we can begin the work of detailing your client's charitable wishes, ensuring their legacy of care lives on.
Sample Language to Use in a Will or Trust
"I give, devise and bequeath ___________ (describe percentage or dollar amount to be given) to the Sioux Falls Area Community Foundation, Inc, a nonprofit corporation located in Sioux Falls, SD 57103, tax identification number 31-1748533, to be added to the ____________Fund, a component fund of the Sioux Falls Area Community Foundation, of which distribution and spending policy instructions are provided."
Please note: the Foundation retains the right to modify or remove any restriction or condition on the distribution of funds from an endowment or Fund, if in its discretion such restriction or condition becomes unnecessary, incapable of fulfillment, or inconsistent with the charitable needs of the communities served.