Community Foundation Awards More than $238,000 to Local Nonprofits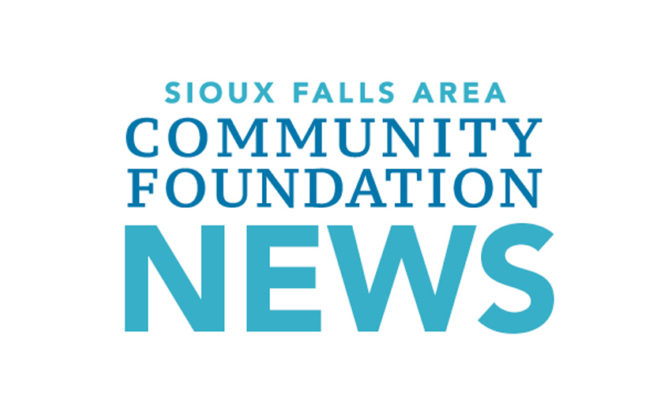 The Sioux Falls Area Community Foundation has announced its latest round of Community Fund grants, totaling more than $238,000 in support for local nonprofits and causes throughout our area from July 2019 – January 2020.
Supported by unrestricted gifts from individuals, families and businesses throughout the area, the Community Fund is the Foundation's most visionary endowment; Community Fund grants are designed to "provide the charitable capital necessary to motivate new ways of thinking about how, together, we can create a stronger more vibrant community," Foundation officials said.
"Here, we know and understand the important role nonprofits play in our community – that's why we're committed to providing support to help nonprofits build and introduce transformational new programs that address important community needs or opportunities. We're also here to help nonprofits who are exploring and implementing measures designed to strengthen their organizational infrastructure, leading to improved operational efficiency and long-term sustainability," said Patrick Gale, the Foundation's vice president for community investment.
The following organizations are recipients of Community Fund grants from July 2019 – January 2020:
Black Hills Playhouse: Dedicated to delivering exceptional theatre programs that engage diverse people and strengthen South Dakota communities, the Black Hills Playhouse has been creating inclusive performing arts experiences for more than seven decades.

The Community Foundation grant supports a new program designed by the Black Hills Playhouse to help those with disabilities improve their health, well-being and independence through the performing arts. Read more about this grant.


Center for Disabilities: Working toward a shared vision that foresees a nation in which all Americans, including Americans with disabilities, participate fully in their communities, the Center for Disabilities is located in the Sanford School of Medicine and provides training for individuals with disabilities, as well as direct support professionals, family members and special education teachers.

In South Dakota, the need to train and educate those who work in special education has never been greater. According to the Center for Disabilities, more than 21,600 children throughout the state have a disability. And in 2018, 64 percent of children with a diagnosed disability were attending public school in a general education classroom.

The Community Foundation grant will provide support for the Center's South Dakota Special Education Conference 2020. The conference provides a platform for practitioners, educators and parents to present and discuss the most recent innovations, trends and concerns, as well as practical challenges encountered and solutions adopted in the fields of special education. The objective of the conference is to exchange and share knowledge and experiences in the broad realm of special education.
Centerville Development Corporation: With a mission to promote a sense of community pride among Centerville's 900 residents, the Centerville Development Corporation is focused on creating a friendly, family-oriented community built on traditional values that provides youth with a high quality education, that promotes and supports local businesses and that provides a high quality of life.

The Foundation grant supported a series of placemaking efforts designed to enhance the vibrancy of the Centerville community, including a series of downtown beautification efforts, including brightly colored banners, hanging flower baskets and more. Read more about the grant.
Chabad Jewish Center of South Dakota: Founded in 2016, the Chabad Jewish Center of South Dakota aims to provide for the spiritual and material needs of all Jews in the community, regardless of their backgrounds, and to provide a welcoming environment for friends beyond the Jewish community to find insight and explanation on Judaism's history and universal values.

The Community Foundation grant provided support for a public discussion titled "Learning from the Past, Living in the Present, Looking to the Future: A Historic Evening with Anne Frank's Stepsister Eva Schloss." Designed to build and foster dialogue and awareness throughout our community, the event was held on Tuesday, Oct. 29, at Augustana University.
Character on Track: Dedicated to providing an education framework based on the "Five Marks of Character:" trustworthiness, respect, accountability, citizenship and kindness, Character on Track serves 59 school districts throughout eastern South Dakota and northwest Iowa. By introducing more than 80,000 elementary and middle school students to great role models, the organization helps youth develop meaningful character traits that foster good decision making.

The Community Foundation grant supports the organization's enhanced leadership training for high school seniors who serve as role models for younger students. The leadership training is designed to help participants develop communication, organization and collaboration skills as well as techniques to identify and leverage their own individual strengths.
DakotAbilities: Offering assistance to more than 135 individuals ranging in age from 16 to 80 from 41 different counties throughout South Dakota, DakotAbilities seeks to create a culture where people with disabilities can reach their highest potential and create meaningful lives.

In addition to work and day programs, DakotAbiliites also offers 24-hour nursing and health care services, providing care for the most challenging and delicate health issues facing individuals from throughout the state.

The Community Foundation grant will support DakotAbilities' Better Nursing Care Through Better Technology initiative, an effort designed to improve knowledge and skill among nurses, increase staff efficiencies and capacity, and improve the level of health, safety and welfare provided to patients served. The grant will cover costs associated with the effort to transition to an online medical records system.
EmBe: Every day, EmBe uses its fleet of vans and its bus to transport local kids to and from places throughout the city. Parents rely on the organization's before- and after-school care programs to safely transport their kids to and from school each day. And during school hours, EmBe uses its vans and its bus to bring pre-school students to and from various destinations for field trips and activities. Its bus alone, EmBe officials said, gives roughly 23,000 rides each year.

When two of its vans and its bus were vandalized on Friday, Dec. 13, EmBe officials needed to act quickly to find a solution. The Community Foundation stepped in to help, awarding the organization a grant to help purchase a new transport vehicle.

Harmony South Dakota: Founded in 2013 by Dan and Heidi Goeller, Harmony South Dakota is an after-school program designed to empower children and positively transform their lives through immersive music education and performance. The program launched thanks in part to a grant from the Sioux Falls Area Community Foundation.

Through the experience of making music in community, participants develop self-discipline, self-confidence, concentration, coordination, emotional awareness, patience, cooperation, imagination and cognition. Many of the families Harmon serves face significant life challenges and 77 percent of participants come from low-income families.

For the 2019-20 academic year, 81 students from 11 schools throughout Sioux Falls are participating in Harmony South Dakota. Participation is free for students thanks to the generosity of donors.

With enrollment up by 30 percent, the Community Foundation grant will help support the addition of a new teaching artist to Harmony's staff, a position that will lead orchestra rehearsals, teach private instrumental lessons, teach musicianship classes, assist with lesson planning and help with grant writing and fundraising activities.
Hope Haven: Founded in 1994 to improve the economic position, social welfare and independence of people with mobility challenges, Hope Haven collects and refurbishes wheelchairs and, in collaboration with the South Dakota State Penitentiary, builds new pediatric wheelchairs. The organization then works with partners around the world to identify needs and deliver custom fit wheelchairs to those in need.

The Community Foundation grant will be used toward the purchase of a second mill machine for the Prison Workshop. The additional mill will offer inmates opportunities for meaningful work as well as the chance to develop useful skills.
Leaders of Tomorrow: Offered by Think3d, the Leaders of Tomorrow program provides emerging young leaders with intrinsic skills, such as communication, tone, body language, exposure, and giving and receiving feedback. The program also discusses the importance of self-awareness and self-motivation. Leaders of Tomorrow consists of 12 two-hour sessions followed by the opportunity to continue the relationship with a six-month mentorship. The Community Foundation grant supported the 2019 Leaders of Tomorrow class.
Levitt at the Falls: A fully accessible outdoor amphitheater with an open green space on the banks of the Big Sioux River, Levitt at the Falls served nearly 65,000 members of our community through 30 free outdoor concerts in its 2019 inaugural season.

The Community Foundation grant will support the Levitt's growing Community Engagement Program, a series of workshops and performances for underserved individuals in our community. New for the 2020 season, the Levitt's Community Engagement Program is set to feature an ENCORE series, offering small, intimate performances with visiting artists in non-traditional venues throughout the community.

The Community Engagement Programs will be scheduled in addition to the free, live public concerts. Designed to build dialogue around perseverance, encouragement and hope, the programs will allow smaller groups to engage more intimately with the artists, their art forms and their personal stories.
Lutheran Social Services of South Dakota: There are several Sioux Falls area organizations dedicated to serving victims of domestic violence, but Lutheran Social Services will now be the only local nonprofit offering group therapy for those who commit domestic violence.

In the past six months, the South Dakota Network Against Family Violence and Sexual Assault reported 853 police calls for domestic violence incidents in Minnehaha and Lincoln Counties, resulting in 795 arrests.

Domestic Violence Moral Recognition Therapy — behavioral therapy aimed at decreasing the likelihood of someone re-offending — will be offered under LSS' Re-Entry Services. These therapy groups are offered in response to community needs and in an effort to change thought and behavior patterns among past abusers, thereby decreasing the number of re-offenses.

The Community Foundation grant will provide support to LSS as it builds these services and transitions domestic violence therapy groups from The Compass Center, where these therapy groups were previously offered.
Mighty Corson Art Players: A nonprofit community theatre housed in the Corson Playhouse in Corson, South Dakota, the mission of the Mighty Corson Art Players is to create accessible theater experiences.

Thanks to growing community interest and engagement over the past four years — the audience base is up by 20 percent over the 2015-16 season— Mighty Corson Art Players have expanded to feature three mainstage shows as well as a popular summer youth camp.

The Community Foundation grant will provide assistance to help the organization add a part-time Managing Artistic Director position. This position will assume day-to-day advocacy, maintenance and business related tasks, helping to ensure consistent experiences for the community and high standards of artistic quality and customer service.
One Voice Community Choir: In an effort to celebrate the arts, One Voice Community Choir strives to build bridges and blend voices from across backgrounds, gender, race, age and religious experience. With more than 70 members from throughout the community, One Voice Community Choir presents the idea that music can unify us, connect us and help us develop lasting relationships that transcend our differences.

The Community Foundation grant provides support for costs associated with the Choir's organizational efforts and its rehearsal periods.
Naomi Project: The Naomi Project is a workers' and immigrants' rights organization dedicated to equipping vulnerable individuals with an understanding of their rights and how to exercise them. When victims of labor trafficking are identified, the Naomi Project provides accompaniment services — food and shelter, as well as access to medical attention and legal representation — so victims can begin the recovery process.

The Community Foundation grant will support the Naomi Project's Initiative to End Labor Trafficking, an education and outreach effort designed to build awareness and create a culture of accountability. Building on existing relationships with known victims of labor trafficking, the initiative also aims to encourage more victims to come forward.
Rock Ranch: Founded in 2016 by the Dan & Marie LaRock Family, Rock Ranch provides horsemanship training, equine facilitated therapy, riding lessons and more to children, young adults and seniors in Minnehaha, Turner and Lincoln counties. Its mission is to provide opportunities for individuals to improve themselves physically, cognitively, socially and psychologically while learning the art and skills of horsemanship.

The Community Foundation grant will support Rock Ranches' newly introduced Equine Assisted Psychotherapy (EAP) services, a technique where one or more equines (horses, ponies, donkeys, burros or mules) are incorporated into activities to help clients achieve emotional growth and learning. In addition to offering EAP services, Rock Ranch is also introducing an EAP Scholarship Fund.
Sioux Falls Arts Council: In collaboration with the Sioux Falls Arts Council and the City of Sioux Falls, the Community Foundation's grant supported the development of the new Martin Luther King Jr. statue that now stands in Van Eps Park. Created by local artist Porter Williams, the statue is located near the site of the former parsonage where Dr. King spoke when he visited Sioux Falls in January 1961. Read more about the grant.
South Dakota Symphony Orchestra: Founded in 1922 and incorporated in 1965, the mission of the SDSO is to celebrate the tradition of live orchestral music and enrich the lives of people throughout our region through concerts, education and community engagement programs.

The Community Foundation grant will support an infrastructure enhancement designed to expand the organization's part-time Finance Manager position. This enhancement will give way to more effective opportunities for strategic collaboration, greater accuracy in fundraising and better cost analysis.
South Dakota News Watch: A non-profit organization dedicated to providing in-depth public service journalism, South Dakota News Watch illuminates the essential link between journalism and democracy. Since its founding in 2017, News Watch has produced more than 120 investigative news stories, shedding light on important statewide issues across all sectors, from agriculture to education, public safety, politics and more.

The Community Foundation grant will support News Watch's newest endeavor, Engage South Dakota, an initiative that seeks to engage citizens, students and communities in the complex challenges and opportunities that exist within the state.

The grant brings the Community Foundation's total charitable investment in South Dakota News Watch to $40,000 — an illustration, officials have said, of the Foundation's commitment to serve a kind of charitable venture capitalist for aspiring nonprofits who exhibit high potential to drive positive change and/or create meaningful social impact. Learn more.
University of South Dakota Center for Professional Development: Established in 2019, the USD Center for Professional Development is housed on the campus of the USD Community College for Sioux Falls. Its vision is to become the region's go-to solution for workforce and professional development needs by providing noncredit short courses and programs on topics such as leadership, communication skills, project management and more.

The Community Foundation grant will support the Center's new Nonprofit Leadership Excellence Certificate Program. Built as a series of one-day short courses and workshops focused on information nonprofit leaders need to enhance their organization's success, the program will feature topics such as board development, strategic planning and implementation, fiscal management tactics and strategies, program evaluation and more. Learn more about the Foundation's support of local nonprofits.