Supporting Placemaking in Centerville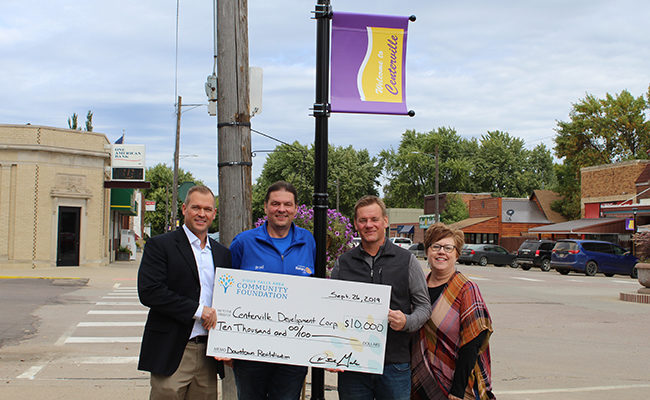 A recent grant from the Sioux Falls Area Community Foundation to the Centerville Development Corporation is supporting a series of placemaking efforts designed to enhance the vibrancy of this charming community. At the same time, a new organizational endowment will help enrich the quality of life for Centerville residents for generations to come.
"Here, we believe we have a responsibility to help preserve and sustain what's good in the communities we serve, and to champion ideas and movements with the potential to make our communities even better," said Patrick Gale, vice president, community investment. "We see the spirit of care and community momentum alive in Centerville so it's been a privilege to help support these endeavors."
Creating a Better Today
The grant, provided through the Foundation's Community Fund program, supported a series of downtown beautification efforts, including brightly colored banners, hanging flower baskets and more.
The goal, Development Corporation officials say, is to promote a sense of community pride among Centerville's 900 residents.
"We embrace the fact that we're a bedroom community, but we want to make Centerville a place where people want to live and raise their families," said Economic Development Coordinator Jared Hybertson.
Placemaking has been a key goal of the Development Corporation in recent years and the efforts are easy to see.
In addition to a bank, grocery store, thrift shop and more, downtown Centerville now features a new Mexican restaurant and a new mechanic shop. Work is currently underway to renovate and convert the former Post Office building into a new coffee shop and future plans call for a salon as well as a space dedicated to celebrating and promoting local artists.
The new additions to downtown are a direct result of surveys administered by the Development Corporation to gauge community needs.
"On the survey, we asked 'what are we lacking in the community,'" Hybertson said. "The top answer was a mechanic shop. So, we recruited a mechanic to move here."
Recruiting businesses, and offering retail space, has helped spur economic development, the Development Corporation said.
"We're focused on quality of life, so we want to make downtown appealing," Hybertson said, noting that future ideas have included adding additional trees and outdoor sitting areas.
"We've had really positive reactions from members of the community," he said.
Creating a Better Tomorrow
In addition to present-day enhancements, the Centerville Economic Development Corporation is also committed to ensuring the vibrancy of the community in years to come.
It's why the Corporation turned to the Sioux Falls Area Community Foundation for help in creating an organizational endowment, a model that provides a permanent source of financial support for the designated organization.
In addition to featuring annual distributions of up to 5 percent from the fund's average balance, the Community Foundation's organizational endowments provide nonprofits and causes with a suite of administrative, strategic and professional solutions designed to help ensure their financial sustainability.
"Establishing an organizational endowment with the Sioux Falls Area Community Foundation is a little like adding another member to your team," said Mary Kolsrud, vice president, philanthropy. "We handle all administrative responsibilities, accounting services and investment management related to the organization's fund, allowing the nonprofit to focus on its mission and purpose."
For the Centerville Development Corporation, its mission "to create a friendly, family-oriented community built on traditional values, providing youth with a high quality education, promoting and supporting local businesses and providing a high quality of life."
The endowment, Hybertson said, is key to advancing that mission.
"It's going to help us from a sustainability standpoint," he said. "We want to keep the ideas coming and we're developing a new strategic plan. Sustainability is huge to keeping the momentum going."