Foundation Celebrates Dedication of Martin Luther King Jr. Statue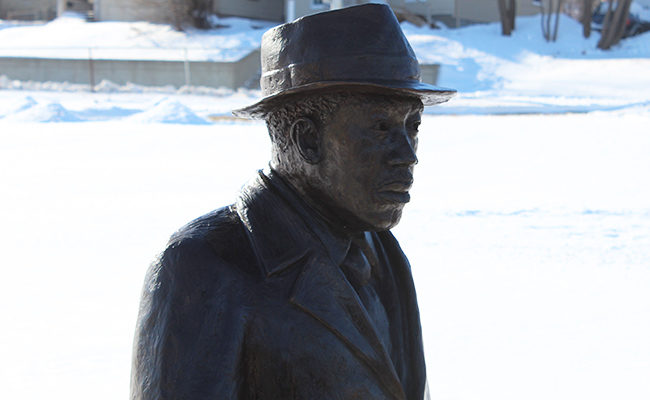 The life-sized bronze statue of Dr. Martin Luther King Jr., dedicated today at Van Eps Park in Sioux Falls, was made possible thanks in part to a grant from the Sioux Falls Area Community Foundation.
Organized in partnership with the City of Sioux Falls and the Sioux Falls Arts Council, the grant "celebrates the legacy of Dr. Martin Luther King Jr. — a man who dreamed of equality and dignity for all people — while also recognizing the powerful ways in which public art can connect and unite us," said Patrick Gale, the Community Foundation's vice president for community investment.
"Here, we believe a thriving community is one where people and families feel safe, have equal access to the resources they need for their health and well-being, have opportunities to inspire and be inspired through the arts, and are encouraged to drive bold change through leadership and service," Gale said. "This project commemorates a man — a true servant leader — who believed in, dreamed of and pushed for those same things, for all people."
"This beautiful statue will ensure that Dr. King's legacy lives on," Gale said. "That's the power of public art — to heighten our awareness; to inspire us to find common ground, build bridges and open doors to help strengthen our community. The Sioux Falls Area Community Foundation is very proud, indeed, to support this important project."
Created by local artist Porter Williams, the statue is located near the site of the former parsonage where Dr. King spoke when he visited Sioux Falls in January 1961.
Martin Luther King Jr. Statue Dedication