Helpful Definitions and Answers to FAQs
Helping You Achieve Your Dreams
You have goals. We want to help you reach them.

As you begin your scholarship search, these answers to frequently asked questions and definitions for commonly used terms may be helpful.
You have questions. We have answers.
What does FAFSA stand for? What's the difference between tuition and cost of attendance? If I receive a scholarship, do I have to pay it back? We have answers to all these questions, and more.
Answers to Frequently Asked Questions
Following are answers to questions we often receive. If you have a question or need additional information beyond this list, please contact us anytime — we're here to help!
A: Traditional students are those who are typically in college between the ages of 18-23, beginning right after high school and graduating in four to five years.
A: This term generally refers to students who do not go the typical route of attending college immediately after or very soon following high school graduation. These individuals are usually over the age of 23.
A: FAFSA stands for Free Application for Federal Student Aid. FAFSA is an application for federal grants, work-study, and loans that all students should and can fill out. Completing the FAFSA is necessary to determine your Expected Family Contribution (EFC) — an amount required to begin your Community Foundation scholarship search.
A: Financial aid refers to any type of student loan, scholarship, or grant you receive to help pay for college. A financial aid package is the collective total of your student loan(s), scholarships and grants.
A: Financial need is determined by the difference between the cost of college and the student's ability to pay for it. Typically, this takes into account the ability of the student's parents to help pay for school, as well.
A: A scholarship is an investment in you — a financial award to help you pay for college. Scholarships do not need to be paid back.
Scholarships from the Sioux Falls Area Community Foundation are especially significant because they are funded by donors who believe in the power of education and want to invest in the promise of future generations. By creating a scholarship fund at the Foundation, donors are entrusting us to carry out their philanthropic intentions. So, receiving a scholarship from the Community Foundation illustrates our belief in you — in your talents, your dreams and your potential.
A: A full-time student is one who is taking a full course load of 12 or more credits in a semester. A part-time student is one who does not have a full course load, meaning they are taking fewer than 12 credits in a semester.
Helpful Definitions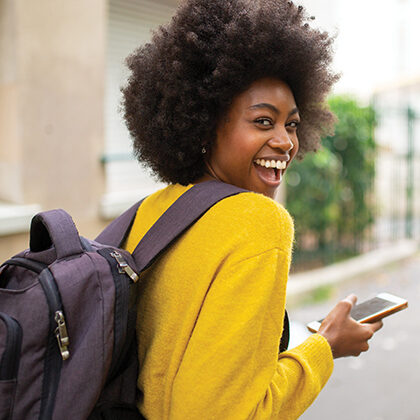 As you begin your college application process, you will encounter the following terms. We're hopeful these definitions are helpful:

Grants: Federal and state governments tend to the main sources for student grants. A well-known example is the federal Pell-Grant program.
Loan: An education loan is a sum of money borrowed to finance post-secondary education or higher education-related expenses.
The total cost of attendance: The average annual cost to attend a particular college or university. This includes tuition and fees, room and board, books, supplies, and other expenses.
Tuition and fees: Tuition is the price colleges charge for classes. Students also pay other fees related to enrolling in and attending a college. The cost of tuition and fees varies by college.
Room and board: The price paid to cover on-campus living and meal plan expenses usually paid for a semester or year at a time.
Questions? Need additional information? Contact us anytime — we're here to help!