Scholarship Resources for Schools
Recognize and Celebrate Your Scholarship Recipients
As guidance counselors, principals and teachers, you've played a key role in helping your students discover and apply for scholarships from the Sioux Falls Area Community Foundation. We're grateful for your partnership!
Now, you can use these tools to help recognize and celebrate your student scholarship recipients.
Scholarship Certificates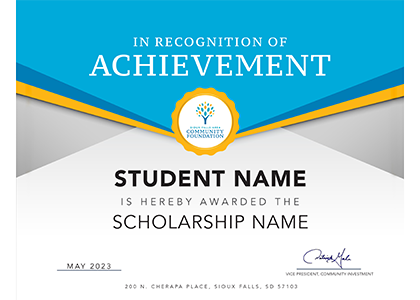 Celebrate your students who have been selected for a scholarship award with our easy-to-use, customizable Scholarship Certificate.

Follow these easy steps to create scholarship certificates for your students:
Click the arrow below to access the customizable certificate.
Download the file to your computer.
Add your student's name and the scholarship name to the form fields.
Save the file. Make additional certificates for additional student scholarship recipients as needed.
Print or email.
scholarship certificate
Certificate.writable.2023.pdf