Community Foundation Highlights Collaborative Philanthropy as the Driver Behind Great Results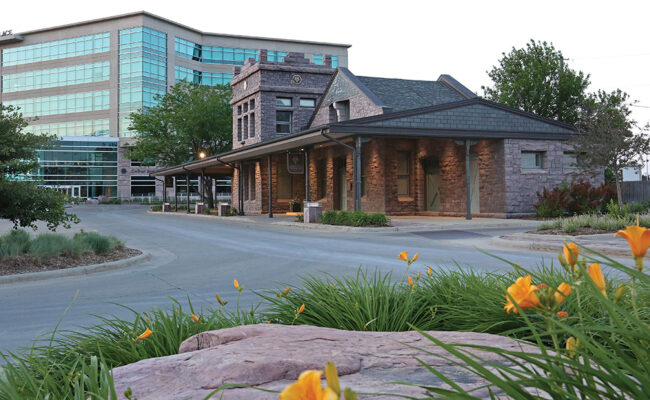 What's the key to building a brighter, stronger community?
According to the Sioux Falls Area Community Foundation, it comes down to one word: collaboration.
While the organization celebrates another record year of charitable giving — it received more than $50 million in gifts to charitable funds in its last fiscal year, bringing its total charitable assets to more than $264 million — President Andy Patterson says the Foundation is seeing a growing trend emerge among local donors who are interested in far more than just giving back. Rather, they want their philanthropy to be collaborative.
"As we often say, philanthropy is about so much more than just gifts and assets. Philanthropy is about working together for the common good, working together to build a thriving community," Patterson said. "Today's donors want to do more than just give financially. They want to use their gifts to drive meaningful change. They're interested in learning about the issues we face, talking through ideas, dreaming of possibilities and working with others to develop strategic investments that can help create viable solutions."
Working Together for the Common Good

'A widespread desire to do good and push for better'
Collaboration was a central theme in the Foundation's work over its last fiscal year, Patterson said, explaining that, more and more, the Community Foundation serves the role of facilitator, connecting donors, area nonprofits, civic leaders and community members.
"We're here to facilitate dreams," he said. "Dreams that have the potential to enrich and enhance the vibrancy of our community. Dreams that can open doors, build bridges and help solve the complex challenges we face today."
Patterson points to recent charitable investments and philanthropic endeavors as examples, including the gift from Garry and Dianne Jacobson to create Jacobson Plaza, a new community park at Falls Park West featuring an ice ribbon and an all-inclusive playground; a donation from the Seed for Success Foundation to complete construction on The Link, the community triage center; and a grant to launch the Career Connections Program, a new initiative designed in collaboration with the Sioux Falls Development Foundation to support workforce development.
"Despite the challenges we've weathered over the last 18 months, there remains a widespread desire to do good and push for better that's pulsating throughout our community. You can literally feel the momentum. People love Sioux Falls, and more than ever, they want to step forward to help make this special place even better," Patterson said. "We're beyond proud to say that, in partnership with our donors, we granted more than $24 million to nonprofits last year — that's an extraordinary number that's creating real impact for people and families across our area."
Illustrating Collaboration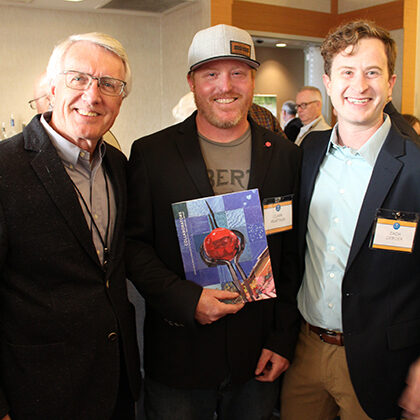 When it came to illustrating the power of collaboration for its 2021 Annual Report, the Foundation turned to Zach DeBoer, an artist well known for creating collaborative art.
Over the course of about three months, DeBoer led a multi-phased project involving multiple artists and dozens of contributors, including staff and guests of Children's Inn.
It all started with "Beacon," a sculpture by Clark Martinek featured in this year's SculptureWalk and sponsored by the Foundation.
"Beacon" was then photographed by local nature photographer Paul Schiller. From there, DeBoer took over, dividing and printing Schiller's image into 35 separate square images.
Next, he led a painting class for the staff at Children's Inn, offering tips and techniques on how to recreate their small portion of the image onto their 4" x 4" canvas board using acrylic paints.
From there, staff worked with guests of the Children's Inn over the following week to paint the remaining images. Lastly, DeBoer assembled the pieces, recreating Schiller's original image — with a unique look.
Martinek's "Beacon" sculpture provided the perfect inspiration for the project, said Mary Kolsrud, the Foundation's vice president for philanthropy.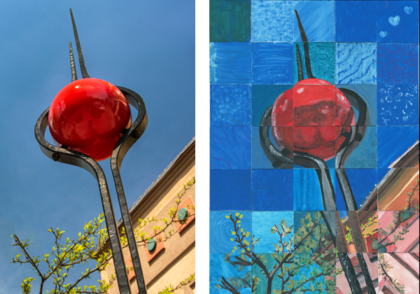 "Here at the Foundation, we have the privilege of helping people do good things through philanthropy. And what we hear so often is that people who engage in charitable giving do so not out of obligation, but rather, because they are inspired — because of a beacon somewhere along the way that sparked a desire to make a difference," she said.
"In this year's annual report, we're also featuring our long-standing collaboration with Children's Inn — an organization that serves as a beacon of hope for so many individuals and families who have been impacted by domestic violence and abuse," Kolsrud said. "So to have staff and guests of Children's Inn participate in this project has been especially meaningful for us."
The final piece is now on display at the Community Foundation's office, located in the historic depot at Cherapa Place.
2021 Friend of the Foundation Award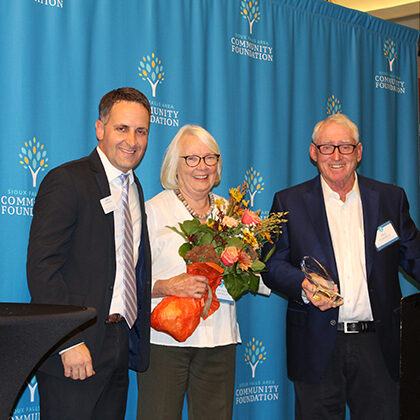 The Friend of the Foundation Award recognizes philanthropic individuals, families or businesses whose innovative and collaborative leadership and consistent generosity have impacted our area.

On Thursday, Oct. 21, the Foundation honored Paul and Mary Ellen Connelly, a couple known for their willingness to step forward as volunteers, as philanthropists, and as advocates for important causes, as its 2021 Friend of the Foundation honorees.
When it comes to their charitable giving, the Connellys support various areas but are especially passionate about education.

Over the years, in partnership with the Community Foundation and the Bishop O'Gorman Catholic Schools Foundation, the couple have established charitable funds to help support teachers at Bishop O'Gorman Catholic Schools.

Parks and conservation are other areas they care deeply about, and their work in these sectors spans across decades.

They've worked to establish a fund at the Foundation in collaboration with Sioux Falls Beautiful to provide grants to improve core Sioux Falls neighborhoods. Mary Ellen was also among the founding members of the Shoto Teien Japanese Garden Committee, a group that worked to rescue a portion of Terrace Park from disrepair. An endowment held at the Sioux Falls Area Community Foundation provides sustainable funding for the continued care of the Garden even today.

Improving food security is another passion area, and, for several years, the couple has worked to lead a matching gift campaign for Feeding South Dakota on Giving Tuesday.
"Guided by their love for this community, Paul and Mary Ellen's philanthropy demonstrates a deep care for others and a willingness to give of themselves to help accelerate the pace of progress toward a brighter tomorrow," Patterson said. "We're grateful for their partnership and we're so appreciative of all they've done for our community."
Learn more about this special couple.
Fiscal Year in Review
Collaborating with its growing community of donors, the Sioux Falls Area Community Foundation set new records for charitable investments throughout the Sioux Falls area during its last fiscal year ending June 30, 2021, including:
More than $50 million in gifts to charitable funds held at the Foundation
More than $24 million in grants to support nonprofits and advance transformational ideas
The Foundation now holds:
More than $212 million in endowment funds to sustain area nonprofits and enrich the vibrancy of our community
More than $264 million in total charitable assets to help build a brighter tomorrow for individuals and families across our area
Learn more about the Community Foundation's collaborative work in its 2021 Annual Report.