Community Foundation Grant Launches New Career Connections Program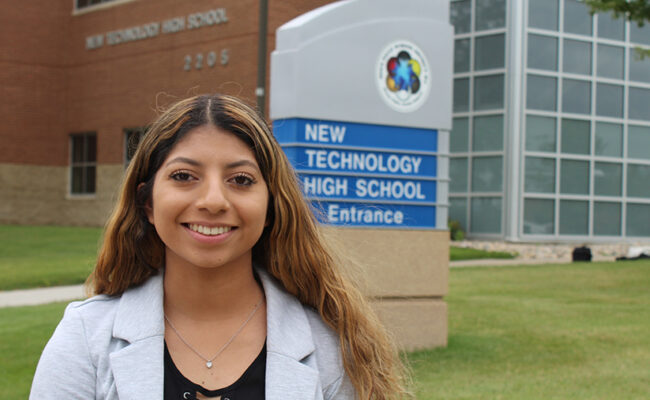 A lead grant from the Sioux Falls Area Community Foundation will launch the Career Connections Program, a new initiative designed to help address the city's workforce challenges by offering high school juniors and seniors early career exposure, job shadowing opportunities and access to post-secondary curriculum.
The $68,400 grant represents an investment in the future of Sioux Falls, said Community Foundation President Andy Patterson.

In order to build a better, stronger and more vibrant community, we need to invest in the next generation of thought-leaders and change-makers. We're proud to support the Career Connections Program because we believe helping our students will ultimately help to address our city's workforce development challenges.

— Andy Patterson, President, Sioux Falls Area Community Foundation
Developed by the Sioux Falls Development Foundation and endorsed by the Forward Sioux Falls Strategic Workforce Action Agenda, the Career Connections Program will officially launch this fall.
Approximately 40 students who are first-generation Americans or are low income will make up the program's inaugural class.
Denise Guzzetta, vice president of talent and workforce development for the Sioux Falls Development Foundation, called the grant a game-changer.
"Without this grant from the Sioux Falls Area Community Foundation, the Career Connections program would not have been possible," she said. "We are so appreciative of the Foundation's support, and we're grateful for their belief in workforce development, in education and in the need to invest in building a better tomorrow."
Dave Rozenboom is president of First PREMIER Bank, one of a number of businesses who are participating in the program. Rozenboom said the Community Foundation "grasped on to the vision for the Career Connections program right from the start."
"Funding for new programs and initiatives can be a major hurdle, but the Sioux Falls Area Community Foundation immediately went to work to remove the financial barrier for this pilot program and allowed the Sioux Falls Development Foundation to focus their time and efforts on designing a model with area high schools that could effectively and efficiently bring students and employers together. Another wonderful example of how well we all work together to make our community a stronger and more vibrant place to call home, for everyone," he said.
Guzzetta said the idea behind the program is to help students determine their best pathway into the workforce.
"Among those who graduate each year from Sioux Falls public schools, approximately 600 do not pursue any form of post-secondary education," Guzzetta said. "We want to reduce this number. We think this program will provide good opportunities for kids in Sioux Falls, while also addressing our city's growing and changing workforce needs."
Career Connections is a multi-faceted endeavor.
One aspect of the program helps students create professional connections, gain hands-on experience and build intangible skills — effective communication, time management, information analysis and more — by spending time at local businesses who have signed on to partner in the initiative.
Students will spend the fall semester meeting with leadership teams from each participating business and touring facilities to help discern where their vocational interests lie and what industries they're most drawn to.

In the spring, students will spend time each week in the business/industry they're most interested in.
Another aspect of the program provides assistance to help students pursue some form of post-secondary education, such as a certificate program, a technical degree, or an associate's or bachelor's degree from a school within the South Dakota Board of Regents' system.
Participants will attend classes at their home high school and at CTE Academy, USD Community College for Sioux Falls or Southeast Technical College. They'll also begin concurrent or dual-credit coursework free of charge at these institutions while completing their high school diploma within the Sioux Falls School District. The program also offers financial assistance to cover tuition, books and fees at USD Community College for Sioux Falls or Southeast Tech while in high school.