Remembering a Legacy of Care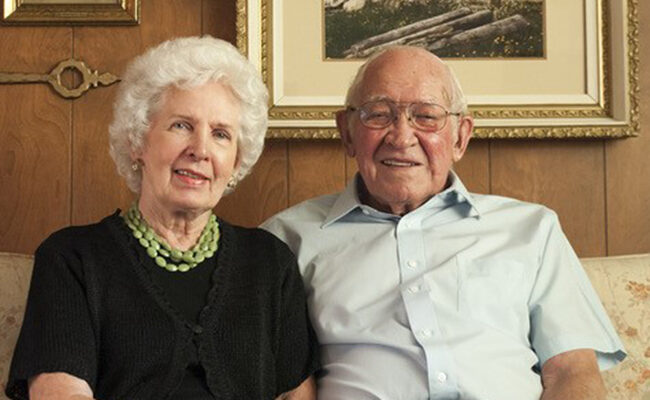 A willingness to step forward — in service and in generosity — symbolizes the life Herb and Dorothy Mikkelson shared, as well as the legacy they leave behind.

When Herb and Dorothy Mikkelson's four daughters reflect on their parents' 68-year marriage, they describe a loving couple who shared everything — their core values, a deep love for family, a commitment to their faith, a spirit of thankfulness, a desire to serve, and a passion for helping others.
They even shared a birthday — although Herb was one year older.
Their caring nature, and their willingness to step forward — in service and in generosity — not only impacted our community, it also helped shape their daughters who, today, remember and celebrate their parents for "teaching us to say yes."
"They really taught us to participate in things — to get involved and to be engaged. To not be idle observers, but to be servers — and to be willing to serve generously," said Herb and Dorothy's daughter, Karen Pfeifer.
While Herb and Dorothy have passed on, today the couple's legacy of caring for others, and for the community they loved, lives on through the Herbert and Dorothy Mikkelson Family Endowment held at the Sioux Falls Area Community Foundation.
A Sense of Empathy and Compassion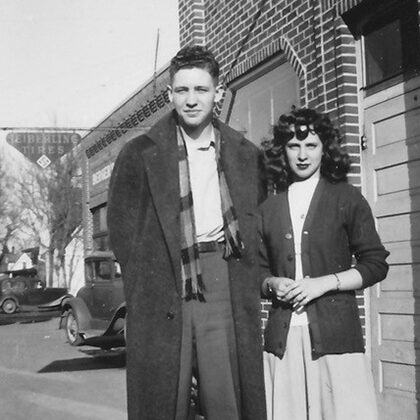 Herb and Dorothy met as teenagers in Canby, Minnesota. They each grew up in homes with proud Norwegian ancestries where family, faith and service were central to daily life. They married shortly after graduating from high school and during their life together, they lived in Sioux Falls, Nebraska and Minnesota before returning to Sioux Falls in their retirement years.
While many of Herb and Dorothy's core values likely formed while growing up, their daughters — Corrine Ganske, Karen Pfeifer, Kirsten Ford and Claire Rud — believe their parents' sense of empathy and their unending compassion for others was shaped in another way.
In the early 1950s, Herb and Dorothy had a daughter named Kathi who was born with multiple, complex medical issues. The couple chose to take Kathi home, offering her love and tender care until, sadly, she passed away in 1957 at just four years old. Herb and Dorothy were just young parents — in their late 20s — at the time.
Even amid the heartbreak of losing their daughter, "they lived with gratitude. Even gratitude for Kathi's life — even though it was short," Karen said. "Kathi taught us lessons, she taught them lessons. Mom always considered Kathi an angel."
Corrine said Kathi's death changed her parents' perspective on life.
"I think it really affected how they got through things," she said. "I remember dad saying once, 'that having a child who dies makes you realize what's important in life.'"
Lives of Service
Herb and Dorothy believed it was important to support their church and to nurture their faith, and they were intentional about passing those beliefs on to their daughters.
"When we started getting an allowance, we were expected to give part of it to the collection plate at church," Corrine remembered.
Mom and dad weren't wealthy — we lived very modestly. But there was importance on giving what we could, being grateful and giving generously.

Karen Pfeifer, Herb and Dorothy's daughter
And through their own actions, they also taught their daughters the importance of helping others.
After they retired and moved back to Sioux Falls, the couple became active volunteers for a number of causes and organizations, including Habitat for Humanity of Greater Sioux Falls.
"Dad worked about 30 hours a week with Habitat for the first 10 years of his retirement," Claire remembers. He helped build 20 homes and was also instrumental in organizing the Habitat ReStore, which sells new and gently used building materials and home goods donated by individuals and corporations.
In addition to the hands-on work, Herb also loved the chance to interact with Habitat for Humanity home recipients.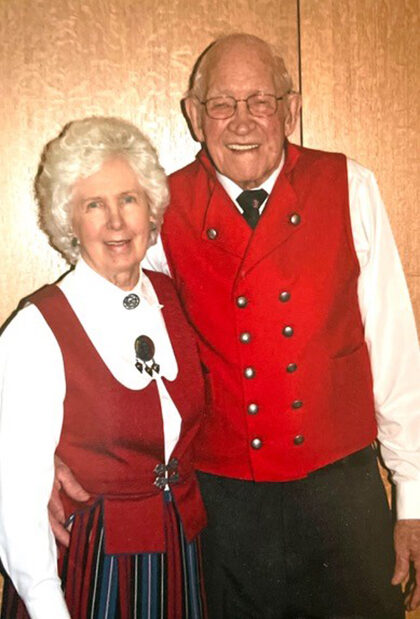 "He loved teaching and mentoring recipient families. He was kind of their coach. He was trying to help them learn some skills but also teach them how to care for their home. I know he had many conversations with recipients who didn't know what it was like to live self-sufficiently, so he tried to teach them resourcefulness to help them make it on their own," Karen said.
Herb and Dorothy also volunteered their time, talents and resources in support of First Lutheran Church, located in downtown Sioux Falls.
"For mom, it was quilting. She did that for 25 years," Karen said. "She was at church a couple days a week and basically coordinated the quilters as they made quilts for Lutheran World Relief and local nonprofits like the St. Francis House, the Bishop Dudley Hospitality House and McCrossan Boys Ranch."
A gifted seamstress, Dorothy loved sharing her talents through quilting. She also worked to ensure the quilts made by First Lutheran were, first and foremost, functional.
"She wanted the quilts to be comfortable, but she also wanted them to be practical," Karen remembers.

The couple also loved volunteering for First Lutheran's annual Bazaar, a celebration of Scandinavian food and treasures. Proceeds from the Bazaar benefitted local and world-wide programs and nonprofits.
"It celebrated the Norwegian heritage that they loved, but it also generated so much income for mission work. They worked on set-up, tear-down, making food, and more for years. Mom even served as co-chair for a time," Karen said.

A Love for Education, Music and Athletics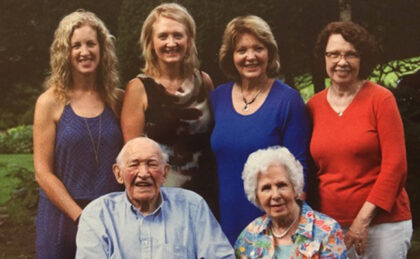 Herb and Dorothy valued education and worked hard to help their daughters through college, even working extra jobs at times.
"They really saw the value of education and they sacrificed for us. They wanted for us what they didn't have for themselves," Karen said.

That included the ability to play music. "They thought music was really important in people's lives, but they also knew you didn't have to be a professional musician to see the value of it," Corrine said.

Growing up, the couple encouraged their daughters to pursue music and supported each of them as they developed skill and expertise as musicians — Corrine and Claire on the violin; Karen on the viola; and Kirsten on the cello.
They continue to play today, individually and together as a string quartet. "We played at their 40th, 50th and 60th wedding anniversaries," Karen said. "We also played at mom's funeral service because we knew she would have loved it."
Herb and Dorothy's love for music, and their love for Augustana, eventually led them to establish an endowed scholarship at Augie for students who participate in the orchestra.
Following the death of Dorothy's father "they used the money they received in inheritance to set up that scholarship. They felt they didn't need grandpa's money — they wanted to use it to help others," Corrine remembers.
In their free time, the couple's favorite activities included cheering on the Augustana Vikings.

"They loved supporting Augustana athletics. They had season tickets for basketball and football," Claire said.

At Kirkeby-Over Stadium, home to Augustana Football, Herb and Dorothy cheered from their seats on the 50-yard line. "You could always hear mom yelling," Claire said, laughing.
A Legacy of Care Lives On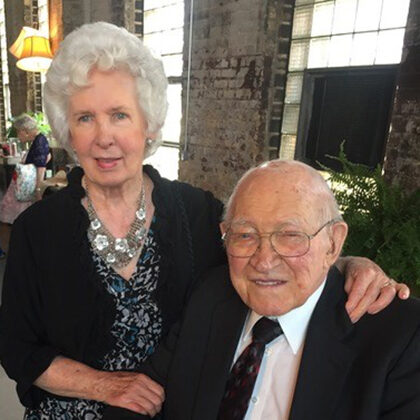 In 2015, the couple turned to the Sioux Falls Area Community Foundation to establish plans for an endowment that would support their charitable wishes after their lives.
By making plans to support the organizations and causes they loved after their lives, Herb and Dorothy shared the ultimate final expression of their values, as well as their hopes and dreams for the future, said Mary Kolsrud, the Foundation's vice president for philanthropy.
"Herb and Dorothy's legacy of care will live on forever thanks to their endowment at the Foundation, which will ultimately provide annual distributions to the causes and organizations they cared deeply about," Kolsrud said. "Their legacy story is such an expression of love and selflessness — truly an inspiration for us all."
In addition to supporting Augustana, the First Lutheran Church Foundation, and cemeteries close to their hearts, the couple's endowment at the Foundation will establish scholarships for students from Canby High School.
A portion will also support the Community Fund, the endowment behind the Foundation's most impactful grant-making efforts. Grants from the Community Fund help support existing programs and nonprofits across the area, helping our community's most vulnerable and creating opportunities for individuals and families to thrive.
"They cared about their neighbors and they liked the idea of investing back into the community," Karen said. "They cared about all the various agencies that were helping those in need and they really liked the grant aspect of helping the community."
Kirsten agreed, explaining that Herb and
Dorothy's plans for their endowment "aligned with their own personal mission and values."
Today, Herb and Dorothy's daughters each say they miss their parents deeply. But they also say they're grateful for the love and lessons their parents shared and modeled during their lives.
"They pitched in and worked hard, they were determined, and they had a great work ethic. They followed through. If they said they were going to do something, they did it," said Karen. "They respected everybody. They saw the good in everybody. And they treated everybody fairly."
And above all, she said, "they modeled for us how to live a life of purpose — a meaningful life."
Related Posts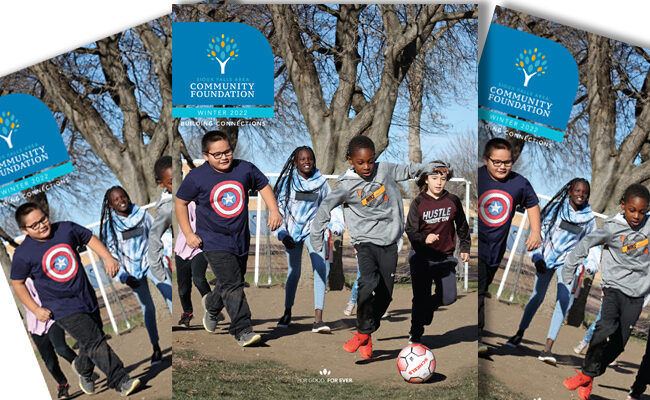 Winter 2022 Newsletter
Celebrating stories that illustrate our mission in action
Read More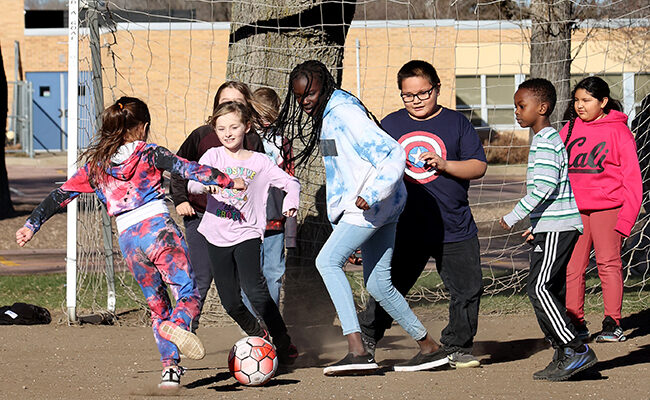 Building Connections
A grant from the Sioux Falls Area Community Foundation was designed to help give kids from Laura B. Anderson Elementary the chance to participate in a fall soccer league. It did that — and so much more. While the kids played, families built meaningful connections on the sidelines and today, the Riverside neighborhood is stronger than ever.
Read More