Building Connections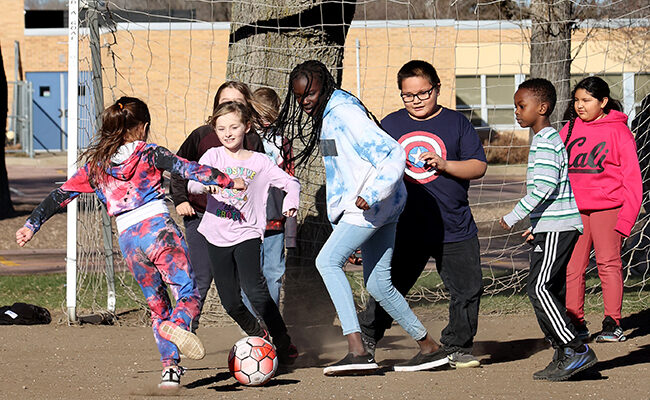 A soccer league in northeast Sioux Falls is providing opportunities for kids and strengthening the neighborhood they call home.

Amber Jones-Esquibel and her family live in the Riverside neighborhood, located in northeastern Sioux Falls not far from the Big Sioux River. It's a neighborhood of modest homes, mature trees and hard-working families, many of whom work at Smithfield — just a few minutes away across Cliff Avenue. Kids from Riverside play at Mansor Pioneer Park and residents frequent neighborhood merchants like Lam's Vietnamese, serving authentic dishes like slow-cooked Cornish hen and spicy beef pho, and the Mekong Asian Market, selling fresh produce, seafood and seasonings.
Nestled in the heart of Riverside is Laura B. Anderson Elementary. It's where Jones-Esquibel's kids attend school, along with about 400 other students from pre-kindergarten through fifth grade.
For kids at Laura B. Anderson, life isn't always easy. LBA is a Title 1 school, meaning at least 40 percent of its enrolled students come from low-income families. In the case of many LBA students, their parents work hard just to make ends meet, which means there's little time or money left for those who wish to participate in extra-curricular activities outside of school.
But extra-curriculars are important, said Wade Helleson, LBA's principal. Whether through sports, or the arts, or membership in a club, when kids participate in organized activities outside of school, they learn valuable skills such as self-confidence, accountability and responsibility — all of which can translate into other aspects of their lives, including their academic careers and relationships with others.
"Being part of a team, kids realize their impact can make a difference," Helleson said.
So when Helleson heard about an idea to launch a neighborhood soccer league that would be managed by volunteers and would be free for kids at LBA, he couldn't help but be excited.
This was a big deal for our kids. We saw it as something that could really level the playing field and offer something everyone could be part of.

Wade Helleson, principal, Laura B. Anderson Elementary School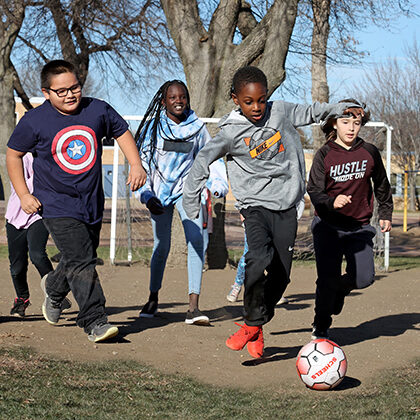 The Foundation was excited about the idea, too, and decided to support the effort with a grant from the Community Fund, the endowment supported by unrestricted gifts.
"At the Foundation, we believe every child deserves the chance to have fun, build skills and experience the comradery that comes from participating in extra-curricular activities," said Patrick Gale, the Foundation's vice president for community investment. "At LBA last fall, soccer became the universal language that not only brought kids together and helped them blossom, it also helped develop and strengthen connections among LBA parents and Riverside neighbors."
'A chance to be involved and feel included'
The idea for Riverside Soccer was the brainchild of community advocate Randell Beck. He started thinking about the league after an LBA student he was mentoring showed promise as a soccer player, but was only able to play at school during recess.
Beck said his mentee was being raised by a single mom who worked at Smithfield and often picked up extra shifts to help keep the family afloat.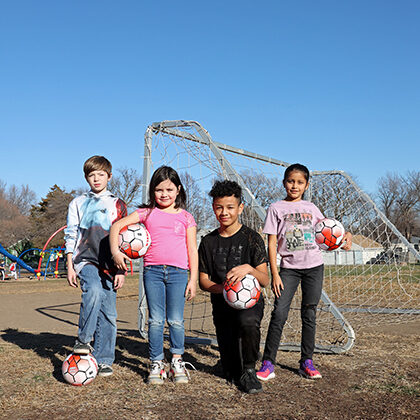 "The opportunity to play organized sports simply didn't exist for him," he said. "It wasn't only the financial element, it was the transportation element. Plus, he had to be at home to care for his little brother."

"And that just bugged me," Beck said. "It just bothered me to no end that this great kid would not get the chance to do what so many other kids do."
So Beck decided to do something.
Together with Mike Grossman, a veteran Sioux Falls soccer coach, other volunteer coaches, and support from Oak Hills Baptist Church, "we put together a plan to start the Riverside Soccer League — a league that would provide, at no cost, an opportunity for these kids to come and play, to have a t-shirt, water bottle, shin guards and a ball. And they could learn from good coaches not only how to play the game, but how to play organized sports and learn life-long lessons," Beck said.
The Community Foundation, Beck said, believed in the idea from the start. Its grant helped toward the purchase of equipment necessary to make the idea for the league a reality.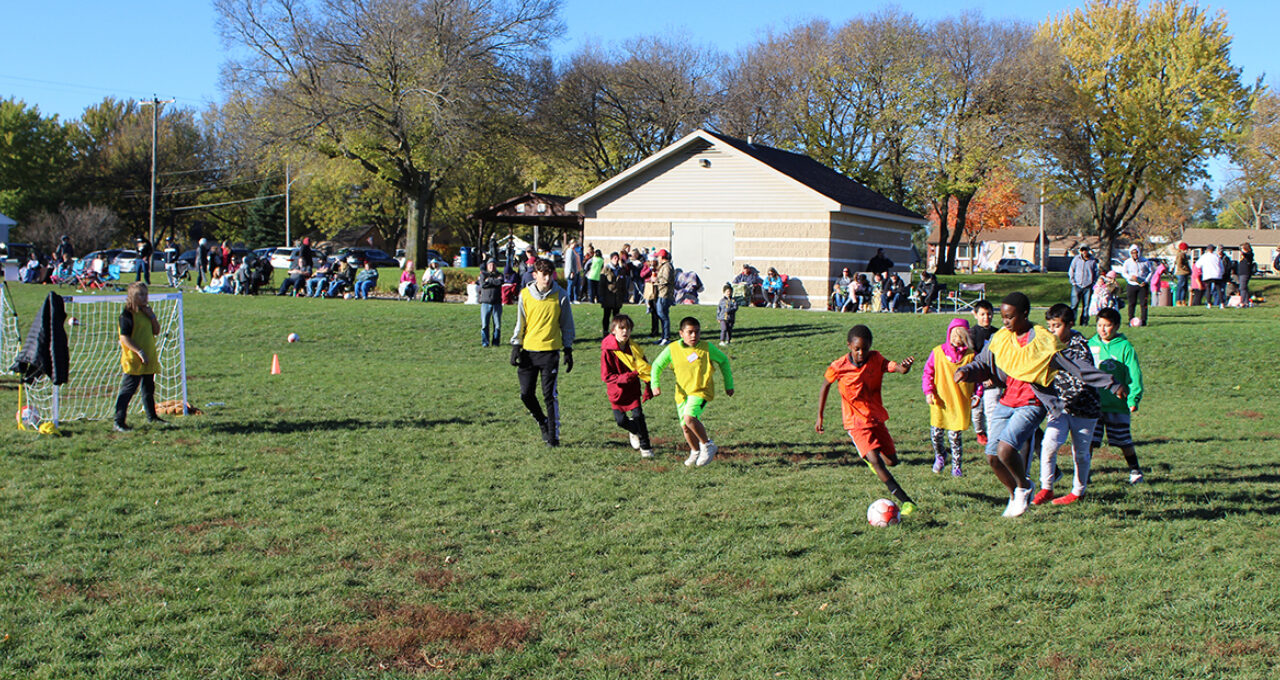 Building Community
The league met each Saturday from mid-September through late-October last fall at Mansor Pioneer Park. Each meeting featured time for skills training, team scrimmages and lunch provided by the Boys and Girls Club. More than 60 students participated and, throughout the season, Helleson said LBA teachers and staff could see how the experience was impacting students.
"The kids couldn't stop talking about their excitement for this," he said.
What no one could have anticipated though, was the impact the league would have on the Riverside neighborhood.
Jones-Esquibel said the league made a difference for her sons, and for her family.
"I get goosebumps just thinking about it," Jones-Esquibel said. "Saturdays were just the best days. My kids took away positive sportsmanship and met new friends, and we got to know our neighbors better. It was a chance to be involved and feel included — to know that we're cared about. I didn't expect any of this to happen the way that it did and I'm really excited to see this community develop," she said.
Beck agreed.
"We suddenly saw, in this park, relationships form — relationships that will really benefit, I think, that neighborhood in the long-term. It really strengthened the muscle of that neighborhood. It was just a magical thing to see how people came together, rolled up their sleeves and volunteered to help set up, tear down, serve food, help with coaching — really everything to help make this a weekly event for that neighborhood," he said.
Looking ahead, Beck said discussions are in play about a possible spring soccer league for the Riverside neighborhood, as well as the potential for similar leagues in other neighborhoods throughout the city.
Related Posts