Foundation Awards Grants to Area Teachers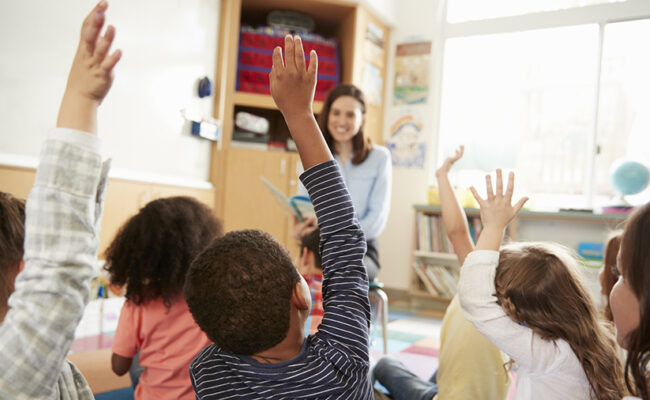 The Sioux Falls Area Community Foundation has awarded nearly $16,000 in grants to local teachers through its Excellence in Education Initiative, an effort that offers grants to teachers who have innovative ideas for classroom projects.
"Every day, teachers open their hearts and their minds to help care for, teach and inspire our kids," said Patrick Gale, vice president for Community Investment. "So we're honored to help bring their innovative ideas to life through this important program. We're grateful to all our amazing teachers and we extend our deepest congratulations to our 2021 Excellence in Education grant recipients.
2021 Excellence in Education Grant Recipients
Caitlin Brackey, Ben Reifel Middle School: Brackey's grant will support an effort to introduce Proprioceptive Sensory Awareness Tools to support students who are over and under-stimulated. The sensory tools will benefit the student's state of awareness and bring them to a place where they're ready for learning. In addition, students will be taught how to monitor their own sensory needs so they can be successful as they progress through their education.
Tanya Brazones, Sioux Falls Christian High School: This grant will support the introduction of a High School Coffee Cart that will enable students with special needs to gain real-world professional and relational skills. The students who work at this coffee cart would be responsible for pouring coffee, pushing the cart, cleaning up after each use and partnering with the coffee shop. The money collected through this coffee cart will support local mission work.
Danielle Duxbury, Sioux Falls Christian School: Duxbury's grant will enable the school to support high school seniors who need financial assistance to complete their Senior Capstone, an endeavor through which students choose either an internship or a senior project which involves some aspect of service learning valuable for academic growth, career preparation, and social empowerment. Examples include a student who built a memorial bench that was donated to a local park. Other students have planned and led a free elementary sports camp. The purpose of the Senior Capstone is to inspire students give back to their community in their own capacity.
Pamela Espeland, Ben Reifel Middle School: Espeland's grant will support a project called "Engineering, Electronics, & Circuitry." Featuring Snap Circuit Extreme SC-750 Electronics Exploration Kits, the project aims to help students explore the world of engineering, electronics, and circuitry while also developing critical thinking skills, increasing science literacy and enabling the next generation of innovators.
Nicole Highby, R. F. Pettigrew Elementary School: This grant will support a project called "Learning and Literacy Through Mindfulness and Movement," an effort to introduce students to yoga and mindfulness/breathing activities. The project aims to minimize anxiety in students by offering tools to help with their mental and emotional well-being. In turn, students will be better able to focus, learn and show kindness to others. Students will become more aware of their thoughts and emotions and will develop skills to help them calm their bodies and feelings, helping them to become better learners.
Melissa Hittner, Jefferson High School: This grant will support Hittner's AP Environmental Science students in their efforts to create outdoor education spaces. Students will conceptualize the outdoor spaces throughout the year and will implement the designs in the spring. Some of the design concepts suggested so far include: creating a native prairie space (prairie restoration), designing landscaping with native plants, starting a community garden for food production, attracting local birds and/or bats, attracting butterflies/bees/pollinators, responsibly controlling invasive species growing on the grounds, and more.
Laura Lunder, Holy Spirit School: This grant will support a project called "Coding for Preschool," featuring STEM and coding activities for use in the classroom. Each activity features opportunities for students to work together in groups and is designed to help develop social and critical thinking skills.
Melanie Morford, Jefferson High School: Morford will use the grant to purchase Bird Identification Field Guides for Environmental Science students. The guides will assist students as they work to identify birds during their weekly nature walks. The pocket-sized guides will allow students to get more involved in species identification and discovery, and will help students learn about the birds in the moment, in addition to field observation discussions.
Jodi Neugebauer, Garretson Elementary School: This grant will support a project called "Farmyard Fun" through which second graders will build background knowledge about farming through reading, writing, and researching. From there, in collaboration with high school agriculture students, the class will begin a series of hands-on learning exercises related to farming. Students will learn about the life cycle by incubating chickens. They will learn about healthy soil and plants by planting and caring for seeds watching them grow. Lastly, the students will visit a farm, delivering the baby chicks and seeing other animals. While at the farm they will enjoy a lunch featuring locally grown food.
Erin Radway, Lowell Elementary School: Radway's grant will support an effort called "Challenge Me With STEM!" which presents real-life engineering challenges for second and third grade students. Students will work in teams to learn the basics of bridges, boats, parachutes, catapults rockets and more. From there, they'll design and build prototypes to solve challenges. Each challenge is paired with a fiction and nonfiction book that allows students to see the scientific concept in action. Along the way, students will develop skills to communicate and collaborate with teammates, persevere through challenges and build their vocabulary and basic scientific knowledge.
Lindsey Rohde, Terry Redlin Elementary School: Rohde's grant supports an effort called "Curious Collaborators" which enables students to collaborate, discuss, explore and create a variety of projects using different materials including Bee Bots, sphero, and Dash Robots. In addition to exploring S.T.E.M materials, students will be able to read about engineering, robots, science, technology and extraordinary explorers through a series of high-interest books written for elementary school readers. This literature can also be used by teachers to teach lessons as well as for students to check out. The effort aims to build critical thinking skills while helping students learn to work together, share ideas, be creative and take risks as a team.
Kim Soldatke, Ben Reifel Middle School: This grant will support an effort to build raised garden beds for a new school-wide garden. The teaching garden will aim to provide a living laboratory for students to learn and grow and foster unity the school community by promoting responsibility, academic growth, community connections, problem-solving, creativity, physical activity and more. Students, with the help of teachers, parents and community members, will design the garden spaces, determine how many gardens can be supported and what will be planted. From there, they'll build the beds, plant the seeds, nurture and harvest the plants, and prepare the beds for another year.
Christian Swenson, Lincoln High School: This grant will support a project by students in Swenson's Woods and Home Maintenance classes to build yard libraries for placement in low income neighborhoods throughout the city of Sioux Falls. Inspired by studies that show children who are read to at a young age do better in school and, ultimately, in life, the project aims to improve childhood reading by offering free books from fun yard libraries. Through the project, students in Swenson's classes will not only get to help make reading fun and easily accessible, they'll also gain a deeper understanding and develop skills in the various aspects of building a structure, from framing to siding to roofing to hanging doors. Once the libraries are built, a collaborating ELL teacher has connections to help fill the libraries with free books.
Jessica Vandrovec, R.F. Pettigrew Elementary School: Vandrovec's grant will support the "Open a Book, Open Your Mind: 7 Mindsets Classroom Library," an element of a new social-emotional learning platform called "7 Mindsets" adopted this year. This platform promotes self-awareness, self-management, social awareness, relationship skill development and responsible decision making. Each month will feature a new mindset and the library's books will help facilitate class and small group activities that reinforce what students are learning. The goal is to help students build an even deeper understanding of each of the mindsets and to help kids look within themselves for answers.
Michele Wheeler, Jefferson High School: This grant will support a project called "Book Tasting," through which Wheeler's classroom will transform into a cafe, complete with checkered table cloths, battery-operated candles and placemats. Upon entering the class, students will be seated at a table and will "sample" the book in front of them. From there, they'll receive a menu that briefly describes every book. They will record their opinion of the book and highlight it if they like it. Every three minutes, students will swap seats/books until they've sampled 20 books. At the end of the book sampling, students will have the opportunity to take the books to use for their next independent book project.
Rhonda Wilson, Harvey Dunn Elementary: Wilson will use the grant to support a project designed for junior kindergarteners called "Calm, Cool and Collected." Through the project, Wilson's classroom will feature a designated "Calm Down Corner" where students can go when they are feeling overwhelmed, stressed, or need to de-escalate. One student at a time will be able to check-in to the Calm Down Corner where they will set a timer that lasts five minutes. During these five minutes, the student will be able to choose from stress relief and sensory toys. The goal of the project is to allow students to learn strategies to calm themselves down, better manage stress, self-regulate and control their impulses so they can return to learning in a better frame of mind.
Barb Preloger Excellence in Education Grant
The Barb Preloger Excellence in Education Grant is awarded in memory of a longtime teacher who loved to see her students succeed. Barb Preloger served the Sioux Falls School District for 15 years, teaching language arts, social studies and music.
Following her death in 2014, Barb's family established a fund at the Sioux Falls Area Community Foundation to support local teachers who embody Barb's spirit of care and her dedication to students.
Sherri Wolles at George McGovern Middle School is the recipient of the Barb Preloger Excellence in Education Grant. Wolles will use the grant to help advance the school's Teaching Garden and its Garden Club through the purchase of two portable growing stations with super-efficient, plant boosting LED adjustable lights and watertight plant trays and casters.
By serving multiple learning styles, offering hands-on activities, and activating each of the senses, the school's Garden and its Garden Club foster teamwork, help students develop individual responsibility and inspire students to pursue success. The new, more efficient growing stations will create a cleaner environment as LED light tubes are mercury-free, use half the electricity, last five-times longer than fluorescent bulbs and don't require special disposal.
Related Posts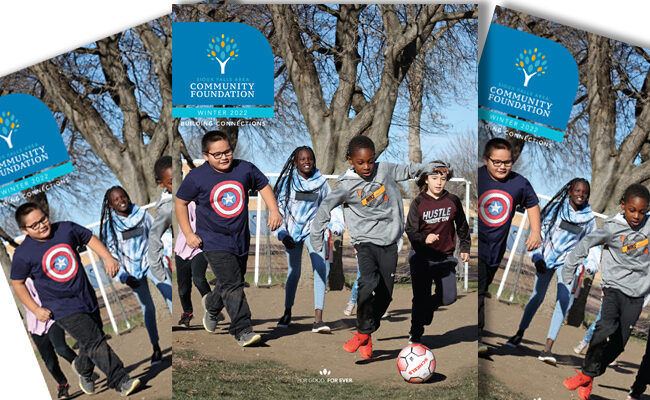 Winter 2022 Newsletter
Celebrating stories that illustrate our mission in action
Read More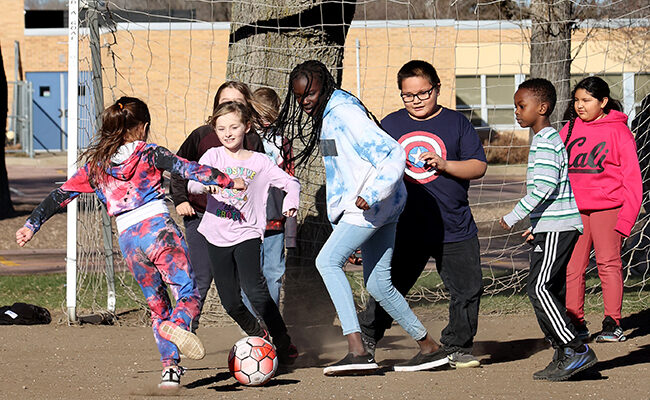 Building Connections
A grant from the Sioux Falls Area Community Foundation was designed to help give kids from Laura B. Anderson Elementary the chance to participate in a fall soccer league. It did that — and so much more. While the kids played, families built meaningful connections on the sidelines and today, the Riverside neighborhood is stronger than ever.
Read More