Foundation Announces Community Grant Recipients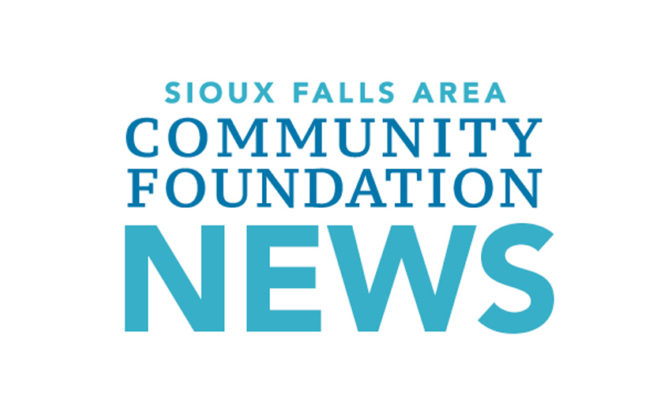 The Sioux Falls Area Community Foundation has awarded grants to 13 local nonprofits in support of their efforts to help solve complex challenges, address emerging needs, and enrich our quality of life.
The grants were made possible thanks to the Community Fund, the endowment behind the Foundation's most visionary grantmaking. The Fund is supported by unrestricted gifts from donors who entrust the Foundation to award grants based on community needs and opportunities.
Learn more about the Community Fund grants awarded from November 2021 - January 2022:
Founded in 2015 as an emergency shelter for those facing homelessness and poverty, the Bishop Dudley Hospitality House serves guests during the day and overnight, offering dignity, respect and a safe and caring environment.
The House's day services are open to the public and include restroom and shower facilities, as well as access to free laundry, lunch and refreshments, computers, telephones, and newspapers.
With a goal to help guests move from homelessness to self-sufficiency, Bishop Dudley Hospitality House case managers help guests obtain essential identification, such as social security cards and birth certificates. They also help guests complete job applications, prepare for employment interviews and find housing.
The organization also collaborates with many other nonprofits and agencies to connect guests with resources and services including, mental health and addiction counseling, veteran's services, labor and sex trafficking awareness, medical needs and haircuts.
Established with a mission to offer "Open Doors and Open Arms," much has changed since the Bishop Dudley Hospitality House opened its doors in 2015. Homelessness, drug and alcohol addiction, and major mental health challenges have become more acute and more complex, with the pandemic only exacerbating circumstances for many who are struggling. Increasingly, guests are coming to the shelter with significant medical conditions and major mental health challenge.
In response to these changing circumstances, the Bishop Dudley Hospitality House is embarking on a new strategic plan.
The Foundation's grant will provide support to help develop the new plan, which will guide the organization as it continues to care for our community's most vulnerable individuals.
EcoSun Prairie Farms, Inc. works to promote the ecological, aesthetic, historical and economic benefits of tall grass prairie through education, research, public outreach, and the development of healthy prairie.
Most recently, EcoSun successfully completed the first year of a multi-phased project to restore tall grass prairie on 106 acres inside Good Earth State Park.
The Foundation's grant will help support additional phases of the project. Phase two includes offering formal educational and outreach components as well as informal tours/hikes. Phase three features the development of a physical Prairie Center for research and expanded education and outreach opportunities.
When complete, EcoSun's tall grass prairie will provide one of the only sizeable and accessible prairies near any metro community across an area where tall grass prairie once flourished, an eco-region that, at one time, stretched from Ohio to South Dakota, and from Minnesota and Wisconsin to Missouri.
With a mission to empower women and families, EmBe strives to be a place where women excel, where children and youth thrive, where families succeed and where the community is enriched by its work.
Girls on the Run has been a signature EmBe program for more than 15 years, having served more than 15,000 third through fifth grade girls across South Dakota, southwest Minnesota and northwest Iowa during two 10-week seasons each year. Throughout each season, volunteer coaches guide participants through an interactive, evidence-based curriculum that teaches self-confidence, shows how to foster healthy friendships, and illustrates the importance of teamwork. The program also shows girls how they can give back to their community and world. The skills are taught through interactive running games that emphasize physical health and wellness.
The Foundation's grant provided support for national training that will help local staff connect with, train and support hundreds of future Girls on the Run volunteer coaches.
The mission of Headlights Theater is to transform bleak parking lots into magical landscapes for live music and dance performances.
Founded during the pandemic, the organization's goal is to expand and uplift the local arts community while educating, entertaining, inspiring and protecting our general public.
Along with live performances, in its 2021 season the organization introduced The Headlights Residency, an effort that engages experienced and aspiring dancers in more intimate and inspirational ways, strengthening our area's growing dance community.
The Foundation's grant will help support Headlights' 2022 season, will help the organization provide scholarships for its summer residences, and will advance a goal to create free dance events in partnership with the Boys and Girl Club, Move to Heal, 1st Gen, and other community centers.
The Helpline Center serves thousands of people throughout South Dakota every year by connecting individuals to resources and support, providing referrals, uniting people with volunteer opportunities, offering hope to individuals with thoughts of suicide, and supporting families bereaved by a suicide loss. The mission of the Helpline Center is to make lives better by giving support, offering hope and creating connections all day, every day. The organization fulfills its mission through three core service areas: 211 Helpline, Suicide & Crisis Support and Volunteer Connections.
The Helpline Center also organizes The Nonprofit Exchange, a monthly educational meeting designed for nonprofits to hear from other area nonprofits. Virtual and in-person meetings include thought-provoking programs and create opportunities for attendees to exchange ideas, create connections and further their education on topics that impact their organizations.
The Foundation's grant will provide support for The Nonprofit Exchange to offer enhanced in-person sessions each quarter. These sessions will feature professional speakers on topics such as staff retention, communication, office culture, DEI and more.
With a mission to build community through music, Levitt at the Falls serves as a gathering place for our diverse community, fosters social interactions among people of all ages and backgrounds, and ensures access to professional performing arts for everyone through free concerts featuring acclaimed artists in a wide range of music genres each summer.
The Foundation's grant will support the Levitt's newest initiative, Innoskate Sioux Falls, a five-day festival that celebrates and explores music, skateboarding, invention, creativity, and freedom of expression. The festival is developed in collaboration with the Smithsonian Institution's Lemelson Center for the Study of Invention and Innovation, the Smithsonian Jazz Masterworks Orchestra (SJMO), and the USA Skateboarding Federation (USA Olympic team).
Members of the Oglala Lakota tribe are actively involved in the planning of the Innoskate festival as well. Workshops for youth involved in skateboarding and music programs in Pine Ridge will be held on July 5. That group of youth will then travel to Sioux Falls to participate in the weekend programming and be featured in a skateboarding demonstration. Tribal leaders will also be featured in a public education session that explores the positive impact skateboarding has on the reservation.
On Tuesday, January 25, 2022, South Dakota will conduct the Annual Point-In-Time Homeless (PIT) Count and Housing Inventory Chart (HIC). These activities are required by the U.S. Department of Housing and Urban Development (HUD) as part of the Continuum of Care Program. The information is reported to Congress and is used for measuring progress, identifying strengths and gaps in services, increasing public awareness and enhancing system planning.
The Point-in-Time Counts are counts of the number of people in a community who are homeless and are staying in an emergency shelter or in a transitional housing program dedicated to homeless; staying in a motel/hotel that is being paid for by a governmental entity or charitable organization assisting homeless; or sleeping outside, in cars, tents, in places not meant for human habitation.
The Count is not perfect and doesn't tell us everything about needs, but it does provide valuable information as to the scope of homelessness, including demonstrating unmet need represented by the number of unsheltered people.
The Foundation issued a grant to provide bus passes to encourage participation in the Point-in-Time Count.
A nationally accredited Child Advocacy Center, Child's Voice is a program of Sanford USD Medical Center. The program provides medical evaluations for children who may be victims of sexual abuse, physical abuse, emotional abuse, medical child abuse, all types of neglect, drug endangerment, child trafficking and more.
The Foundation's grant will provide support for operating expenses as the organization manages through increased demand for services amid a temporary decrease in federal funding.
The Foundation's grant will support the effort led by the Sioux Falls Skatepark Association to build a state-of-the-art concrete skatepark at Nelson Park, near Drake Springs Family Aquatic Center in Sioux Falls. Plans for the park, which will feature bowls, terraces and various levels to mimic the rock formations at Falls Park, were developed with input from community members as well as professional skateboarder Kanten Russell. Learn more about the Sioux Falls Skatepark Fund.
The Exilic Community in U.S.A. was founded in August 2021 to serve newcomers to the Sioux Falls area. Through various educational and outreach initiatives, the organization aims to help immigrants assimilate to their new surroundings and become involved in the community around them.
The Foundation's grant will support a new series of classes and workshops designed to help immigrants thrive amid a new culture and within in their new community.
The Warrior Wrestling Club's Wrestling Camp will offer students in kindergarten through sixth grade the chance to learn about and build skills in wrestling. The camp will be led by coaches from Washington High School and Whittier Middle School.
The Foundation's grant will enable the Wrestling Club to offer scholarships for campers, along with wrestling gear and transportation for those who need it.
Organizers say the camp's goal is to eliminate all hurdles for students to participate in wrestling and to help grow middle and high school wrestling programs by helping kids build skills and develop experience in the sport.
The Woody Williams Foundation pursues specific endeavors and goals through the vision of Medal of Honor recipient Hershel "Woody" Williams, one of which is the establishment of permanent Gold Star Families Memorial Monuments in communities throughout the United States.
Gold Star Family Monuments have been dedicated in 43 states. South Dakota is one of seven remaining states without a monument that honors, recognizes and serves Gold Star Families who have paid the ultimate sacrifice to preserve the freedoms we enjoy as Americans.
The Foundation's grant will support an effort led by a local volunteer committee to build a Gold Star Family Memorial Monument at Veteran's Memorial Park, located at 1021 West Bailey Street in Sioux Falls.
The memorial monument will honor local Gold Star Families and provide a permanent place for local Gold Star Family outreach events.
The Foundation's grant will support a study to explore the operational feasibility and potential economic impact of a possible formal partnership between the Great Plains Zoo & Delbridge Museum of Natural History and the Butterfly House & Aquarium. Learn more about this grant.