Community Foundation Awards $216,000 in Grants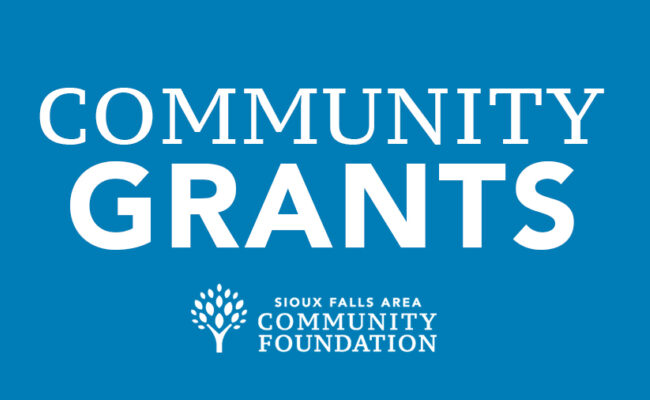 The Sioux Falls Area Community Foundation has announced its latest round of Community Fund grants totaling more than $216,000 in support for local nonprofits and causes throughout our area.
"Thanks to donors who support our Community Fund, we're able to provide the charitable capital necessary to bring these great ideas to life — ideas that will no doubt improve the quality of life for individuals and families across our area," said Patrick Gale, the Foundation's vice president for community investment. "We celebrate the excellent work of these grantees, and we are excited to see the impact of these charitable investments in the months ahead."
The following organizations are recipients of Community Fund grants from January –May 2023:
With a mission to support the Latino population in Sioux Falls, Caminando Juntos provides case management, immigration legal services, English classes and more for Latino individuals, families and kids throughout our community.
The Community Foundation grant will support Atrevete a Ser tu Mismo (Dare to Be Yourself), a support group for Latino teens ages 14-17 who have recently immigrated to the United States and are new to the culture, language and school system.
The support group will be led by Dr. Margarita Gomez, a psychologist from Columbia. The 10-week program will cover mental health topics such as emotional intelligence, healthy communication, mindsets, mental well-being, self-esteem and self-worth, and future aspirations.
Learn more about the grant and the impact of Atrevete a Ser tu Mismo.
EcoSun Prairie Farms, Inc. works to promote the ecological, aesthetic, historical and economic benefits of tall grass prairie through education, research, public outreach, and the development of healthy prairie.
The Community Foundation grant will support ongoing work on a major project to restore tall grass prairie on 106 acres inside Good Earth State Park.
Work throughout summer 2023 will encourage continued prairie growth, the addition of showy forbs and Native American gardens, and the development of the trail system linking the prairie to Good Earth State Park.
When it's complete, the restored prairie at Good Earth will offer unmatched environmental, educational and recreational opportunities for those in Sioux Falls and the region. In addition to benefitting the Big Sioux River and contributing to the Native American components of Good Earth State Park, this increasingly rare native landscape will enrich public offerings, provide local schools and universities with a unique biological demonstration, and will promote tourism — there is no other sizeable and accessible prairies near any metro community across an area where tall grass prairie once flourished.
The grant brings the Community Foundation's total charitable investment in the Good Earth tall grass prairie project to $55,000, an illustration of the Foundation's commitment to provide charitable capital for projects designed to enhance our community in meaningful ways. Learn more about our support of this project.
With a mission to help people claim their lives with compassion, resources and support, the Glory House offers residential and outpatient programs to treat substance abuse and other mental health issues. Clients address irresponsible thinking patterns and develop life skills and positive habits that promote accountability and improve family relationships.
The Community Foundation grant will support an effort to expand the organization's addiction counseling outreach to serve more low income and homeless individuals throughout the community.
Founded in 2020 in response to the COVID-19 pandemic, Headlights Theater makes art more accessible by transforming bleak parking lots into magical landscapes that rival the traditional ways we view and experience live performances.
The Community Foundation grant will support a community engagement imitative called "Movement for Every Body." The effort will include three parking lot performances, partnership with two music festivals, three community gathering opportunities and five separate education programs for various ages, resulting in more dance opportunities for everyone in our community. All of these events will take place throughout the summer months.
The mission of The Hurdle Life Coach Foundation is to provide education, motivation, and inspiration to life-long learners of all ages and community members in all stages of their lives.
The Community Foundation matching grant will support the organization's CHANGE Mentorship Program, an effort to provide coaching and support to community members impacted by the justice system and Adverse Childhood Experiences (ACES). The program's intensive curriculum helps participants learn more about the hurdles they face, clear paths in transition, and establish security within their families and community. The CHANGE program is peer-supported, minority-led, and trauma-informed to help create positive outcomes for participants, examples of which include: higher graduation rates for youth, less crime and arrest for youth and adults, more sustained employment, and less substance use in both populations.
Working toward its mission to build community through music, Levitt at the Falls provides 50 free live concerts at the Levitt shell featuring world class artists that represent the wide diversity of our community. Additional programming includes outreach programs for youth groups, healthcare facilities, and cultural groups, as well as online and television access through South Dakota Public Broadcasting.
The Community Foundation grant supported an initiative called AnceSTARS, a weeklong artist-in-residency program for local youth with Grammy-nominated multi-media content creator, author, musician, and educator Pierce Freelon. The residency included a variety of outreach opportunities in collaboration with our community's Juneteenth Celebration. Learn more.
Lost&Found is dedicated to ending suicide among young adults ages 14-35 in the United States. To accomplish this, Lost&Found's mission is to connect young adults with the skills and community for lifelong resilience, starting with college campuses right here in South Dakota.
The Community Foundation grant will support ReachU, a mobile app designed to increase the impact of peer-to-peer mental health and suicide prevention programs on college campuses across state. ReachU will integrate seamlessly with existing resilience building programs to increase the reach of peer support programs, build data-gathering capacity for mental health-related work, and give students access to critical resources both on-campus and within their communities. The app will be developed in Sioux Falls with input from student leaders across the state who represent diverse perspectives.
With a mission to advocate for education and life skills through recreation, Never Give Up Coaching & Life Skills Group 81 uses basketball to help build and foster connections for elementary school students regardless of their athletic ability. In addition to learning the fundamentals of the game, participants develop confidence, learn how to work with others, and understand how to problem-solve — skills that help them on the court, in the classroom and in their community.
The Community Foundation grant will support the organization as it expands into the city's community learning centers this fall. Future goals include forming teams with players from each community learning center across Sioux Falls.
The Sioux Falls Hope Coalition is on a mission to ensure every child in the Sioux Falls area has the opportunity to prepare for kindergarten by attending a quality preschool. Since its founding in 2017, the organization has provided free preschool to hundreds of children from limited-income households by partnering with more than 12 high quality preschools throughout the city.
The Community Foundation grant will support a new community awareness campaign designed to inform more families about Sioux Falls Hope Coalition and the opportunity for free preschool. Advertising efforts, a user-friendly URL and website enhancements will aim to increase enrollment across each the community.
Founded in 1886, the Sioux Falls Family YMCA has served thousands of families and positively impacted countless lives in the community while faithfully providing programs that meet our mission to build healthy spirits, minds, and bodies. Since 1919, the YMCA's downtown facility has anchored the neighborhood, serving as a safe haven for youth and the surrounding community.
The Community Foundation grant will support an effort called Community Kitchen, which will cook and transport nutritious snacks to each of the 22 Community Learning Centers on a weekly basis. The Community Learning Centers will provide mentorship, academic resources and nutritious snacks to an estimated 1,800 children every day during the school year beginning in the fall of 2023, with a long-term goal of eliminating food insecurity outside of school hours by sending meals home with kids.
The Community Foundation grant will provide support for an aspiring nonprofit aimed at serving the needs of the deaf, hard of hearing, and speech impaired, as well as their family, friends, and advocates.
As an extension of Communication Services for the Deaf, Inc., South Dakota Deaf Resource & Outreach Programs will aim to engage in outreach that will connect community members, share resources and remove barriers.
The South Dakota Foundation for Medical Care's mission is to improve quality of life for South Dakotans by collaborating with healthcare professionals and community stakeholders to achieve excellence in health care.
The Community Foundation grant will support training to expand the Peer Support Specialist (PSS) network in Sioux Falls. The effort, developed in collaboration with SDFMC and Minnehaha County Drug Court, aims to reduce harm from mental health and substance use disorders, reduce recidivism, promote successful recovery, provide employment opportunities, and support those in recovery.
A Peer Support Specialist has walked the path of recovery and can serve as a guide to encourage others struggling with substance use disorder to take one step at a time. These unique skills and lived experiences can support those on the journey to recovery; they can also supplement and reinforce strategies and positive behaviors for maintaining sobriety provided by a client's mental health and/or addiction counselor. Depending on the needs of the client, a PSS may engage in a variety of activities including goal setting, accountability, coaching, and community connection.
Working directly with the Minnehaha County Drug Court, SDFMC will provide Peer Support Specialist training for 10 individuals (eight drug court participants with a level four or level five status and two drug court staff members). Learn more about this grant.
Founded in 2017, South Dakota News Watch is an independent, nonprofit organization reporting untold stories that help South Dakotans be informed and engaged citizens. South Dakota News Watch produces investigative and public service journalism that sheds light on the issues, concerns and welfare of South Dakotans. With a goal to inform, enlighten and illuminate, South Dakota News Watch distributes all of its content for free directly to the public through its website and other digital platforms. Media organizations also can publish the material through their print, broadcast and digital channels.
The Community Foundation grant will provide capacity-building support as the organization expands its news-gathering efforts and advances its work to share multimedia stories across all traditional and digital platforms.
This grant brings the Community Foundation's total charitable investment in South Dakota News Watch to $60,000, an illustration of Foundation's commitment to provide charitable capital for aspiring nonprofits who exhibit high potential to drive positive change and/or create meaningful social impact. Learn more about our support of South Dakota News Watch.
With a mission to inspire the best in all of us through music, the South Dakota Symphony Orchestra (SDSO) aspires to be South Dakota's artistic leader and our nation's model for how an orchestra serves its communities.
Founded in 1922, SDSO is a fully professional 65-member orchestra including nine full-time musicians who make up the Dakota String Quartet and the Dakota Wind Quintet. These two ensembles offer more than 100 performances each year in schools, hospitals, senior living communities, behavioral health, and community centers throughout the region. To reach as many people as possible, orchestra concerts are livestreamed and available free of charge through a partnership with South Dakota Public Broadcasting.
During the pandemic and thereafter, the SDSO increased its robust digital library to include virtual recitals, music education videos, and podcasts. This content is available free of charge online and via social media channels.
The Community Foundation grant will provide support to help the SDSO pursue an advanced network server, a project that will guarantee secure storage and make even more digital content available to everyone.
South Dakota Voices for Peace (SDVFP) focuses on four programming areas: free immigration legal services, multilingual outreach and civic engagement, education and training, and advocacy and rapid response.
The Community Foundation grant will support ongoing efforts coordinated by SDVFP and led by Connect Sioux Falls to advance digital equity across the city.
Specifically, the grants will support awareness efforts and training to help low income households enroll in the Affordable Connectivity Program, a federal program that provides eligible households a discount of up to $30 a month toward Internet services and a one-time $100 voucher to use toward the purchase a laptop, desktop computer or tablet.