2022 Donor Reception Celebrates the Impact of Philanthropy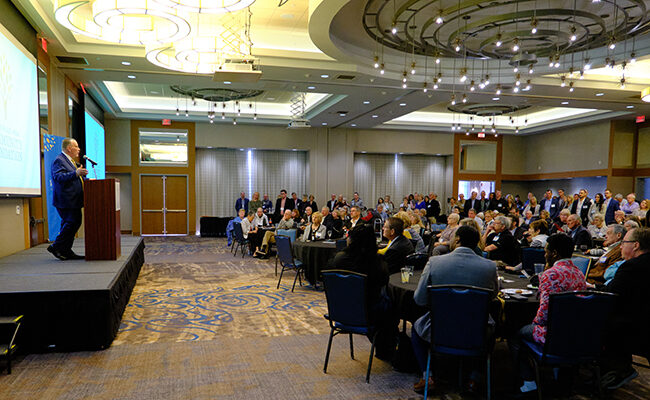 Donors, nonprofits, civic leaders and community members joined the Sioux Falls Area Community Foundation in celebrating the impact of philanthropy across our area last night at the Foundation's annual Donor Reception.
At the event, Foundation President Andy Patterson thanked those in attendance for their care and generosity, noting the Foundation's 2022 fiscal year set records for charitable giving and grantmaking:
The Foundation received more than $65 million in gifts for the last fiscal year, a new record.
Since its inception, the Foundation has now granted more than $245 million to nonprofits and causes across our area.
A Champion for Philanthropy
2022 Friend of the Foundation Honoree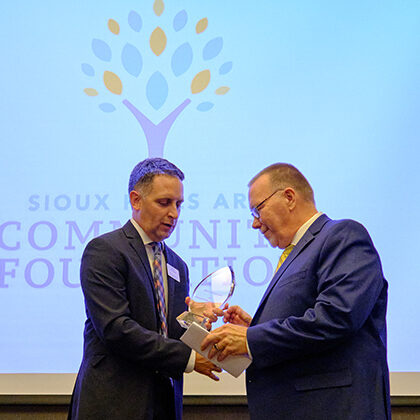 The event also included the presentation of the Friend of the Foundation Award, an honor recognizing innovative, collaborative and impactful leadership and generosity. This year's Friend of the Foundation honoree is Steve Hildebrand, founder of the Promising Futures Fund.
Since starting Promising Futures, a grassroots effort to create equity for kids in poverty, Hildebrand has inspired thousands of individuals, families and businesses to invest in a mission to end what he calls the "poverty disadvantage" in Sioux Falls.

Since its founding in 2019, gifts to the Promising Futures Fund, held at the Sioux Falls Area Community Foundation, have helped to advance educational opportunities, have supported outside experiences, such as field trips, tours and events and, perhaps most importantly, have provided inspiration and hope for kids at 16 schools throughout the city with the highest rates of poverty.

"But the biggest impact — well, we haven't even seen it yet. That's because the future of our community lives within these kids. Their futures are our futures. And thanks to the Promising Futures Fund, these kids are beginning to see a brighter future for themselves," Patterson said when presenting the award.
"They're enhancing their reading skills and improving their academic success rates. They're seeing new possibilities for careers and service — through the arts, through college visits, through mentorship — and they're dreaming bigger dreams for lives of meaning and purpose," he said.
2022 Annual Report
Learn more about the impact of philanthropy across our community in the Foundation's 2022 Annual Report.