Sioux Falls Neighborhood Soccer Fund
Providing Opportunities & Building Connections
Helping kids from Title 1 schools learn the game of soccer, while strengthening the neighborhoods they call home.
Make a Gift Today
The Sioux Falls Area Community Foundation is proud to hold the Sioux Falls Neighborhood Soccer Fund.
The Fund supports Sioux Falls Neighborhood Soccer, a volunteer effort that provides opportunities for kids at Title 1 schools to learn the game of soccer. By bringing kids and families from these schools together, the effort also aims to strengthen neighborhoods throughout our community.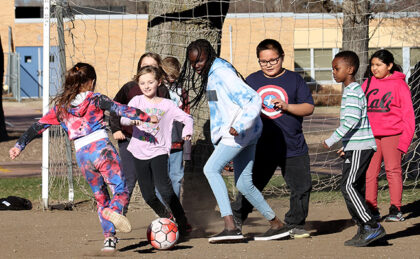 Building Skills, Developing Confidence, Making an Impact
Extra-curriculars are important for all students. Whether through sports, or the arts, or membership in a club, when kids participate in organized activities outside of school, they learn valuable skills such as self-confidence, accountability and responsibility — all of which can translate into other aspects of their lives, including their academic careers, relationships and future goals.
Being part of a team, kids realize their impact can make a difference.
But for kids at Title 1 schools, where at least 40 percent of enrolled students come from low-income families, participating in extra-curricular activities isn't always possible. Many of these students see their parents working hard just to make ends meet, meaning there's little time or money left for organized activities outside of school.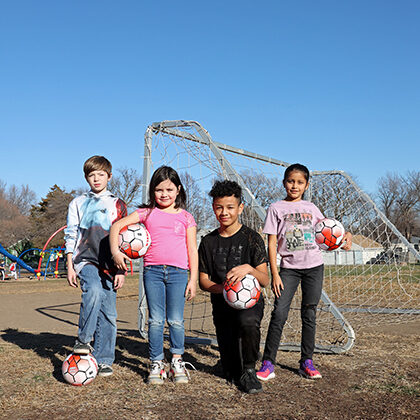 AREAS OF FOCUS
Led by a team of volunteers, Sioux Falls Neighborhood Soccer aims to help close this opportunity gap by organizing and maintaining soccer leagues in every Title 1 school neighborhood throughout the city.
Timeline
The effort began in Fall 2021 with Riverside Soccer, a pilot league for students from Laura B. Anderson Elementary.
Additional leagues will begin in Spring 2022 for students from Garfield, Cleveland and Terry Redlin elementary schools.
Key Points
Participation is free for students.
Each league has a weekly practice/scrimmage, followed by a free picnic lunch for players, coaches and families.
Players receive a complimentary tee-shirt and soccer ball.
Current collaborators include the Sioux Falls School District, supporting churches, Feeding South Dakota, sponsoring businesses, the City of Sioux Falls, the Sioux Falls Area Community Foundation and Dakota Alliance Soccer Club.
Support the Effort
Make a gift to the Sioux Falls Neighborhood Soccer Fund today.
Give Now