—
Our Nonprofits Need Us Now
More Than Ever
We are one community. And today, we have countless ways to make an impact by supporting the nonprofits in our area who do so much. If you can, and if you are able, please support our local nonprofits today.
Learn More
As the Foundation works to support our community during these challenging times, we're also encouraging others to join our movement to create meaningful social impact through local giving.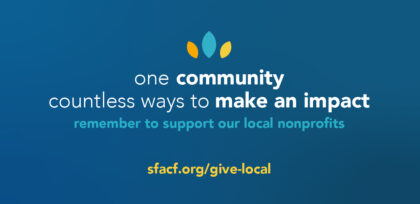 "We continue to be inspired by so many who have stepped up to help our community with empathy, compassion and generosity during this time," said Andy Patterson, president of the Sioux Falls Area Community Foundation. "But the needs that still exist here are extraordinary, especially within our nonprofit sector."

"Nonprofits add to the vibrancy of our community — they are the tapestry that shapes us, protects us and inspires us. They strengthen and unite us by opening doors and building bridges through areas like the arts, nature and the outdoors, programs for our youth and our elderly, health and human services, education and so much more.

In challenging and uncertain times, the role of philanthropy in our community is more important than ever. We're asking folks if they can, and if they are able, to please continue supporting their favorite charitable organizations and causes through philanthropic giving," he said.
"Local charities need us now more than ever, and now is the time to show our nonprofits how much we appreciate them."
In addition to supporting local nonprofits, the Community Foundation also holds two emergency funds designed to help those who are impacted by the pandemic:

The One Sioux Falls Fund is designed to help residents in the Sioux Falls area (Minnehaha, Lincoln, McCook and Turner counties) avoid evictions if they are unable to work due to COVID-19.

So far, more than $950,000 has been distributed to 1,636 households. "This need will continue to rise as the timeline for pandemic extends. There's been financial uncertainty for a lot of people in our community, and we want to do the best we can to provide some semblance of stability when it comes to helping people remain in their homes," said Patterson.


The Corona Help Sioux Falls is a fund held at the Foundation that was established by a coalition of churches working to bring supplies and food to those in need during the coronavirus pandemic. Individuals or businesses can help by making a donation or by volunteering to help with deliveries to those in quarantine and children of low-income families during school closures.
"People get caught up in the weight of the word 'philanthropy.' You don't have to make major gifts to make an impact; the need is so great right now that literally everything helps. We see so many people give with their heart — in whatever way they can — realizing that we're all in this together," Patterson said. "We're grateful that we get to support local organizations doing important work during this crisis for our community through these acts of generosity from individuals and businesses."
---
If you can, and if you are able, please remember to support your favorite charities today. Thank you!