Enhancing the Vibrancy of Local Communities
A new public mural in Hartford symbolizes the community's hopes and dreams for a future of collaboration and cohesiveness. It's just one example of the many community-based initiatives led by our six affiliate community foundations.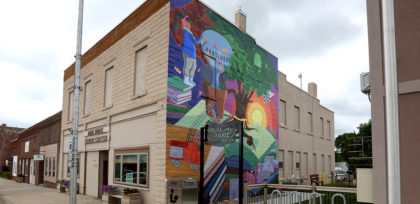 In addition to our work in the Sioux Falls metro area, the Sioux Falls Area Community Foundation also oversees affiliate community foundations in Brandon, Canton, Dell Rapids, Hartford, Lennox and Tea. Led by local volunteers, these foundations are dedicated to providing leadership that inspires philanthropy and enriches the quality of life for individuals and families.

Last summer, thanks in part to a grant from the Hartford Area Community Foundation, Hartford residents came together to transform a 30-foot wall into a colorful illustration of their community's past and present. Today, the community mural symbolizes Hartford's hopes and dreams for a future of collaboration, comradery and cohesiveness.
The grant helped project organizers work with Amber Hansen, an assistant professor at the University of South Dakota, to create a composition for the mural. From there, any Hartford resident was free to pick up a brush and add strokes of color.
Jesse Fonkert is the director of the Hartford Area Development Foundation. He said the mural is an "opportunity for our community to see itself in the mirror as it represents our past, present and thoughts on our future."
"The process itself has helped strengthen our community by bringing together Hartford area residents that share an interest for art, history and unity. Our completed mural has brought more people into our downtown. I work in the building next to the mural and each day I witness folks stopping to take time to absorb the imagery. Now, thanks to grants and support from organizations like the Hartford Area Community Foundation, we as citizens of Hartford share in public art that represents all of us."
Fonkert said the Hartford Community Foundation, as well as the West Central Education Foundation, have helped shape the community by supporting projects that offer a positive and dynamic atmosphere for families.
"Each organization has contributed to an increase in our quality of life not just by their giving and financial gifts, but also by the passion that each member brings to the community. Specifically, support from the Hartford Area Community Foundation has made projects such as the new Siouxland Libraries – Hartford Branch, or improvements to our Bike & Recreation Trail realities. Our Education Foundation issues grants to West Central teachers that utilize the funds to bring valuable experiences to our students or raise money for big projects such as the new band shell that increases the sound quality at band and choir events," he said.
Learn more about our Affiliated Foundations in Brandon, Canton, Dell Rapids, Hartford, Lennox and Tea.