Upholding a Legacy of Care
A Spirit of Care Lives On
After she was lost in a tragic car accident, the family of Ashley Evans established a scholarship in her memory at the Community Foundation. Today, the Ashley Elizabeth Evans Medical School Scholarship is helping to create future physicians while also preserving the legacy of a young woman who was passionate about making a difference and helping those in need.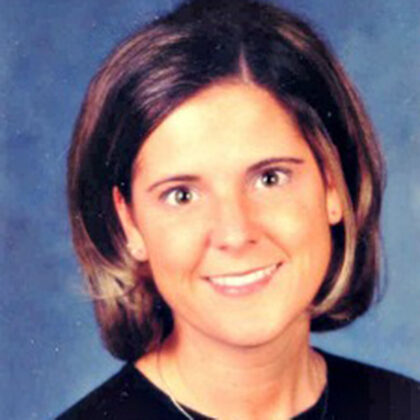 Ashley Evans was in junior high school when she announced her decision to make a difference in the world.
"She was determined," her father, Ed Evans, remembers. "And she was always dedicated in her educational pursuits."
After graduating from O'Gorman High School, Evans went on to the University of St. Thomas in St. Paul, Minnesota, where she developed an interest in medicine. As a student, she volunteered in the emergency department and in out-patient clinics for Regions Hospital in St. Paul, and also served as a personal assistant for a middle school student with physical and mental disabilities.
In the fall of 2000, she enrolled at the Chicago Medical School where she had the opportunity to combine her love of medicine and her passion for service. After completing her first year, she spent the summer volunteering as a member of the Mission San Lucas Toliman's traveling medical clinic in Guatemala.
In the summer of 2003, she had just completed an internship in pediatrics at Stanford University when she was involved in a tragic car accident near Elko, Nevada. Sadly, she passed away on July 26, 2003, due to injuries sustained in the accident.
Wanting her love for education and her passion for medicine and service to live on, Ashley's family made the decision to establish a scholarship in her name at the Community Foundation. In doing so, they have ensured her legacy will live on.
"In thinking about a memorial or a tribute to her , I called (former Foundation President) Sue Brown and they did the rest to help us establish the scholarship to help local students with their medical school expenses," Evans said. "It was a way Ashley could continue making a difference in helping others pursue their dreams and goals related to medicine, community and volunteerism."
Since 2003, the Ashley Elizabeth Evans Medical School scholarship has been benefitting first-year medical school students who are graduates of Sioux Falls-area high schools. Students are eligible to apply after beginning their first semester of study.
Investing in Tomorrow
Today, the Community Foundation holds more than $12 million in scholarship funds and awards nearly 150 scholarships to area students each year.
"Scholarships are an investment in the potential and possibility of tomorrow," said Patrick Gale, the Community Foundation's vice president for community investment. "Our scholarship recipients are tomorrow's doctors and nurses; tomorrow's teachers, journalists, agribusiness owners, legal professionals, nonprofit directors. They are tomorrow's thought-leaders and change-makers in communities throughout our area."
"Scholarships honor the past and create opportunities for the future. We are honored we can be a small part of upholding a legacy for families like the Evans', and to partner with those who believe in the power of education and are using this important giving tool to help create a better, brighter tomorrow," he said.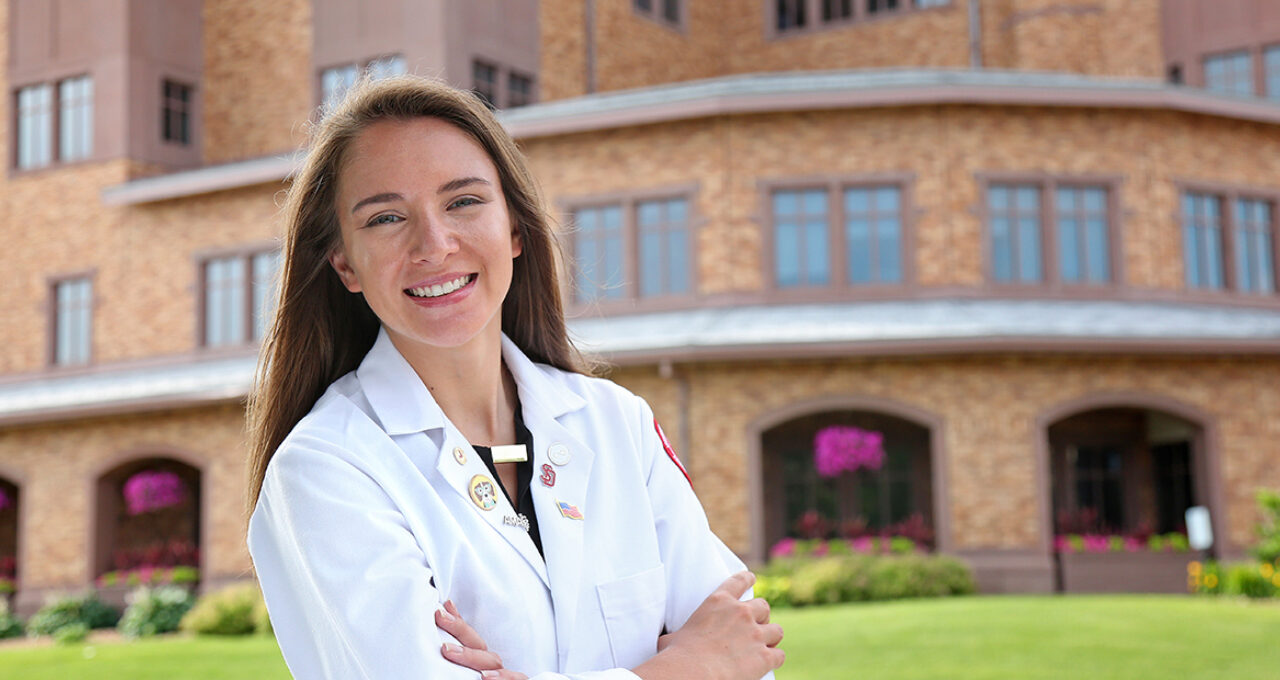 Inspired to Serve
Mykayla Palmer has always been drawn to a career in health care.
While in high school, she began shadowing area physicians to explore her interest in medicine. And as an undergraduate student at the University of South Dakota, she took a mission trip to the Pine Ridge Reservation in wester n South Dakota where she witnessed the complexities of rural health.
"That experience really confirmed for me that I was on the right track. I learned a lot about the rural health system there and the challenges that exist," Palmer, a graduate of Brandon Valley High School, said.
The visit to Pine Ridge held personal significance for Palmer as well — her mother was born a Braveheart of the Oglala Lakota Tribe in Pine Ridge and was later adopted as a young child.
"I've always felt called to go back there — to heal and help people there," Palmer said.
As an undergraduate, Palmer earned the Osmann Family Native American Scholarship held at the Community Foundation, created to benefit enrolled members of a Native American tribe. The award recognizes young scholars who have the desire and ability to succeed in further academic study and have participated in extracurricular or community activities.
Eventually, Palmer made the decision to pursue medical school, however, her plans were nearly derailed when she was involved in a car accident on the way to sit for her Medical College Admission Test (MCAT).
While stopped in her car on a freeway due to construction, a distracted driver traveling at 80 miles per hour rear-ended her vehicle. Palmer suffered neck, back and shoulder injuries and was forced to delay her MCAT.
The delay didn't stop her. She eventually sat for the exam and was admitted to the Sanford School of Medicine at the University of South Dakota. A short time later, Palmer applied for and was awarded the Ashley Elizabeth Evans Medical School Scholarship held at the Community Foundation.
She immediately felt a sense of gratitude — not only for the award, but for her connection to Ashley's legacy.
"This has been so meaningful to me because I feel like I got a second chance to go to medical school, but Ashley did not. It's heartwarming to know I get to continue that legacy," Palmer said.
"I've been very thankful. It was hard to find many scholarships for medical school. And because of my clinical commitments I'm not able to work during medical school — this scholarship will help with that financial burden."
Receiving the award has also inspired her to work toward opening doors for others.
"I would love to give back in the future when I have the ability to create a scholarship fund for students," she said. "I think this scholarship really opened a door into medicine for me that may not have been possible without it."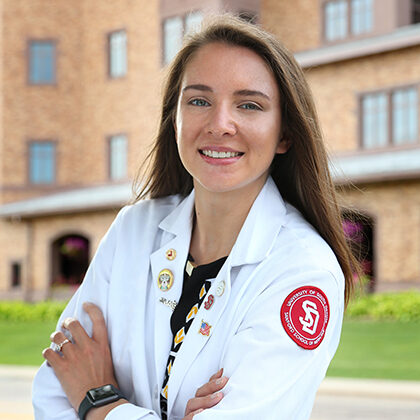 A Commitment to Rural Medicine
In July, Palmer officially began her second year of medical school. She's planning to specialize in family medicine with a goal to remain in South Dakota after she completes her training.
"I've had the chance to shadow family medicine doctors here in Vermillion and my favorite thing to witness is how they can walk in and know every patient and their families. They're able to really connect with their patients," she said. "When you're a doctor, I think really knowing your patients — knowing their histories and their needs — helps you care for them in the best way possible."
"I always say that 'as doctors we are the masters of science, but the patient is the master of their body.' I really think one of the most important things in medicine is having a listening ear — it's the best way to get to the bottom of the problem itself," she said.
Recently, Palmer was selected to participate in the Frontier and Rural Medicine Program (FARM), a selective program that offers med students the chance to receive nine months of clinical training in a rural community. This spring, she'll move to W inner, South Dakota, where she'll gain hands-on experience working in both clinical and hospital settings, serving patients of all ages.
"I love bringing comfort to people. If I can be a light in someone's day by providing emotional, social or physical support, that's really rewarding for me," she said.