After losing a loved one to suicide, the Sercl family is turning their heartbreak into action.
Today, the family finds healing in supporting nonprofits and ideas dedicated to suicide prevention and mental health awareness.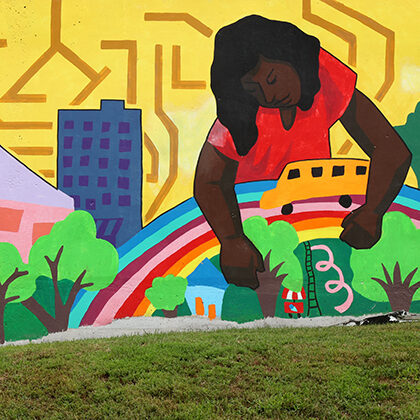 Cathy (Sercl) Harvanko once heard grief described as "love with no place to go."
Heartbroken by the loss of their daughter and sister, Debby, who died by suicide in 2005, today the Sercl family is putting their love to work by supporting local nonprofits dedicated to suicide prevention and mental health awareness.
"After my sister's death, it became very clear that we wanted to direct our giving to areas that helped advance mental health. We made the Community Foundation aware of this desire and the team there has been great about suggesting really meaningful giving opportunities within this area," Harvanko said.

"It feels so hopeless when someone takes their own life — you're left just kind of stranded," she said. "I can't go back in time and help my sister when she was struggling, but if our work can prevent even one death; if it can provide hope to someone who's feeling hopeless, then it's worth it."

By supporting programs such as the Helpline Center's Text4Hope program, an effort that provides crisis texting support for all high school students in the state of South Dakota, the Dakota Academy of Performing Arts (DAPA), which helps high school students build dialogue around mental health issues through traveling theatre performances, Avera Behavioral Health, Lost&Found and more, Harvanko said the family hopes to help those who are suffering from mental health issues.

"I think what's really important now is reaching people where they're at," Harvanko said. "We can't bury this under the rug anymore. We need to help people — and especially kids — understand that it's OK to feel this way, and that there's help available."

"And the more kids we reach, the more awareness we build around mental health," she explained. "So, hopefully, more kids will not only ask for help if and when they need it, but more kids will be able to be an advocate for friends who may be experiencing a mental health crisis."

Patrick Gale, vice president for Community Investment, has worked closely with the Sercl family over the course of nearly two decades.

"Through their giving, the Sercl family is not only driving important change, they are impacting the lives of countless individuals and families throughout our community. We are so grateful for all they do, and we couldn't be more honored to partner with them on their philanthropy."

— Patrick Gale, Vice President, Community Investment
For her family, Harvanko said, giving back has always been important.

"When our family operated Sunshine Foods, my dad and grandfather always talked about how, because the community was so good to us, it was important for us to give back to the community," Harvanko said. "So our giving focuses on advancing mental health and supporting those who are vulnerable. It's easy for people to fall through the cracks. But, thanks to organizations like the Children's Inn, the Banquet, the Bishop Dudley House, the St. Francis House and others — nonprofits who care so much and who do such meaningful work — we can help. I can't undo the past, but I sure hope I can make the present better for another family."