At just 18 years old, Allie Weber is already a patented inventor, an online community-builder and an award winning STEM advocate.
Today, thanks to scholarships from the Sioux Falls Area Community Foundation, she's set to use her passion and creativity to inspire a new generation of makers and builders.
Allie Weber's room is a labyrinth of gears and wires, Exacto knives and hot glue guns, and drawings and prototypes for everything from the Frost Stopper, a glove designed to prevent frostbite (for which Weber applied for and received a patent at the age of 14), to a light-up prom dress, to a full-size Tardis replica she built herself. (While it won't transport you through time or space, it's beyond cool and is, hands-down, easily the envy of any "Doctor Who" fan.)
Since the tender age of six, Weber has been using her creativity and passion for helping others to design and build solutions for challenges she sees.
As @RobotMakerGirl, she chronicles her creative process on TikTok and via her "Tech-nic-Allie Speaking" YouTube channel. Her inventions, and her desire to inspire innovation in others, has gained her national attention — she's been a host on the popular TV show "Mythbusters Jr," has appeared in Teen Vogue and is a past winner of the Global Spark Lab's "InventIt Challenge." She even worked with special effects designer Adam Savage at the request of famed Hollywood director Jason Reitman to make various props for "Ghostbusters: Afterlife," the 2021 film inspired by the original "Ghostbusters" (one of Weber's all-time favorite movies).
But Weber's story is far more than that of just a young inventor. Hers is the story of a hopeful visionary whose spirit blazes with possibility. Above all, it's a reminder that the power to change the world doesn't begin with adults. It begins with kids.

I like to say that kids are not the future, they're here now. They're not going to change the world someday, they already are. The youth can do things, and they are doing things.

— Allie Weber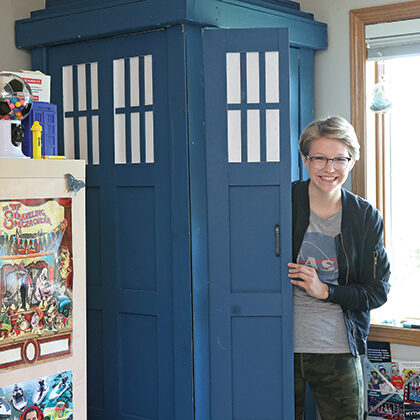 Today, thanks in part to scholarships from the Sioux Falls Area Community Foundation, Weber is set to begin a new chapter in her odyssey to create positive change. As a freshman at South Dakota State University, she's pursuing a major in pharmacy with plans to continue her passion for inventing and building.

She chose pharmacy because "I wanted a job that would let me keep innovating and helping people while also being able to explore and do things I haven't tried before," she said. "I've always had an intense need for learning, so being able to try something new like the field of pharmacy, while also being able to follow my passions for inventing and helping people is really exciting."
"Being able to have these scholarships from the Sioux Falls Area Community Foundation has been so helpful. I won't have to spend so much time worrying about the funding I need for school. I'll be able to put my efforts elsewhere like volunteering and continuing community projects," Weber said.
Over the years, thousands of young scholars have benefited from scholarships held at the Community Foundation. Established by donors who are passionate about the power of education, the scholarships provide meaningful support to students who are pursuing post-secondary education at various colleges and universities.
For Patrick Gale, the Foundation's vice president for community investment, scholarships illustrate the powerful intersection of philanthropy and education.
"We are so grateful to the donors behind our scholarship funds for investing in students like Allie — young people from across our area who, in their educational pursuits, will be challenged to ask questions, listen, engage in dialogue, learn, serve and explore new ideas for a brighter and stronger tomorrow," Gale said. "It's impactful philanthropy at its finest, and we couldn't be more grateful."
Learn more about the donors behind our scholarship funds, and meet the Foundation's 2023 scholarship recipients.