Foundation Awards More than $500,000 in Scholarships to Area Students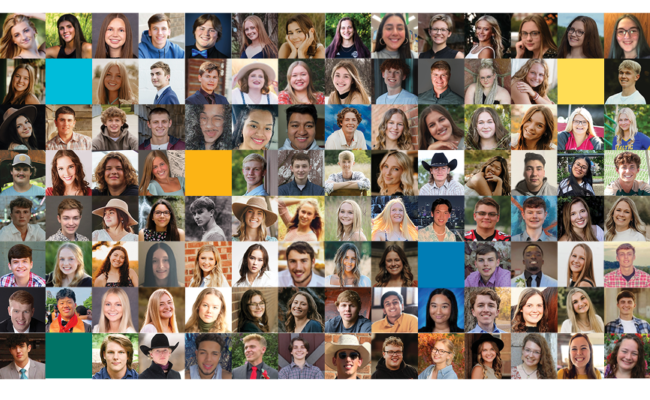 The Sioux Falls Area Community Foundation has awarded more than $500,000 in scholarships to area students pursuing post-secondary education.
The scholarships are funded by donors who are passionate about changing lives, promoting economic security and investing in the future through the power of education.
"We've long believed that philanthropy and education can and must intersect to help drive positive change, said Patrick Gale, vice president for Community Investment. "We are so grateful to the donors behind these scholarship funds for investing in the leaders of tomorrow — young people from across our area who, in their educational pursuits, will be challenged to ask questions, listen, engage in dialogue, learn, serve and explore new ideas. Our 2023 scholars are an extraordinary group of young people and we are confident they will play a vital role in creating a brighter and stronger tomorrow for the world we all call home."
See the list of 2023 scholarship recipients below. Learn more about our scholars, including their academic pursuits and future plans.
About Scholarship Funds
Scholarship funds at the Community Foundation allow donors to make a meaningful, life-changing charitable contribution, qualify for an immediate tax benefit, and provide scholarships in perpetuity to area students pursuing post-high school education. Learn more about the donors behind our scholarships.
Donors work with the Foundation to design an impactful scholarship fund based on criteria that's personally meaningful and relevant to current societal needs. Once the fund is established and applications arrive, the Foundation team supports volunteer scholarship evaluators in an annual selection process.
2023 Scholarship Recipients

The following list includes the 2023 scholarship recipients, their hometowns, and the name(s) of the scholarship(s) they were awarded:
Tayten Aasheim, Canton, Vince Beck Five Point Scholarship
Ivette Alvarado, Sioux Falls, Herman and LaVerne Griller Scholarship
Cadence Abbas, Canton, Ralph and Doris Wallin Scholarship
Brinlee Allen, Alcester, Anna and Paul Lind Scholarship, Justin Lake College Scholarship
Kale Ask, Canton, Frank Lingo Scholarship
Kyle Bares, Dell Rapids, Trent Area Scholarship
Teya Badger, Brandon, Shon Trimble Memorial Scholarship
Grace Barnett, Sioux Falls, Davenport, Evans, Hurwitz & Smith Scholarship
Cole Bisbee, Columbia, Hopps Dow Scholarship
Owen Bovill, Alcester, Louis H. Shoraga Scholarship
Adam Boyens, Sioux Falls, Kiwanis Club of Sioux Falls Community Service Scholarship
Alexa Brockmueller, Sioux Falls, Dakota Alliance Soccer Club Student-Athlete Scholarship
Rachel Bruggeman, Sioux Falls, James and Bernice Kopperud Scholarship, Waneta Drake Miller Edmison Memorial Scholarship
Cord Capp, Faith, Yeager-Afdahl Scholarship
Riley Casper, Lake Preston, Norman W. Ranschau Memorial Scholarship
Kennedi Cooper, Bancroft, Rush Family Scholarship
Lydia Decker, Tea, Tea Area Community Scholarship
Mya Dissing, Hartford, Julius A. and Dorothy L. Jacobsen Scholarship
Masha Doering, Sioux Falls, Herman and LaVerne Griller Scholarship, Hovik Family Scholarship
Hannah Downs, Sioux Falls, Wyatt Ammon Memorial Scholarship
Catherine Dunbar, Sioux Falls, Robert and Dr. Judy Nissen Scholarship
Kennadi Engel, Sioux Falls, Davenport, Evans, Hurwitz & Smith Scholarship
Ellie Evans, Letcher, Kimberly Rose Means - Native American Council of Tribes Scholarship, Osmann Family Native American Scholarship
Cambell Fischer, Hartford, Julius A. and Dorothy L. Jacobsen Scholarship
Denilson Francisco, Sioux Falls, Karen Bates Trimble WHS Class of 1962 Scholarship, Raymond Eddy Scholarship
Sydney Gates, Sioux Falls, James and Bernice Kopperud Scholarship
Jendy Gonzalez, Sioux Falls, Sioux Falls Retired Teachers Association Scholarship
Alyvia Gorman, Rapid City, Andy Award
Ty Graesser, Chamberlain, Siouxland Chapter CFMA Scholarship
Abigail Greenhoff, Dell Rapids, Jerry Hoftiezer Memorial Scholarship
Claire Guggenmos, Valley Springs, Duane and Bonnie Bly Family Scholarship
Seth Gustad, Canton, Frank Lingo Scholarship
Caleb Hanten, Groton, Hopps Dow Scholarship
Abby Hasart, Huron, Justin Lake Huron/James Valley Christian College Scholarship
Jacey Hayen, Sioux Falls, Herman and LaVerne Griller Scholarship
Jackson Heiden, Sioux Falls, Robert W. Best Scholarship
Maya Heinitz, Dell Rapids, Gloria Rae Beck Scholarship
Chase Henderson, Sioux Falls, Katherine A. Larson Scholarship
Amber House, Sioux Falls, Davenport, Evans, Hurwitz & Smith Scholarship
Braden Husby, Sioux Falls, Rush Family Scholarship
Angela Huver, Sioux Falls, James and Bernice Kopperud Scholarship
Lindsey Irvine, Sioux Falls, James B. and Vera A. Sadler Graduate Student Scholarship
Joshua Jackson, Sioux Falls, Spirit of Sioux Falls Scholarship
Hailey Johnke, Lennox, Jon Richter Memorial Scholarship
Elizabeth Johnson, Hartford, Davenport, Evans, Hurwitz & Smith Scholarship, Julius A. and Dorothy L. Jacobsen Scholarship
Landen Johnson, Sioux Falls, James Stenholtz Scholarship, Ralph and Doris Wallin Scholarship
Chase Jones, Dell Rapids, Davenport, Evans, Hurwitz & Smith Scholarship, Fred and Marie Christopherson Scholarship, Jerry Hoftiezer Memorial Scholarship
Tate Kogel, Sioux Falls, The Country Club of Sioux Falls Honor Golf Scholarship
Kaylin Kraft, Redfield, Joe and Norma Rahm Memorial Scholarship
Maria Larson, Sioux Falls, James and Bernice Kopperud Scholarship
Rachel Lindholm, Wentworth, Cogley-Buffington CPCU Scholarship
Reese Luze, Egan, Trent Area Scholarship
Wesley Martinez, Sioux Falls, Bill Barlow "Second Chance" Scholarship
Teegan Mason, Frankfort, Joe and Norma Rahm Memorial Scholarship
Teancum Maxwell, Faith, Yeager-Afdahl Scholarship
Josie McCord, White Lake, Delmar and Rosemary Skluzak Family Scholarship
Josh Merkle, Harrisburg, Harrison-Joslyn Memorial Scholarship
Peyton Meyer, Alcester, Delmer Scott Award, Mary Scott Award
Katherine Mickelson, Sioux Falls, Kiwanis Club of Sioux Falls Community Service Scholarship
Avery Miles, Turton, Gordon Ingwersen Scholarship
Bergun Moeller, Worthing, Jon Richter Memorial Scholarship
Matthew Muston, Renner, Kent Hegge Memorial Scholarship
Mara Nelson, Sioux Falls, Kiwanis Club of Sioux Falls Scholarship
Swayze Ness, Kimball, Delmar and Rosemary Skluzak Family Scholarship
Tristan Niewenhuis, Brandon, Fred and Marie Christopherson Scholarship
Amber Oakland, Sioux Falls, James B. and Vera A. Sadler Undergraduate Scholarship
Brayden Oakland, Canton, Viola Lingo Watson Scholarship
Alexandra Panic, Sioux Falls, Jim and Fran Foss Scholarship, Washington High Alumni Scholarship
Caden Patzwald, Sioux Falls, Robert W. Best Scholarship
Tyler Payer, Fort Pierre, Siouxland Chapter CFMA Scholarship
Isaiah Peters, Brandon, Landon Wulf BVHS Scholarship
Cole Peterson, Sioux Falls, Jim and Fran Foss Scholarship, Joe Foss "An American Hero" Scholarship
Payton Pickering, Harrisburg, Davenport, Evans, Hurwitz & Smith Scholarship
Daniel Porraz-Lopez, Sioux Falls, Equitable Sioux Empire Scholarship
Zachary Post, Eagan, MN, Hovland Scholarship
Elizabeth Price, Dell Rapids, Ralph and Doris Wallin Scholarship, Regina "Grandma" Evans Scholarship, Verne and Ardith Forbes Scholarship
Seth Raap, Sioux Falls, Herman and LaVerne Griller Scholarship
Pawan Rai, Sioux Falls, Herman and LaVerne Griller Scholarship, Sally Bertina Meyer Scholarship
Adrienne Revier, Sioux Falls, Jim and Fran Foss Scholarship, Mark Bielen Scholarship
Jan Riva Saravia, Sioux Falls, Waneta Drake Miller Edmison Memorial Scholarship
Brooklyn Rombough, Crooks, Julius A. and Dorothy L. Jacobsen Scholarship
Selena Russell, Sioux Falls, Jim and Fran Foss Scholarship
Jada Sandvall, Sioux Falls, James and Bernice Kopperud Scholarship
Katelynn Scherff, Trent, Trent Area Scholarship
Griffen Schnider, Tea, Justin Lake Tea College Scholarship
Aden Scott, Sioux Falls, Joe Foss "An American Hero" Scholarship
Jordan Shanks, Sioux Falls, Dakota Alliance Soccer Club Student-Athlete Scholarship
Sanjeev Shyam, Sioux Falls, Davenport, Evans, Hurwitz & Smith Scholarship
Connor Siemonsma, Humboldt, Julius A. and Dorothy L. Jacobsen Scholarship
Parker Sisson, Harrisburg, Ralph and Doris Wallin Scholarship
Ethan Skarnagel, Claire City, Myrtle and David Blomquist Scholarship
Adisen Stadem, Dell Rapids, Dale Lokke Law Enforcement Scholarship, Herman and LaVerne Griller Scholarship
Megan Sundvold, Sioux Falls, Jim and Pat Croston Family Scholarship
Kailee Taborda, Sioux Falls, James B. and Vera A. Sadler Undergraduate Scholarship
Logan Taylor, Sioux Falls, Independent Insurance Agents of Sioux Falls Scholarship, Joe Foss "An America Hero" Scholarship

Kayleigh Thompson, Alcester, Harry Lee Scholarship
Alyvia Trumm, Canton, Harrison-Joslyn Memorial Scholarship
Kim Ueng, Sioux Falls, Spirit of Sioux Falls Scholarship
Emma Van Regenmorter, Dell Rapids, Arthur O. Moe Scholarship
Dayana Vivar, Sioux Falls, Robert W. Best Scholarship
Allie Weber, Sioux Falls, Davenport, Evans, Hurwitz & Smith Scholarship, Fred and Marie Christopherson Scholarship, Kiwanis Club of Sioux Falls Community Service Scholarship
Leah Wiechelman, Winner, Joe Foss "An American Hero" Scholarship
Brandon Weiland, Trent, Jeremy Baum "Hope" Scholarship, Regina "Grandma" Evans Scholarship, Trent Area Scholarship
Marie Weller, Redfield, Joe Foss "An American Hero" Scholarship
Ariahna Wells, Sioux Falls, Kiwanis Club of Sioux Falls Community Service Scholarship
Ella Wiese, Sioux Falls, Raymond Eddy Scholarship
Eliza Wilgers, Tea, Tea Area Community Scholarship
Hunter Wilson, Tea, Tea Area Community Scholarship
Nathaniel Wilts, Brandon, Joe Foss "An American Hero" Scholarship
Zander Wissink, Sioux Falls, Jim and Fran Foss Scholarship
Hunter Wright, Brandon, Hovland Scholarship
Zachary Wrightsman, Sioux Falls, Waneta Drake Miller Edmison Memorial Scholarship
Callista Xavier, Dell Rapids, David Jay Schmidt Memorial Scholarship, Junior League of Sioux Falls Memorial and Tribute Scholarship
Niyongabo Yohana, Sioux Falls, Raymond Eddy Scholarship