After a rare condition impacted her vision, Mary Payton, our 2023 cover artist, began looking at life, and art, through a different lens.
Her story of resilience and transformation illuminates the power of the human spirit and reminds us all that, for our mind's eye, creativity knows no bounds.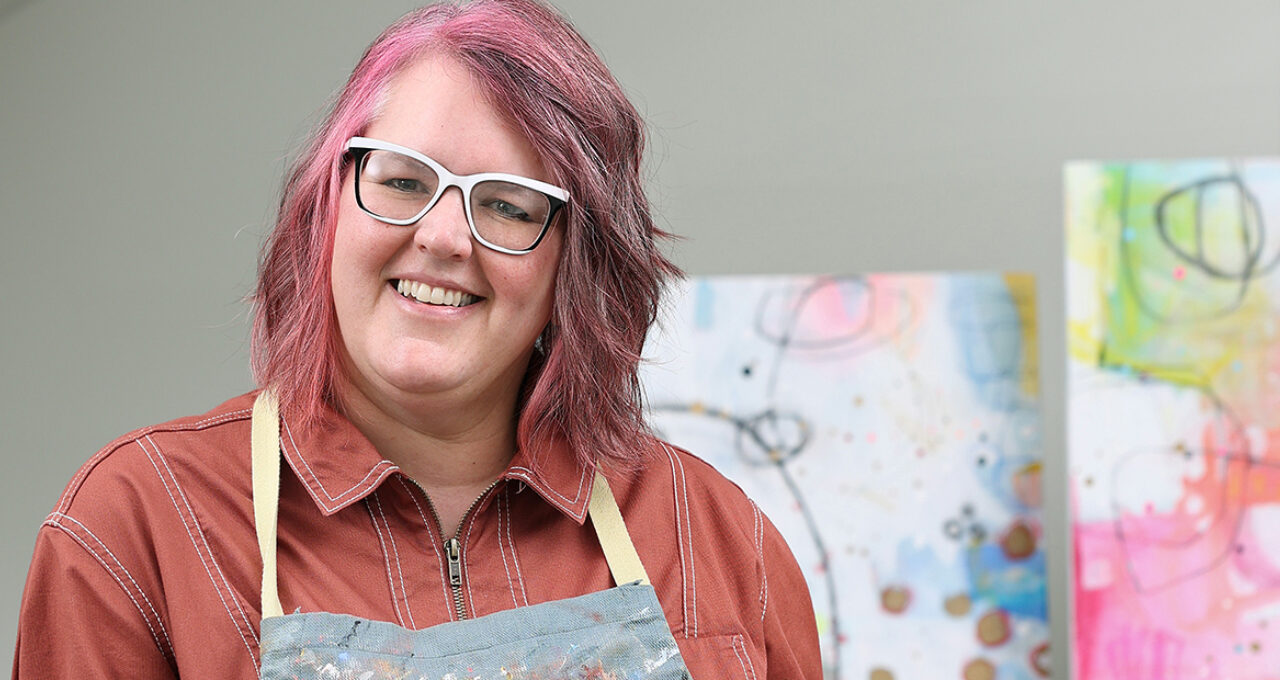 For Mary Payton, the artist behind "A Better Day," featured on the cover of our 2023 Annual Report, art has been not only a way to express her creativity, it has offered hope and healing during some of life's darkest moments.
Her passion for art first began when she was just a kid growing up in the Black Hills.
"I always felt like it was something I did. When I was in school and we had choices, I always chose art. There's such a wealth of visual stimuli in the Black Hills — it's so beautiful there," she said.
But she also loved science, and even started out as a pre-med major at South Dakota State University.
"I really thought science would be my life. Then I took an art class as an elective and the next semester I changed my major. I knew it was my life. I just couldn't let it go and I couldn't find a way to let it be second fiddle."
After graduating from SDSU with majors in fine art and art education, she moved to Colorado. Later, she moved back to South Dakota and settled in Sioux Falls where eventually, her artistic interests expanded to acrylics and stained glass.
"I took a class in stained glass. I fell in love with it. I learned how to morph stained glass into fused glass into sculpted glass into sculpted jewelry. Glass became really, really important to me."
Over the next number of years, Payton's focus on art ebbed and flowed. She continued to make her own art when she could and even gave private art lessons for a time. Between raising kids and the demands of a full-time job, she found she had less and less time for art.
Then, in 2015, she got sick and everything changed.
A Life-Changing Diagnosis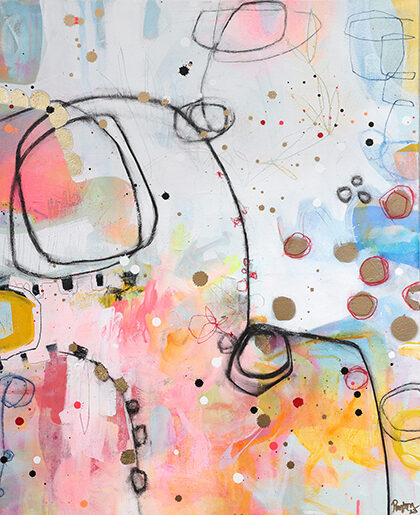 In the beginning, she said, it felt like a stomach flu. But it didn't pass, and new symptoms emerged. A pre-existing autoimmune condition only complicated the situation.
"It lasted for weeks and weeks and I got sicker and sicker," Payton said. "My eyes got more and more red. They were so painful, and my vision was changing."
The symptoms persisted for years until Payton was eventually referred to the Mayo Clinic where she was diagnosed with Visual Snow Syndrome, a rare condition "where patients see a type of TV static in their vision. It's almost like they have millions of tiny little dots in their vision all the time, and it's throughout their visual field," said Dr. Robertson, a Mayo Clinic neurologist.
The condition can also cause additional symptoms that "involve flashes of light or seeing things that the brain is supposed to tune out, such as eye floaters or after-images," as well as dizziness, headaches or ringing in the ears.
During the darkest depths of her illness, Payton "spent about six weeks not being able to use my eyes much at all — they were either closed or behind dark glasses."

Her mind's eye, however, was seeing in new and extraordinary ways.

"All throughout that time, I was imagining the things I was going to paint when I could paint again. I was picturing them in my mind. And that's how painting happened again," she said.
Healing Through Art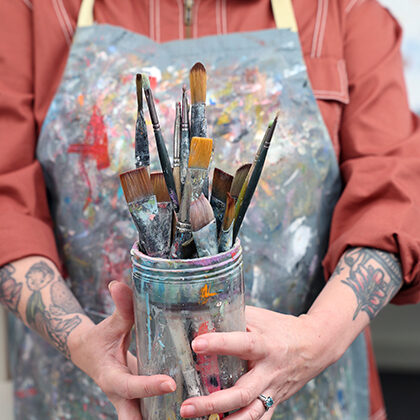 Following her diagnosis, Payton said facing her new reality was difficult.

"My eyes were extremely painful and I suffered from daily migraines. But I wanted to paint, so I started to paint almost every night and eventually, I realized that it was changing me physically. It was letting my eyes relax. It was letting my brain relax. It became therapy for me — both mentally and physically. I was just letting go, exploring new media, new colors and new techniques. It changed my mindset. It made me feel better physically."
Eventually, she began to experience feelings of gratitude for her "new vision."
"It would have been easy to let myself fall into a dark place after my symptoms and eventual diagnosis, but that's not what I wanted for myself. I'm just so thankful that art was an option for me — that art could help me deal with this and could help me heal."
"Now it's kind of like seeing through a filter. I've just learned to sort of work it out. In a lot of ways, I'm really grateful for the Visual Snow Syndrome because I don't think I would be painting the way I am now without it. I know I wouldn't. It's really interesting to have this really unique view of the world."

Now I can see that this crazy vision that I have is really quite fantastic. It's quite beautiful and I'm thankful for it.

— Mary Payton
Hope After Devastation
By 2021, Payton's life was moving forward. She'd found a way to work through her condition — and to incorporate it into her art — and her work was gaining a strong following.
"In my work, I began to focus on examining the unique way that the filter in my brain alters my vision. I became interested in trying to convey to the viewer how it feels to have so many visual disturbances," she said. "I'd connected with some galleries and they helped me get into some shows. I was posting about my painting on Instagram. I was gaining a lot of followers there and my paintings started selling."
Then, disaster struck.
"We'd had a bad storm and the water main outside of our house broke. We woke up to eight inches of water in our basement, which is where my studio is. All of my canvases were ruined. It was devastating."
She turned to the Sioux Falls Arts Council for help. There, she applied for a Micro Grant, a program supported by the Sioux Falls Area Community Foundation that provides funding to local artists to help support and advance their work.
"I applied and explained what had happened. My grant application got approved and I was able to purchase new canvases. It was such a gift to be approved for that," Payton said, calling the Arts Council a true champion for local artists.
"The Arts Council and Kellen Boice (executive director) — they're so welcoming and inclusive. It's all about inviting others to connect and be part of the wonderful circle of artists that exists here in Sioux Falls. It's such a gift to the arts community here."
Supporting Local Artists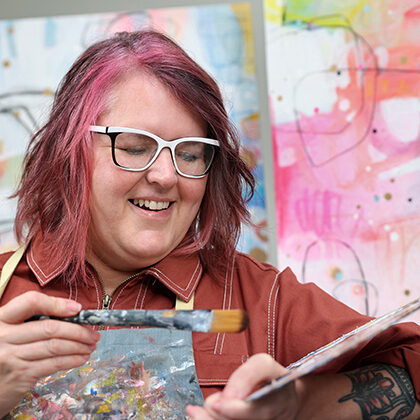 In an effort to celebrate and support local artists in our community, each year the Sioux Falls Area Community Foundation commissions an original piece of artwork to feature in our annual report. Reflecting on this year's artwork, President Andy Patterson called Payton and "A Better Day" the perfect illustration of the Foundation's mission and its work over the last year to build meaningful connections.
"We're honored to feature Mary's work on the cover of our annual report," Patterson said. "Her personal and artistic journey, and the emotions her pieces evoke, are reminders of the power of the human spirit and the ability we all have to imagine a brighter tomorrow."