Youth Advisory Council Announces Grant Recipients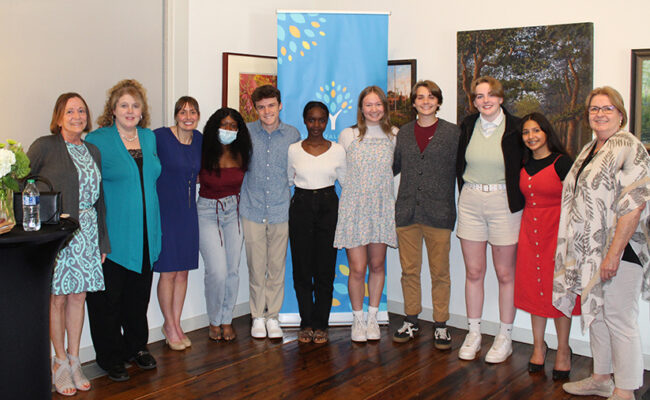 On Tuesday, May 17, student members of the Sioux Falls Area Community Foundation's Youth Advisory Council presented $10,000 in grants to three local nonprofits as part of the group's year-end celebration.
Teens from Sioux Falls Roosevelt, Lincoln, Washington and Jefferson high schools participated in the 2021-22 Youth Advisory Council, a program designed to provide teens with opportunities to explore and assess the most pressing needs of our community, meet with professionals to raise support for neighborhood causes and participate in local grantmaking efforts.
The program is facilitated by YouthRoots, a nonprofit dedicated to youth empowerment.
After reviewing community needs, the Youth Advisory Council selected three areas of focus for its 2021-22 season: mental and physical health, substance abuse, and access to education.
The Council presented grants to the following local organizations who, it said, are excelling in their efforts to address these areas:
Lutheran Social Services (LSS) cares for, supports and strengthens individuals, families and communities through a variety of programs and services statewide. As one of the largest, private nonprofit human service agencies in South Dakota, LSS serves people of all ages, faiths, races and economic status with professional, confidential and affordable services including adoption services, behavioral health services, childcare and education services, financial services, foster care, interpreter services, kinship services, intensive independent living services, pregnancy services and more.

The Youth Advisory Council grant will support the organization's PATH Program, a partnership of LSS, the Sioux Empire United Way and Sioux Falls area school districts to meet the mental health needs of K-12 students. PATH targets K-12 students who have been identified as needing individual mental health counseling, but whose families have barriers to getting mental health services. These barriers might include transportation, scheduling, inability to take time off work, financial concerns, or hesitancy with seeking treatment in the community. PATH counselors come to participating schools each week to meet with individual students.
Family Connection provides transitional housing, temporary shelter, emergency supplies and support services to help individuals and families overcome the obstacles associated with having an incarcerated loved one.

The Youth Advisory Council grant will support the organization's Children's Connection program. Children of incarcerated parents often experience multiple emotional and social difficulties, including exposure to a parent's criminal activity, witnessing a parent's arrest and court proceedings, separation from parents, loss of family income, housing instability, changes in caregiving, stressful visits with the incarcerated parent, and shame or stigma associated with a parent's involvement in the criminal justice system. The Children's Connection Program is designed to help address the mental health needs of children who have, or have had, an incarcerated loved one.
McCrossan Boys Ranch is a group care facility for at-risk boys ages 9-20, most of whom are referred to the Ranch through the Department of Social Services, often from situations involving abuse, poverty, chemical substance abuse and more.

Through daily group sessions, individual therapy, chemical dependency services, psychiatric care, restorative justice, education, equine therapy, moral development, recreational offerings and more, McCrossan Boys Ranch aims to provide new hope for a better life.

The Youth Advisory Council grant will support McCrossan's school enhancement project. This effort features an 8,000-square-foot addition to the organization's school, classroom updates, and new equipment that will enable McCrossan to offer even more Career and Technical Education (CTE) courses.