South Dakota News Watch Named 2021 Community Spirit Award Recipient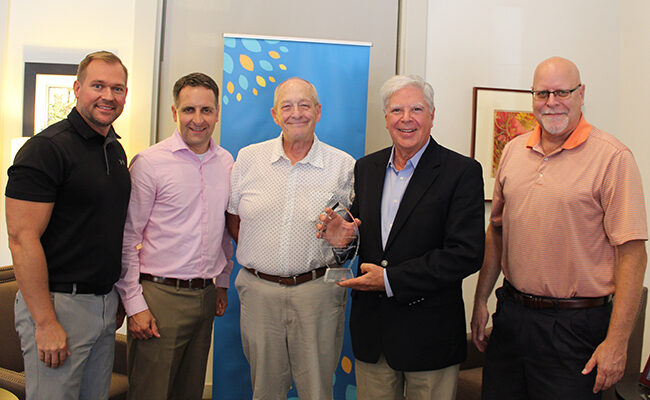 The Sioux Falls Area Community Foundation has named South Dakota News Watch as the recipient of its 2021 Community Spirit Award, celebrating the nonprofit's work to inform and engage South Dakotans, as well as its efforts to inspire solutions for the future.
Working toward its mission to help improve the quality of life for individuals and families in our area, the Foundation regularly awards grants to area nonprofits that are doing important work to strengthen and enrich our community. The Community Spirit Award recognizes one nonprofit that has used its grant to drive change, engage in dialogue and spark new ideas, making an impact in the lives of those it serves and in the community we call home. The award includes a commemorative plaque as well as a grant to help the organization advance its mission.
"When the Foundation awards grants, we look for compelling ideas brought forward by groups equipped to carry them out. And, we consider the idea behind an organization's mission. Then we weigh those factors against the needs within our community," said Andy Patterson, president of the Sioux Falls Area Community Foundation. "When we looked at News Watch, we saw an outside-the-box idea rooted in a desire to better inform and engage our citizenry, with the hope of creating a healthier society and a stronger democracy. This was an idea that had the potential to drive real and meaningful change. We commend its founders for their courage to dream big and we are beyond proud to present News Watch with the 2021 Community Spirit Award."
Patrick Gale serves as the Foundation's Vice President for Community Investment. He called the Community Foundation's support of News Watch an investment in the future.
"To date, News Watch has produced hundreds of investigative news stories, shedding light on important statewide issues across all sectors, from agriculture to education, public safety, politics and more." Gale said. "What's more, many of those stories have prompted action – from policy reviews to increased public awareness and beyond. We're proud to support South Dakota News Watch and we believe this has been a charitable investment that is yielding immeasurable returns."
Learn more about South Dakota News Watch and how the Community Foundation is helping this nonprofit advance its mission in our upcoming 2021 Annual Report.
---
Pictured Above (from left to right): The Community Foundation's Patrick Gale, vice president for community investment, and Andy Patterson, president, present the 2021 Community Spirit Award to South Dakota News Watch. Accepting the award on behalf of South Dakota News Watch: Randell Beck, co-chair of its Board of Directors, Jack Marsh, co-chair of its Board of Directors, and Rob Joyce, News Watch executive director.