Sioux Falls Selected to Participate in Nationwide Public Arts Initiative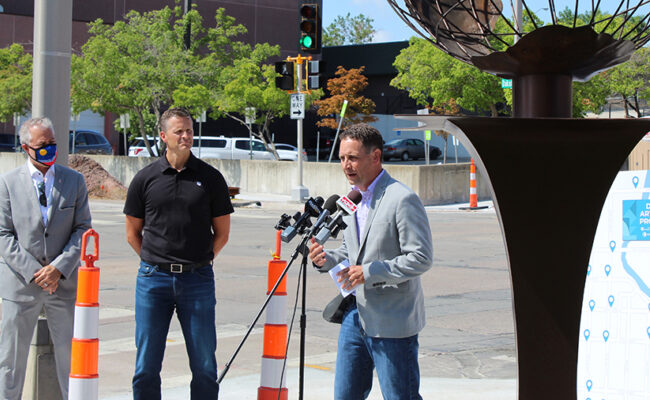 Downtown Sioux Falls is already a cultural and arts destination, and now — thanks to a grant from Bloomberg Philanthropies for a nationwide public arts initiative — it will become even more of a hub for the arts. The City of Sioux Falls, Downtown Sioux Falls, Inc., and the Sioux Falls Area Community Foundation are excited to announce Sioux Falls' selection as one of 16 communities that will participate in a nationwide public arts initiative.
A $25,000 grant from Bloomberg Philanthropies' Asphalt Art Initiative has been awarded to the City and its nonprofit partners to create the DTSF Art Box project. Downtown Sioux Falls, Inc. has matched the grant with an additional $25,000 from the Downtown Economic Development Incentive Fund. Visual art from regional artists will be installed on up to 25 signal boxes at intersections across downtown Sioux Falls.
The DTSF Art Box project aims to showcase artworks from regional artists and celebrate our diversity and inclusivity by prioritizing work from minority communities. The project also will bolster the One Sioux Falls framework by engaging people across the community and providing a space to highlight artists.
The Sioux Falls Area Community Foundation will act as the fiscal agent to receive the grant money from Bloomberg Philanthropies.
"Public art is an essential element of 21st century placemaking—it tells important stories about the spirit of a community and empowers us to see our city through a different lens. In essence, public art brings us together," said Andy Patterson, president of the Sioux Falls Area Community Foundation. "The Community Foundation is incredibly grateful to Bloomberg Philanthropies for this grant, we are honored to work alongside City leaders and our local arts community to bring this project to life, and we are beyond excited for the ways in which this project will inspire us to find common ground, discover meaningful connections, and motivate us to build bridges toward a better, brighter tomorrow."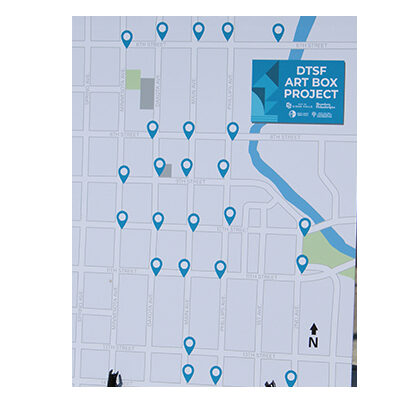 At the new conference announcing the grant, Sioux Falls Mayor Paul TenHaken talked about the importance of public art.
"Whether it's SculptureWalk or the Arc of Dreams, you don't have to look far in Sioux Falls to see that our community values public art," TenHaken said. "Art has the power to change our awareness and to transform a space. It also has the power to connect us and build community. The DTSF Art Box project will do just that. It will provide us the chance to embrace our community's diversity and not only enhance our downtown but also help unite us as a community."
As the project manager, Downtown Sioux Falls will partner with a vendor to have the selected artworks repurposed into vinyl wraps. The installations are expected to be completed by the end of October.
"Our downtown neighborhood is a central hub for our city to gather and celebrate our accomplishments," said Joe Batcheller, president of Downtown Sioux Falls. "The DTSF Art Box project will be right at home with the amazing art featured in the SculptureWalk."

"We hope that the Asphalt Art Initiative will provide inspiration and equip city agencies, community groups, and artists with the guidance needed to champion projects that deliver on these objectives, breathing new life into neighborhoods and urban infrastructure," said Kate D. Levin, principal, Cultural Assets Management at Bloomberg Associates.
For more information about the Asphalt Art Initiative, visit asphaltart.bloomberg.org.
Entries will be accepted by the Sioux Falls Arts Council from Friday, July 31, to Monday, August 31, 2020. The Sioux Falls Visual Arts Commission will judge the submissions and choose the final selection of art designs. Selected artists will be awarded a stipend for their work. More information about submitting artwork will be available on artssiouxfalls.org.