Planning Begins for 2019-20 Youth Advisory Council Members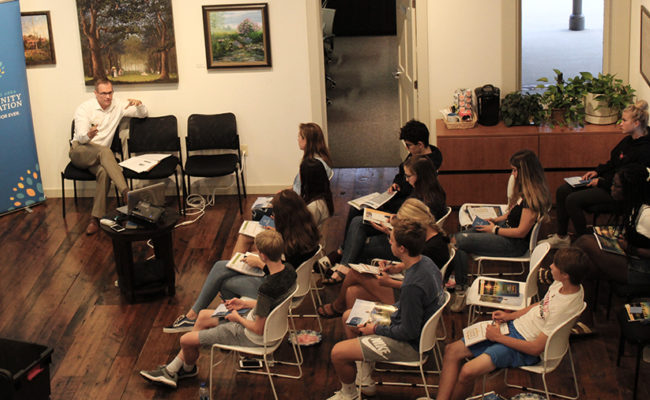 Members of the Sioux Falls Area Community Foundation's 2019-20 Youth Advisory Council met for the first time earlier this week during an opening meeting held at the Foundation's office.
Designed for high school students who are passionate about making a difference in their communities, the Youth Advisory Council is supported by the Community Foundation and facilitated by YouthRoots, a nonprofit dedicated to advancing youth empowerment.

Throughout the year, Youth Advisory Council members will discover the impact of people helping people, explore how philanthropy can help create important and meaningful change and engage in real world experiential learning opportunities centered around the philanthropic process.
Student participants will learn about:
Needs Assessment: Students will dive deep to find the most pressing needs in our community.
Fundraising: Once students identify the needs, they're empowered to meet with professionals within the community to fund raise for the cause.
Grant Making: Students decide which nonprofits are doing the best at meeting the needs. From there, 100% of the funds raised are given away through grants. Learn about the grants awarded by the 2018-19 Youth Advisory Council.
The opening meeting featured a discussion led by facilitator Ann Kolbrek, as well as a presentation by the Community Foundation's Patrick Gale, VP for community investment.
"Since this program's inception more than 20 years ago, our Youth Advisory Council members have been thoughtful, service-minded and engaged young citizens who go on to become leaders of their respective communities," Gale said. "This year's members are no exception. We're proud to support this important program that educates our young people about the critical role our local nonprofits play and how philanthropy can help drive meaningful social impact and positive change to help create a stronger, more vibrant community where everyone can thrive."
2019-20 Youth Advisory Council Members
Elena Anton (Lincoln High School)
John Baker (Lincoln High School)
Robert Baker (Lincoln High School)
Presley Brasel (Lincoln High School)
Allison Harr (Sioux Falls Christian High School)
Jack Hilgenberg (Lincoln High School)
Madi Hurst (Lincoln High School)
Riley Johnson (Lincoln High School)
Preston Koski (Lincoln High School)
Gabriel Lima (Roosevelt High School)
Catherine Liu (Washington High School)
Molly Wetsch (Lincoln High School)
Helene Madsen (Lincoln High School)
Grace Mortensen (Lincoln High School)
Success Suehne (Lincoln High School)
Ben Sweetman (O'Gorman High School)
Rikhav Thakkar (Lincoln High School)
Claire Thornton (O'Gorman High School)
2019-20 Youth Advisory Council Opening Meeting