Philanthropic Gifts Creating 'A Park Like No Other'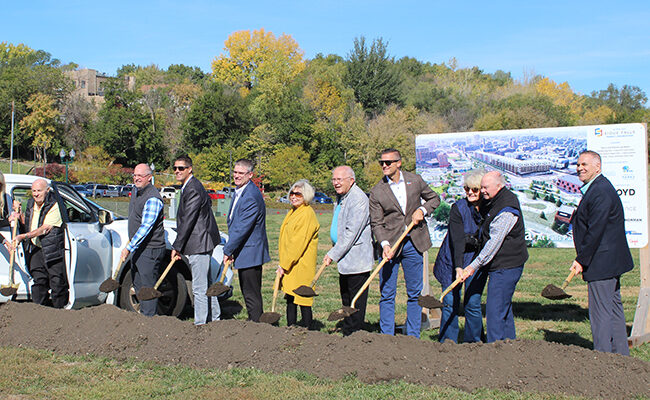 Generosity is creating a one-of-a-kind park near downtown.
Yesterday, community leaders broke ground on Jacobson Plaza at Falls Park — an $18.5 million year-round recreation destination in downtown Sioux Falls.
Sioux Falls Area Community Foundation donors Garry and Dianne Jacobson provided the lead gift for the project, which will include a 14,000 square-foot outdoor refrigerated ice ribbon with a warming house and an inclusive playground. Additional philanthropic support from T. Denny Sanford and the Lloyd family will create a splash pad and an off-leash dog park. The park will also feature a space for food and beverages, public restrooms, formal outdoor gathering spaces, landscaping, and pedestrian connections.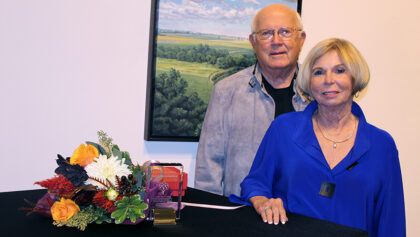 "Jacobson Plaza will enhance our downtown area in ways we can't even imagine yet," said Andy Patterson, Community Foundation president. "We're so grateful to Garry and Dianne for giving of themselves to help create something our entire community will love and enjoy throughout the seasons. It's been an honor to work with them to help their philanthropic vision come to life on this project and to create a charitable legacy that will live on for generations to come."
"We're grateful as well to T. Denny Sanford, the Lloyd Family and the Downtown Rotary Club for supporting the vision for this project through additional charitable gifts that will further enhance the park. This truly will be a park like no other, and we can't wait to see individuals and families enjoy this special place in the heart of downtown," Patterson said.

Mayor Paul TenHaken agreed.
"When it opens, Jacobson Plaza at Falls Park will instantly become a signature park experience not only in Sioux Falls but for the entire region—an experience that will be accessible for everyone," said Mayor Paul TenHaken. "This incredible plaza and supporting amenities simply would not happen without the generosity of Garry and Dianne Jacobson and family, the Lloyd family, and T. Denny Sanford. This public-private partnership will reinvigorate our community's access to family-friendly activities downtown."

The construction of Jacobson Plaza at Falls Park begins alongside the ongoing construction of the Steel District and phase three of the Downtown River Greenway. Jacobson Plaza at Falls Park is expected to be completed in spring 2025.

"The generosity of the Jacobson family served as a catalyst for this project, resulting in the largest private investment in our park system's history," said Don Kearney, Director of Parks and Recreation. "It is fitting that this project is happening in Falls Park since it's the City's namesake. These investments and new experiences will draw even more visitors to Falls Park and the surrounding area, creating a year-round recreation destination downtown. The generosity of the Jacobson family and additional donors is truly remarkable. Their support has made Jacobson Plaza at Falls Park a reality."
Jacobson Plaza at Falls Park
Renderings courtesy of the City of Sioux Falls and Sioux Falls Parks & Recreation.