Our Year in Review: The State of Philanthropy Across Sioux Falls is 'Stronger Than Ever'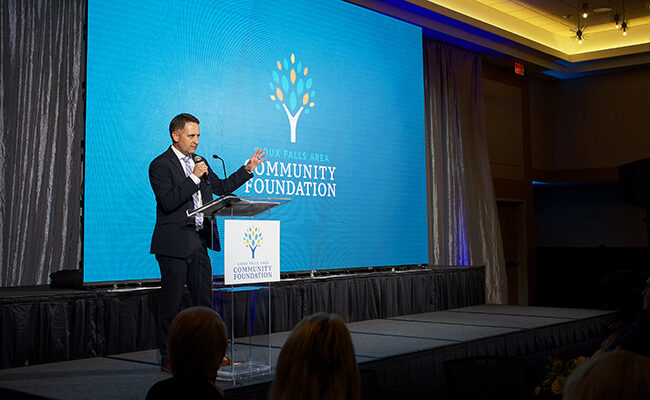 Hundreds joined the Sioux Falls Area Community Foundation last week for the 2023 Donor Reception, an annual update on the state of philanthropy across our area.
"Thanks to the generosity of so many, and in partnership with our growing community of donors, we're proud to say we granted a record $29 million to nonprofits and causes across our area in our last fiscal year," said Andy Patterson, president of the Sioux Falls Area Community Foundation. "This is critical charitable support that's improving the quality of life for individuals and families and enhancing the vibrancy of this special place we all call home."

"We couldn't be more grateful to all those who continue to step forward in philanthropy," Patterson said. "Thanks to their generosity, we're building a brighter, stronger community for all."
Competitive Grantmaking: Bringing Good Ideas to Life
In addition to supporting donors in their philanthropy, the Foundation also manages competitive grantmaking programs designed to help launch transformational programs, support neighborhood nonprofits, and help develop solutions to some of our community's most complex challenges.
See how a Foundation grant is helping to advance the work of Emily's Hope:
Philanthropy in Motion
The Foundation summarized its last fiscal year in its 2023 Annual Report, "Philanthropy in Motion," which illustrates the spirit of philanthropy across our community. The report features nonprofits who are serving those in need, neighbors who are enriching our area through their creativity and generosity, and volunteers who are stepping forward in service and leadership. Read the Annual Report.

Celebrating a Legacy of Philanthropy
The event also featured the presentation of the 2023 Friend of the Foundation award to T. Denny Sanford. The honor recognizes philanthropic individuals, families or businesses whose innovative and collaborative leadership and consistent generosity have impacted the Sioux Falls area and those who call it home.
"Denny's philanthropic leadership, his spirit of collaboration, and his generosity have absolutely reshaped the destiny of our community," Patterson said. "The impact of his philanthropy is simply profound. Our community would not be the strong and thriving place it is today without his generosity. In addition to his own giving, Denny has also fostered the spirit of giving in others, igniting ripples of positive change across our state. We couldn't be more honored to name him our 2023 Friend of the Foundation award recipient."
Learn more about what inspires Sanford's giving, his fondest philanthropic memories, and his hopes for the future.
---
See a recap of the evening