Foundation Announces Nearly $70,000 in Grants to Local Nonprofits Working to Open Doors, Advance Opportunities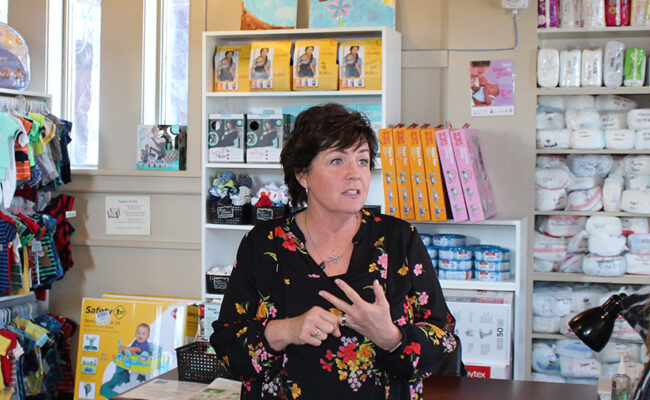 The Sioux Falls Area Community Foundation has awarded nearly $70,000 in grants to local nonprofits whose work is focused on lifting up and advancing opportunities for disadvantaged individuals, families and children throughout the Sioux Falls area.
The grants were awarded through a collaborative fund called Opening Doors.
Learn more about the endowments that made these grants possible.
"The current conditions have placed an extraordinary level of pressure on nonprofits throughout the greater Sioux Falls area, but these organizations are not letting the pandemic or economic challenges stop their determination to serve those in need," said Patrick Gale, vice president for community development. "Working with creativity, innovation and empathy, these nonprofits are continuing to make an impact in the lives of others — opening doors for disadvantaged individuals, families and children in our community and creating opportunities for them to grow and thrive. It's our honor to support their work through this grantmaking program."
Opening Doors Grant Recipients
The following nonprofits are recipients of grants through the Opening Doors collaborative fund:
The mission of the Teddy Bear Den is to promote healthier pregnancies, healthier babies and an overall healthier community.
With 100 percent of its participants living below the national poverty level, a key focus of the Teddy Bear Den has been to provide a safe and dependable crib and mattress for participants who maintain a healthy lifestyle through its Safe Sleep Program — an initiative designed to ensure babies are sleeping in a safe and secure place.
An annual fundraiser held by the Teddy Bear Den has normally supported the Safe Sleep Program — providing funding to purchase more than 900 cribs and mattresses over the years. This year, however, due to the coronavirus pandemic, the fundraising event was not held, resulting in a loss for the Teddy Bear Den that jeopardized the continuation of the Sleep Safe Program.
The Opening Doors grant will help the Teddy Bear Den purchase more cribs and mattresses for its Sleep Safe Program.
The mission of the Community Outreach is to prevent homelessness in Sioux Falls by providing assistance with rent, utilities, deposit and transportation assistance, as well as long term mentoring programs.
The Opening Doors grant will help support an outreach effort of The Community Outreach called the Genesis Mentoring Program. This adult financial mentoring program pairs a trained volunteer community member with a program participant for 18 weeks. During that time, the mentor and mentee work on budgeting, setting and achieving goals, understanding needs versus wants, daily living skills enhancement, and developing a strong relationship with their mentors. The program's long term outcomes at the one year mark include finding and maintaining safe, affordable, and permanent housing; maintaining positive relationships; and budget knowledge for next month's expenses. Program caseworkers continue to follow up with former mentees every three months for the first year after program completion, and at least annually for an additional two years.
Each year, approximately 90 families are matched with a mentor through the Geneisis Mentoring Program. On average each family supported through The Community Outreach has 2.6 members. Overall that means nearly 240 individuals benefit annually through the Genesis Mentoring Program.
The mission of Washed Clean Addiction and Recovery Ministry is to provide safe transitional housing, support groups and guided mentorship that facilitates transformational healing for those suffering from drug and alcohol addiction.
Washed Clean provides mentorship from volunteers and group meetings with the belief that formerly addicted individual who can turn their lives over to Christ and become thoroughly grounded in the 12-steps can convert "from being a liability to being an asset of remarkable character."
The Opening Doors grant will support Washed Clean as it works to develop its programming and curriculum with the ultimate goal of serving more clients in the future.
The mission of the Boys & Girls Clubs of the Sioux Empire is to nurture, educate and enrich youth for lifelong success.
The Boys & Girls Clubs of the Sioux Empire believes reading is the foundation for learning, therefore making it the most crucial academic skill. A long-term study by the Annie E. Casey Foundation found that students who were not proficient in reading by the end of third grade were four times more likely to drop out of high school than proficient readers. In addition, 88 percent of students who failed to earn a high school diploma were struggling readers in third grade. Poverty compounds the problem: Students who have lived in poverty are three times more likely to drop out or fail to graduate on time than their more affluent peers.
Many of the children who come to the Boys & Girls Clubs of the Sioux Empire struggle in school. Many come from single parent families or do not have parents who feel confident in helping their children with school work.
The Opening Doors grant will support the Clubs' Tutoring Program, designed to serve students from mid- to low-income families who are in first grade through fifth grade. Students in the Tutoring Program come from approximately 14 different Sioux Falls schools.
The mission of the Hope Coalition is to close the opportunity gap in Sioux Falls by helping children of low-income families attend preschool, ensuring they arrive at kindergarten ready to learn.
The Hope Coalition was created, in part, because South Dakota is one of five states that offers no help for early childhood development. Three federally funded programs in Sioux Falls, including Head Start, are the primary preschool options for low-income families. While church-run and private programs make up the largest share of all preschools in the city, they require tuition that many families cannot afford. That means that as many as 300 children each year don't get the opportunity to attend preschool.
Studies have shown preschool is a major influence throughout a child's life. In school, it leads to better grades, higher reading aptitude, and better graduation rates. After school, it leads to meaningful economic and societal benefits.
Since its founding, the Hope Coalition has helped nearly 500 children receive free preschool at one of eight participating locations. These students have built social skills and expressive language; developed creativity through art and music; learned fundamental skills such as counting, number recognition and name writing; and have established relationship-building skills such as love, patience, kindness and truthfulness.
The Opening Doors grant will support the Hope Coalition as it works to serve even more children in need throughout Sioux Falls.
The mission of the St. Francis House is to move people from homelessness to hope. The organization serves those coming from hospitals, treatment centers, and prisons; families looking to relocate; and anyone looking for a chance to start over by providing shelter, food, case management and support. Special services designed to help guests achieve long term goals including employment, independent housing, addiction recovery, and money management are also offered.
The St. Francis House is able to provide housing for 143 individuals and seven families with children.
The Opening Doors grant will support the organization's Gifts of Hope Program, an initiative designed to help address guests' basic needs, including such needs as new undergarments; their spiritual needs, including the need for daily devotionals; and their artistic needs, including the need for art supplies such as sketch pads, charcoal pencils, cross stitch kits, etc.
The mission of the Toy Lending Library of South Dakota is to create opportunities for children to enhance their learning development through play. For children from birth to age five, research has shown that play is essential to their cognitive, physical, social and emotional well-being. Even more, play encourages creativity, and is tied to success later in life.
Through the Toy Lending Library, families can borrow a box of toys for free, take it home and play, and return the box to borrow another.
The Opening Doors grant will support the Toy Lending Library's capacity building initiative through the Jumpstart Program offered by Network for Good.
The mission of Bethany Christian Services is to demonstrate love and compassion by protecting children, empowering youth, and strengthening families through quality social services.
The Opening Doors grant will support the organization's Safe Families for Children program, an effort that serves children and their parents who are experiencing short-term crisis situations such as domestic violence, sudden illness, job loss, single parenthood, or postpartum depression by providing safe, temporary homes for children and support services for parents. The work is accomplished by utilizing a network of volunteer host families to provide parents with a loving sanctuary where they can safely place their children in times of crisis.
Eighty percent of clients served by the Safe Families for Children in 2019 were from low- to moderate-income households. The majority of children served came from single-parent households and a majority are under the age of five. As a result of this program, fewer children have been forced to enter state custody for foster care.
The mission of the Banquet is to provide a welcoming place where people can gather, receive nourishment and experience love in action. The Banquet serves 11 meals weekly at its location near downtown Sioux Falls, and five meals a week at its location on the west side of the city. A portion of The Banquet's guests are homeless or live in the local shelters; others are families with a single parent, while others are elderly individuals on fixed incomes.
The Opening Doors grant will help The Banquet work toward its mission to provide nourishment for those in need, a quest made even more challenging in the midst of a pandemic. At the present time, the Banquet is serving, on average, 200-250 individuals for breakfast and 350-400 people for its evening meal.
The mission of the Sioux Empire Community Theatre (SECT) is to make quality, affordable community theatre accessible to all residents of the Sioux Empire; and to provide opportunities for the greater Sioux Empire community to gain hands-on experience learning about the different aspects of volunteer-driven theatre performance and production.
The Opening Doors grant will help SECT launch The Penguin Project, a modified version of a well-known Broadway musical where all the roles are filled by young artists with developmental disabilities, intellectual disabilities, learning disabilities, visual and/or hearing impairments, and other neurological disorders. These actors are joined on stage by a dedicated group of "peer mentors" – children of the same age without disabilities who have volunteered to work side-by-side with the starring actors through four months of rehearsals and through the final performance. By providing access to community theater, The Penguin Project demonstrates that the special challenges of a disability should not prevent a child from participating in life's experiences.
The mission of St. Vincent de Paul is to serve the physical, mental and spiritual needs of the poor.
The Opening Doors grant will support the organization's Holy Innocents Diaper Ministry, a program developed to address diaper need in our community. An insufficient supply of diapers increases health risks, such as more frequent diaper rash and urinary tract infections for babies and toddlers left in dirty or reused diapers for prolonged periods of time. Diaper need creates economic hardships due to high levels of stress in parents as they strive to provide diapers, food, clothing and housing for their families, as well as parents' ability to work and attend school because they don't have enough diapers when dropping their children off at day care.
The Diaper Ministry program provides a case of diapers and a pack of wipes every other month for babies and toddlers of low-income families.
Donors Made Grants Possible
Opening Doors grants are made possible thanks to a collaborative fund supported by the following endowments:
C.J. "Del" and Alene Delbridge Family Endowment: An endowment designed to benefit disadvantaged people living in the Sioux Falls area.
Charles and Carol Austin Family Endowment for Basic Human Needs: Supporting programs that evidence God's compassion and love through a Christian perspective and that address basic human needs.
Charles and Carol Austin Family Endowment for Children and Youth: Supporting programs that address the needs of children and youth.
Harold and Carol Warner Family Endowment: An endowment designed to help meet the basic human needs of disadvantaged people living in the Sioux Falls area.
Hymen and Nila Pitts Fund for Those in Need: Supporting programs that lift up the needy, elderly, or homeless.
Louis and Joyce Profilet Endowment for Children: Providing grants that benefit children in the Sioux Falls area with special and unmet physical and/or emotional needs.
Soveig Steen Endowment II: Supporting disadvantaged youth, including underprivileged children and children with special needs.
Wanda Covington Endowment: Benefiting children and adults with disabilities, with special emphasis on programs that provide enjoyment and recreation.
"These endowments were created by caring families and individuals who wanted to ensure that their passion and commitment for helping those in need would live on after their lives," Gale said. "By establishing an endowment at the Community Foundation centered around their philanthropic passions, they entrusted us to carry out their charitable wishes to help those in our community who need help the most. We couldn't be more appreciative of the names behind these endowments and we're honored to announce these grants that celebrate and embody the legacies of these truly special donors."