Foundation Announces Community Grant Recipients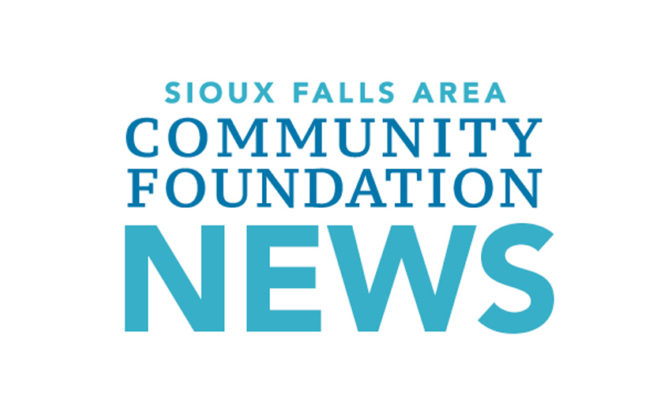 Our most recent Community Fund grants provide support for a unique neighborhood placemaking effort, new programs to help local Spanish-speaking youth succeed, an organization working to eliminate suicide among young South Dakotans, an education and advocacy program for future change-makers, and a safe event to help local Indigenous community members connect.
The grants were made possible thanks to the Community Fund, the endowment behind the Foundation's most visionary grant-making. The Fund is supported by unrestricted gifts from donors who entrust the Foundation to award grants based on community needs and opportunities.
Learn more about the Community Fund grants awarded from March-May 2022:
The mission of the All Saints Neighborhood Association (ASNA) is to foster a safe, happy and beautiful neighborhood.
The Community Foundation grant will provide support for the ASNA's Lyon Park Picnic Table Commissions Project, an original public art collaboration between the Sioux Falls Parks & Recreation Department, the All Saints Neighborhood, Norberg Paints and four local artists who call the neighborhood home.
Artists Geneva Costa, Zach Deboer, Molly O'Connor and Jennifer White will each paint one of the park's picnic tables using their unique perspectives from the neighborhood and/or park as inspiration. DeBoer will execute his piece during the neighborhood's National Night Out block party on Tuesday, Aug. 2. Neighbors will be invited to paint alongside him.
The goal of the Picnic Table Commission Project is to enhance creative placemaking in the park by lifting up the talent and creativity of the neighborhood's resident artists, while also collaborating with the Parks & Recreation Department on a new, impermanent public art opportunity.
A program of the Presentation Sisters, the mission of Caminando Juntos is to support the Latino population in Sioux Falls by providing case management, immigration legal services, reunifying unaccompanied minors with families and teaching English.
The Community Foundation grant will provide support for two Caminando Juntos programs — a GED course taught in Spanish and a support group for newly arrived immigrant students.
GED Course: For this effort, certified and bilingual math and science teachers will utilize a combination of online and printed resources to prepare students for the GED exam. Students will be referred to the program by the Sioux Falls School District.

Over the course of 12-16 weeks, students will learn the necessary math, science and English content to pass the GED exam, which is given in English at a local testing center. From there, students will then take the test privately, by appointment, with the testing center.
Bilingual Teen Support Group for Newly Arrived Immigrants: Designed for Spanish-speaking youth between the ages of 12-17 who have newly immigrated to the U.S. and are new to the culture, language and school system, this 16-week program will cover mental health topics such as healthy coping mechanisms, grief, adjusting to change, culture shock, family separation, loneliness, depression, childhood trauma and general wellness strategies. Led by Karen Dreier, a bilingual, certified mental health practitioner, the program will also involve parents and will help parents or caregivers (who may be extended family members) learn how to support their teens and communicate healthily.

The Sioux Falls School District will refer Spanish-speaking students who are new to the country, who do not yet speak English and who are separated from parents or family members in their home countries and are struggling to adjust to a new way of life.
Lost&Found aims to do more to eliminate suicide among young adults by facilitating comprehensive, data-driven, resilience-focused, public mental health strategies for suicide prevention.
The Community Foundation grant will provide support for Lost&Found's Mental Health 101 program, an effort to redevelop and expand the L&F Advocates program to a younger audience (15 to 18 years old).
Topics of Mental Health 101 will specifically include definitions of mental health, understanding what affects mental health, setting healthy boundaries, navigating relationships, time management skills, the importance of self-care, emotion-focused and problem-focused coping skills, how to recognize your mental health and well-being, how to have conversations about mental health, and knowledge of mental health resources available to help (e.g. the Helpline Center).
Mental health education is especially important for youth and young adults as they mature into adults and navigate college and the workforce. It is more important now than ever — just last month, South Dakota Suicide Prevention reported 198 suicide deaths among South Dakotans in 2021, the highest since tracking began. Suicide is now the leading cause of death in South Dakota for 10-19 year-olds.
The curriculum being developed for Mental Health 101 is crucial for helping parents, teachers and communities manage the distress many youth and young adults are facing in today's society. Youth and young adults need to better understand their own mental health in order to take steps to improve their well-being.
Introduction of the program will involve partnering with South Dakota high schools, technical colleges and freshman orientation programs/activities beginning this fall and next spring.
Envisioning a South Dakota that is diverse, inclusive and anti-racist, South Dakota Voices for Peace (SDVFP) provides education, advocacy, legal service, civic engagement and rapid response programming and actions for immigrant, refugee and Muslim communities.
The Community Foundation grant will provide support for SDVFP's Cohorts of Courage, an education and action-oriented networking program for educators, faith leaders and BIPOC (Black, Indigenous, People of Color) youth in South Dakota who want to learn to effectively respond to Islamophobia, racism and bigotry in their communities and workplaces.
Over the course of seven days, this community-based summer program will aim to build power in and inspire our next generation of change-makers. The goal is to strengthen the connections between organizations, civic leaders and youth by building partnerships on actions such as assisting with issues which profoundly impact BIPOC communities. Guest scholars in the fields of academia, public office, grass roots organizing and social change advocates will share strategies and best practices on how to develop solutions to issues identified by the youth advocates who are participating in the program.
At the completion of the program, youth advocates will share their learnings, engage in discussion with the greater public to address their hopes and concerns, and lay the foundation for a sustainable future of understanding, collaboration and coalition.
Founded in 1977, South Dakota Urban Indian Health is a Native-led organization providing primary care, behavioral health and cultural health services in Sioux Falls and Pierre. Patients represent all walks of life, but programs and services are designed to support Indigenous South Dakotans living in these urban communities. South Dakota Urban Indian Health's mission is to provide total quality medical care for Native American people and the economically disadvantaged residing in urban areas of South Dakota. Care provided is not limited to just the medical needs but to provide holistic quality care for the entire family.
The Community Foundation grant will provide support for Urban Indian Health's 2022 Two-Spirit Powwow, an event organized in partnership with Sioux Falls Pride, the Transformation Project and the Multi-Cultural Center and set for Thursday, June 16, during Sioux Falls Pride week.
Designed as a way to honor Two-Spirit and LGBTQ+ relatives, and to help create a safe place for Indigenous community members to connect, the event will feature a traditional drum group, traditional dancers, concessions, resources and artist tables.
The 2022 Two-Spirit Powwow is being hosted by the Two-Spirit and LGBTQ+ group from South Dakota Urban Indian Health, dedicated to creating opportunities for cultural practices and empowering activities, and to fostering discussion for this marginalized community.