Community Foundation Grant Supports Sioux Falls STEM Circle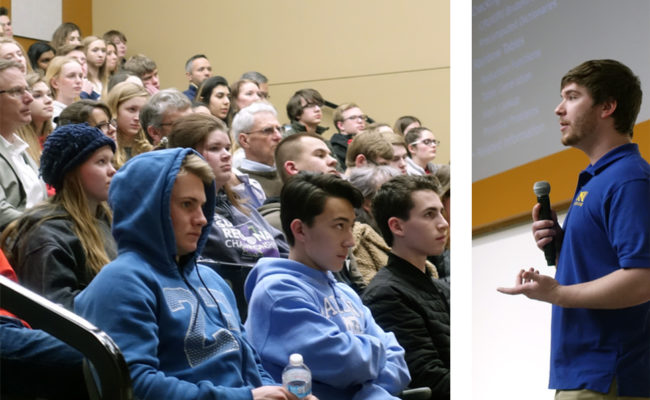 For the last seven months, hundreds of area students and adults have had the opportunity to hear professionals in various Science, Technology, Engineering and Math (STEM) fields discuss their careers and research findings thanks to a series of events organized by the Sioux Falls STEM Circle and supported in part by the Sioux Falls Area Community Foundation.
The Idea
In July 2018, Akshay Choudhry, then a junior at Lincoln High School, approached the Community Foundation about an idea he and fellow students Isaac Sarbacker and Samuel Engebretson had to "expand community-wide STEM education" in order to bring people of all ages and backgrounds together.
The proposal by Choudhry, Sarbacker and Engebretson said the STEM Circle would offer students "key insights into what STEM careers look like." For adults, the endeavor would help "expand their horizons of knowledge … spreading a spirit of learning in Sioux Falls."
Inspired by the idea and the mission of the STEM Circle, the Community Foundation provided a spot grant to help launch the initiative.
"Here, we believe education has the power to create a brighter tomorrow," said Patrick Gale, the Community Foundation's vice president, community investment. "The STEM Circle's mission to provide educational and thought-provoking programming and events for individuals young and old throughout our community is an important one that will no doubt lead to new ideas and new pathways for our area. We are very proud, indeed, to support this effort."
The Idea in Motion
Six STEM Circle events have been held so far this academic year. Held at Augustana University's Froiland Science Complex, the events have featured Sara Venhuizen, a senior systems engineer from Raven Aerostar, Dr. Berit Foss (biotechnology) from USD, Dr. Barret Eichler (chemistry) from Augustana, Dr. Andrew Kramer (cyber security) from DSU, Dr. George Loginov (economics) from Augustana and Dr. Nathan Grau (physics) from Augustana.
Choudhry said attendance at each event has been strong.
"We've seen around 150 people from around the community consistently attend our events. We're hoping to increase that number as we look toward next year," he said.
He called the opportunity to be part of the effort an "unbelievably enriching experience."
Over the past seven months, I've had the chance to listen to the perspectives of six speakers with incredibly different areas of study and have had the opportunity to see our audiences engaged by those diverse takes on STEM fields, which has really made me appreciate the Sioux Falls community's collective spirit of innovation," Choudhry said.

"We really hope students and adults who come to our events have the chance to absorb the subject matters that our speakers present, but more than that, we want our audience to leave each talk inspired. Regardless of background, interest, or age, everyone should have the opportunity to be immersed in a variety of scientific fields. If our listeners leave with that sense of insight, we've done our job," he said.
---
Attendees of a Sioux Falls STEM Circle event listen to guest presenter Dr. Andrew Kramer (cyber security) from DSU. (Submitted photo.)