Community Foundation Awards Nearly $10,000 in Grants to Local Teachers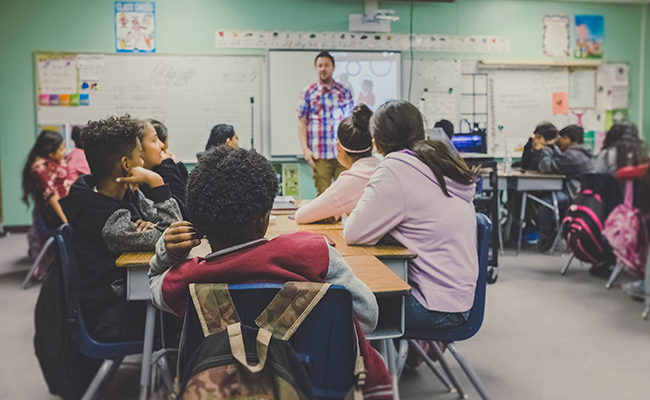 The Sioux Falls Area Community Foundation has awarded nearly $10,000 in grants to local teachers through its Excellence in Education Initiative.
Now in its 28th year, the initiative offers grants to teachers who have innovative ideas for classroom projects. Since the program began, hundreds of programs and activities designed by teachers throughout the Sioux Falls area have received grant funding, enriching educational experiences for students.
2019 Excellence in Education Initiative grant recipients are:
Cami Bacon, Dell Rapids St. Mary. Bacon will use the grant to advance STEM-related learning among third graders by integrating robotics, circuits and coding activities into her "STEM Friday" lessons, held throughout the academic year.
Korey Erickson, Robert Frost Elementary. Erickson's grant will support "Playaways for Everyone," an initiative to increase the number of Playaway audiobooks available for student use. Playaways can assist students who struggle with reading and/or need assistance to stay focused while reading. The tool has also been shown to promote a love of rich stories and leads to users becoming life-long readers.
Natasha Fuller, O'Gorman High School. Fuller's grant will help acquire a premium subscription to Pear Deck, an online platform that allows teachers to create interactive Google slides for the 2020-21 academic year. The tool will allow teachers to better evaluate and assess student learning success by pinpointing areas where students may need extra support in a given topic.
Stephanie Hage, John Harris Elementary. Hage's grant will purchase books for a new, customized vending machine called Inchy, the Bookworm. Students who exhibit good behavior will receive special gold tokens that can be used in the vending machine to receive books. The initiative, called "Inching Towards Success," is designed to create opportunities for students to learn, engage and make positive behavior choices.
Nichole Highby, R.F. Pettigrew Elementary. Highby will use the grant to support "Movement Matters!" a sensory path initiative for kindergarten and first grade students. Designed to support kinesthetic ways of learning, the approach has been shown to help students with memory and retaining information.
LaNessa Hoff, Dell Rapids St. Mary. Hoff's grant will purchase Micro:Bits, kits and accessories designed to enhance and enrich computer science, engineering and math learning experiences. Using Micro:Bits, middle school students will not only design a custom app, they will also build critical thinking and problem solving skills.
Laura Lunder, Holy Spirit School. Lunder will use her grant to purchase supplies and equipment to expand a STEM Lab for more preschool classes. Currently a pilot program for one preschool class, the STEM Lab helps students develop communication, critical thinking and analytical skills.
Peggy Maxwell, Dell Rapids St. Mary. Maxwell's grant will support "Creative Thinkers and Curious Minds Ignited," a Science, Technology, Engineering, Art, and Math (STEAM)-focused initiative designed to help preschool and junior-kindergarten students think inventively and imaginatively to become creative innovators and problem solvers.
Jodi Neugebauer, Garretson School. Neugebauer will use her grant to support a "Traveling Back in Time" project for second grade students. Through in-class and hands-on learning experiences, students will study early pioneers and Native Americans and explore the relationship between the two.
Gwen Skar, O'Gorman High School. Skar's grant will purchase a classroom set of Rocketbooks. Rocketbooks allow students to complete work on a digital-friendly, reusable notebook and upload it directly to Google Classroom for instantaneous discussion, merging the art of hand-written work with cutting edge technology.
Alex Waldner, Holy Spirit Elementary. Waldner's grant will support "Save the Penguins," a project designed to teach fourth grade students about the different forms of heat transfer through various demonstrations. Students will then take the knowledge they've learned to engineer and construct innovative dwellings to protect penguin-shaped ice cubes from melting.
Rhonda Wilson, Harvey Dunn Elementary. Wilson's grant will support "'A' is for Alphabet," a project designed to help junior-kindergarten students develop a better understanding of letters and sounds through fun and engaging hands-on activities.
Selected from a pool of strong applicants, the 2019 Excellence in Education grant recipients represent the best of educational innovation and creativity, said Patrick Gale, vice president for community investment.
"Teachers help care for, shape and inspire the young minds who will lead our world tomorrow," said Gale. "Investing in their ideas and dreams is an investment in the collective future we all share. We're appreciative of those who submitted proposals, we congratulate and celebrate those who were selected for 2019 grants, and we give thanks for all our teachers for all they do."