Community Foundation Awards More Than $157,000 to Local Nonprofits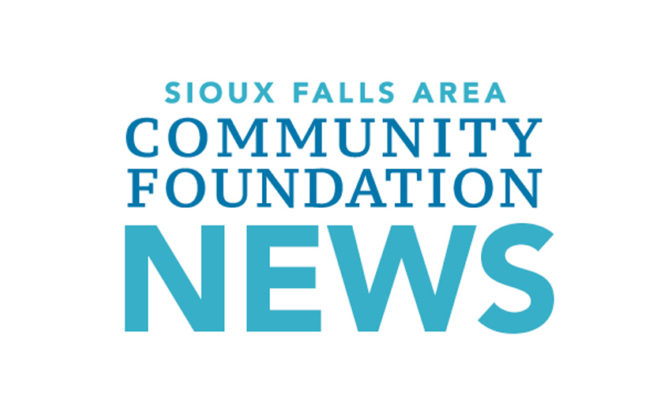 The Sioux Falls Area Community Foundation has announced its latest round of Community Fund grants, totaling more than $157,000 in support for local nonprofits and causes throughout our area. The Community Fund is supported by local donors who are passionate about enhancing the quality of life for individuals and families in our area.
"At the Sioux Falls Area Community Foundation, we believe a thriving community is one where people and families feel safe, have equal access to the resources they need for their health and well-being, have opportunities to inspire and be inspired through the arts, and are encouraged to drive bold change through leadership and service," said Patrick Gale, vice president, community investment. "We're thankful to the many generous donors who give to the Community Fund, and who in turn make it possible for the Foundation to offer support to important nonprofit organizations who are working every day to make our community a stronger, safer and more vibrant place to live, work and play."
The following organizations are recipients of Community Fund grants from February 2019 – June 2019:
Boy Scouts of America Sioux Council: The mission of the Boy Scouts of America is to train youth in responsible citizenship, character development and self-reliance through participation in a wide range of outdoor activities, educational programs and career-oriented programs. The Community Foundation grant was made to the 2019 Sioux Falls Area Chamber of Commerce Community Appeals Campaign, which supports the Boy Scouts of America Sioux Council. Funds raised will allow for expanded capacity of the existing scouting facility to create an overnight and weekend staging location for hosting troops.
Call to Freedom: Through its strong network of frontline providers offering safe housing, mental health counseling, medical assistance, chemical dependency, transportation and other supportive services, Call to Freedom provides victim-centered responsive services to those who have experienced sexual exploitation and human trafficking. The Community Foundation grant supports Call to Freedom's efforts to upgrade its technology and to provide education for clients about the cyber risks associated with social media usage, internet usage and other potentially dangerous technologies.
Canton School District 41-1: The Canton Robotics Club provides students with opportunities to design, build and program robots. The Club's mission coincides with research showing that youth robotics programs help build a technologically literate workforce, creating a pipeline for interns and future employees. The Community Foundation grant will help the Club in the acquisition of new supplies and will provide support as participants continue to apply real-world math and science concepts and develop problem solving, organizational and team-building skills.
Downtown Sioux Falls, Inc. (DTSF): Passionate about the downtown experience, its economy and its environment, DTSF works to attract people to shop, dine and discover downtown Sioux Falls. The Community Foundation grant supports DTSF's efforts to create a new and enhanced wayfinding system, improving walkability and making downtown Sioux Falls more inviting and accessible with signage directing people to key landmarks and destinations.
Garretson Community Ambulance Corporation: The mission of Garretson Community Ambulance is to provide high quality emergent pre-hospital care to the residents and visitors of Garretson, Sherman and surrounding rural areas of Minnehaha County. The Community Foundation grant is to support the installation of a new Stryker Powerload System, designed to aid in the safe and secure loading of patients and cots into the ambulance.
Gentle Spirit Horses Rescue & Sanctuary: With a mission to provide assistance to neglected, abused and unwanted horses and to promote responsible horse ownership through outreach and education, Gentle Spirit's main location is located on a 20-acre property just north of Humboldt, South Dakota. The Community Foundation grant will help Gentle Spirit acquire a new All-Terrain Vehicle (ATV), used to assist with a variety of ongoing responsibilities including waste removal, dragging pastures, transporting feed to horses during the winter, maintaining fences and spraying for weeds.
Glory House of Sioux Falls: The Glory House provides secure and drug-free housing for individuals who are referred by the justice system for mental health counseling, employment services, case management and recovery from addiction. The Community Foundation grant will assist the Glory House in its efforts to upgrade its kitchen and pantry facilities.
Helpline Center: The Helpline Center serves thousands of people each year by connecting individuals to resources and support, providing referrals, building local agency volunteers, offering hope to individuals with thoughts of suicide, and supporting families bereaved by a suicide loss. A Community Foundation grant will support the Helpline Center's efforts to bring nationally known speaker and retired law enforcement officer Kevin Briggs to Sioux Falls during National Suicide Prevention week. A Community Foundation grant will also support the Helpline Center's Community Trends report. Every year, thousands of South Dakotan's reach out to 211 to give help or get help. The Helpline Center's Community Trends Report provides an overview of the trends and needs identified by those who contact the organization through 211.
Paralyzed Veterans of America, North Central Chapter: A congressionally chartered veteran's service organization founded in 1946, Paralyzed Veterans of America (PVA) serves as a leading advocate for securing quality health care for its members, driving research and education on spinal cord injury and dysfunction, ensuring benefit availability, and promoting civil rights and opportunities that maximize the independence of members. The Community Foundation grant will support a PVA awareness campaign designed to inform veterans and their families of the benefits and eligibility requirements for the new State Veterans Cemetery.
Sioux Empire Community Theatre: The mission of the Sioux Empire Community Theatre is to provide quality, affordable community theatre accessible to all residents of the Sioux Empire; and to provide hands-on learning experiences in the greater Sioux Empire community in all aspects of volunteer-driven theatre performance and production. Every year, the Sioux Empire Community Theatre (SECT) offers a summer theatre camp program for K-12 children who reside in surrounding area. Theatre camps provide children with the opportunity to be part of a team and see a project through from start to finish. Camp participants build and strengthen language, communication and problem solving skills; develop a positive self-concept; and learn valuable social awareness lessons. The Community Foundation grant provides scholarships to help area students who wish to attend theatre camp but cannot afford the cost.
Sioux Empire Wheels to Work: Serving Minnehaha and Lincoln counties, the mission of Sioux Empire Wheels to Work is to provide safe, reliable transportation to working single-parent headed households. The Community Foundation grant will support an awareness campaign designed to make more people aware of Sioux Empire Wheels to Work and its services.
Sioux Falls Jazz & Blues Society: With a mission to increase awareness of Jazz & Blues music in the Sioux Falls community and throughout the region, the Sioux Falls Jazz & Blues Society organizes and hosts live musical events and education programs, including JazzFest, a two-day outdoor music festival held each summer at Yankton Trail Park in Sioux Falls. The Community Foundation grant will provide support for JazzFest 2019 technology needs.
Sioux Falls Thrive: Sioux Falls Thrive works to ensure all children in the metro area have the resources they need to achieve their optimal educational and career potential. Dedicated to bringing down siloes and turning disconnected programs into efficient service delivery systems, Thrive serves as a neutral convener of service improvement and innovation, enhancing the potential for inter-agency collaboration and paving the way for the development of new strategies to address complex social issues. The Community Foundation grant will provide support for the following Thrive initiatives: the Housing Action Team, the Out-of-School-Time Action Team, the Food Security Action Team and the Downtown Collaboration.
South Dakota News Watch: An independent, nonprofit news organization dedicated to reporting untold stories that help South Dakotans become informed and engaged citizens, South Dakota News Watch produces in-depth, investigative and public service journalism that sheds light on the issues, concerns and welfare of South Dakotans. The Community Foundation grant provides capacity building support for the future of News Watch. Future goals include adding paid staff and interns, fostering civic engagement through public discussions and town hall meetings, and repeating the NewsMatch fundraising campaign.
South Dakota Voices for Peace: With a mission to provide public education, legal services and advocacy, South Dakota Voices for Peace seeks to nurture informed, civically engaged and inclusive communities. The Community Foundation grant will provide support for 12 participants to attend the 2019 RISE Muslim Women's Leadership Conference in Minneapolis, Minnesota.
Spirit of Peace United Church of Christ: Spirit of Peace United Church of Christ helps oversee Hand in Hand, a project of South Dakota Voices for Peace, designed to provide advocacy and legal representation. The Community Foundation grant will provide support for a strategic plan designed to broaden the breadth and depth of Hand in Hand's services. Major goals include adding staff and services, training and developing volunteers, increasing outreach and education, and purchasing necessary equipment.
Strider Education Foundation: Passionate in its belief that learning to ride a bike builds confidence, and that the opportunity to ride should be available to everyone, regardless of their physical, mental, or financial abilities, the Strider Education Foundation is dedicated to giving bikes to anyone and everyone who can benefit from learning to ride. In partnership with the Strider Education Foundation, the Community Foundation grant provided kindergarten and first grade students at Eugene Field A+ Elementary with a fleet of 2-in-1 Strider 14x bikes, cycles that easily transform from balance to pedal bike, as well as access to an eight-lesson "Learn to Ride" curriculum and teacher training. The grant will also help launch a pilot program at Eugene Field centered around equity and inclusivity.
The Lost & Found Association: Providing skill development seminars and awareness programming, the Lost & Found Association seeks to raise awareness of critical mental health issues facing campus communities. The Lost & Found Association has launched a partnership with the University of Sioux Falls to create a student-led Lost & Found chapter on its campus. The Community Foundation grant provides start-up support for this new chapter, including training, particularly for campus student leaders, to address day-to-day challenges impacting mental health. The grant also supports community-building efforts that enable students to discuss mental health needs through a variety of awareness events hosted by the chapter and with collaborators.
The TRANSformation Project: Forty-one percent of transgender youth attempt suicide – 41 percent. Aimed at saving the lives of young people, the TRANSformation Project seeks to educate communities in South Dakota and the surrounding region on the topic of transgender individuals and the challenges they face, and to support transgender youth and their families while empowering them to become advocates for others. Committed to doing all it can to save the lives of young people in our area, the Community Foundation issued a grant to provide support for the organization's start-up costs.
Transept: A vocal ensemble dedicated to creating distinct and transcendent concert experiences, Transept fuses elite professional musicians with South Dakota talent while nurturing the community through collaboration, outreach, and education. The ensemble merges a roster of the nation's finest consort singers alongside local talent. Woven into the fabric of the organization is community outreach and education. The Community Foundation grant provides support for the launch of Transept's artistic and educational programs and its community outreach.