Brandon Community Foundation Celebrates Local Philanthropy, Awards More than $33,000 in Grants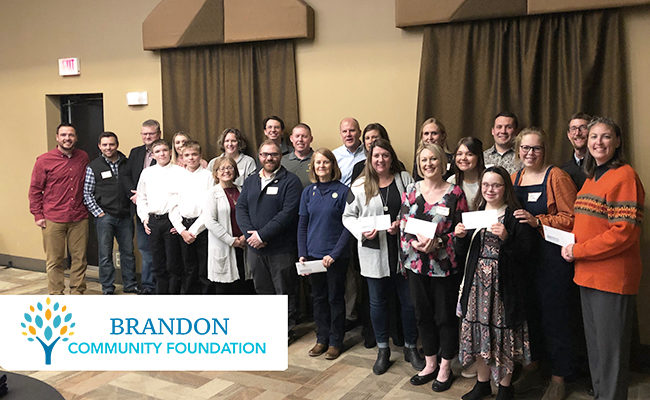 The Brandon Community Foundation, an affiliate of the Sioux Falls Area Community Foundation, presented more than $33,000 in grants to local nonprofits during its annual Oak and Vine event, held on Friday, Nov. 1, at the Brandon Holiday Inn.
Led by a volunteer board of engaged and passionate citizens, the Brandon Community Foundation was established in 2006 with a mission to support activities that improve and enrich the quality of life for all ages through the arts, recreation, health, education and public safety.
Nonprofits dedicated to serving youth, mature adults, recreation, education and more were presented with grants at the event – all made possible thanks to the spirit of care that exists in Brandon.
"Thanks to the generosity of so many in our community who choose to give to the Brandon Community Foundation, we're able help to create a better, brighter tomorrow for our community," said Board Chair Jeff Thue. "Our thanks go to our passionate donors who believe in our mission and who are committed to doing all they can to improve and enrich the quality of life for all those who call Brandon home."

Spirit Award
In addition to the announcement of grant recipients, the event also featured the presentation of the 2019 Spirit Award, an honor that celebrates philanthropic individuals or families whose innovative leadership and consistent generosity have positively impacted the Brandon community.

The 2019 Spirit Award honoree is Barb Fish. Fish currently works as a certified financial planner for Securities America, Inc., and also serves as president of the Brandon City Council. A native of Tyndall, South Dakota, Fish holds a bachelor's degree from the University of South Dakota.
An active civic volunteer, Fish is past president of the Brandon Valley Area Chamber of Commerce, has served as an officer of the PTSO, and is a past secretary for the Brandon Community Foundation.