Finding Meaning and Purpose Through Art
Meet Hector Curriel, the artist behind our 2019 Annual Report cover piece, "Catalysts."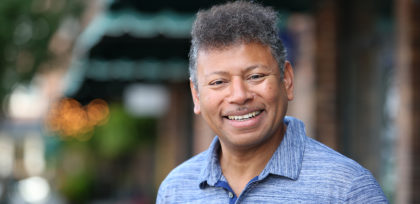 We believe the arts are a means through which we can build community, discover connections and find inspiration. It's why we're proud to say we've been supporting local arts organizations for more than 35 years and it's why, for decades, we've featured local art on the cover of our annual reports.
When we commissioned Artist Hector Curriel to create a piece of artwork for the cover of our 2019 Annual Report, we knew he'd create something amazing.

We had no idea just how amazing.
"The Community Foundation is working to empower the community, so I wanted to create something to illustrate that," Curriel said. "And I wanted to make it local – something people would recognize."
The piece, titled "Catalysts," (shown above) also celebrates the cause-and-effect momentum Curriel said he sees when he looks at the place he's called home for more than a decade.
"When I started, I thought about Falls Park – I believe it's such a representation of our city. When I went to the Falls, I watched the different stages of the water, (so in this piece) I tried to represent stages or aspects of life – education, collaboration, diversity, families, the arts, connections, community," Curriel said. "Then the Arc of Dreams kind of symbolizes how all these concepts come together to make dreams come true."
The foundation for "Catalysts," is the black, white, red and yellow colored squares – included, Curriel said, because of their significance within the Lakota culture.
From there, Curriel said each element in the piece represents a different kind of catalyst, each working together to create the vibrancy and momentum alive in the Sioux Falls area today.
The values of the Lakota people served as a catalyst for the sense of community that's present in the Sioux Falls area today, he explained. Education is a catalyst for discovery and innovation. Collaboration is a catalyst for economic, social and cultural development. The arts are a catalyst for finding inspiration, connection and common ground. Diversity is a catalyst for building understanding, perspective and inclusiveness. And relationships are a catalyst for joy, happiness, peace and love.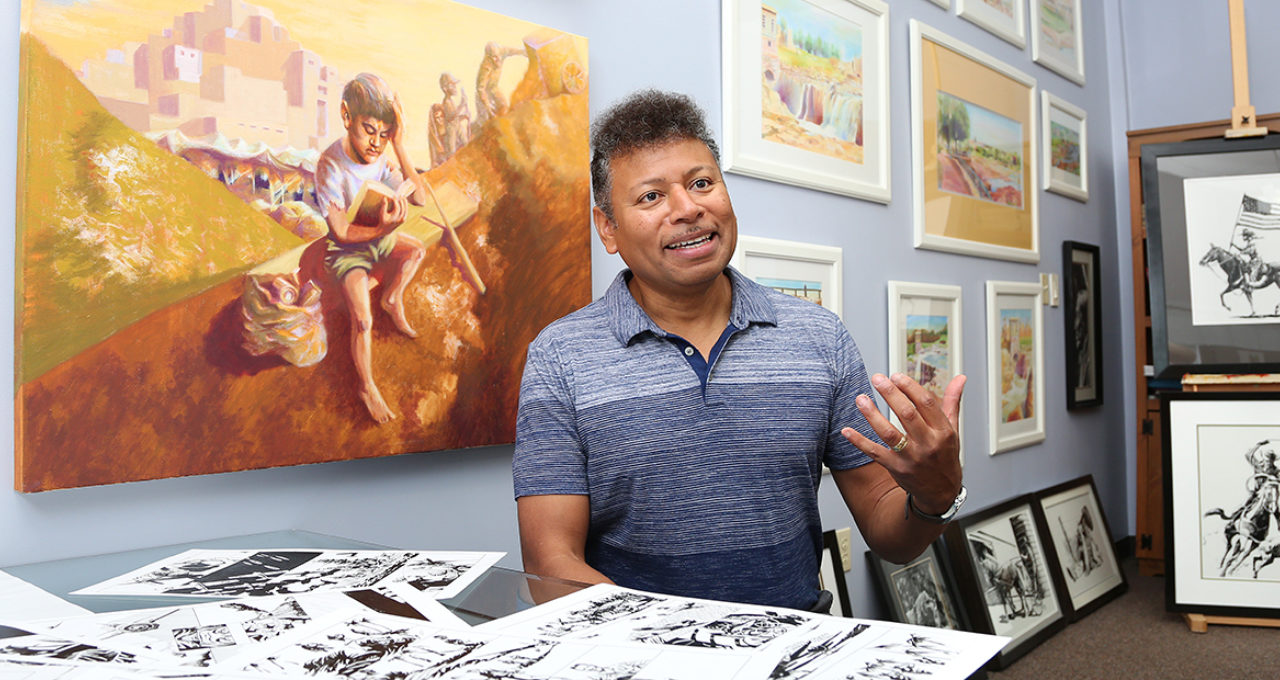 Finding the American Dream
A native of Lima, Peru, Curriel's interest in art developed at a young age. While in high school, he made the decision to pursue a career as an architect because he saw the field's close connection to visual art.
Curriel made the decision to move to the U.S. in 2001. He was 35 years old and didn't know a word of English, but he was passionate about finding something he'd heard about since he was a boy. Something called the "American Dream."
"I strongly believe that the new arrivals – immigrants, refugees – they come to improve their quality of life. They are people like me, with dreams – we see America as a place where you can really make your dreams come true," he said.
Curriel settled in Worthington, Minnesota, and took a job working in construction. After work each day, he studied English through the Worthington School District's collaborative adult education program. From there, he enrolled at Minnesota West Community and Technical College where he took additional courses in English, grammar and composition.

Building a Career as an Artist
Reading a magazine during his lunch break at a construction site, Curriel saw an advertisement that changed his life.
"It was an ad from Art Instruction Schools, an art school in Minneapolis. It showed a picture and asked readers to draw the image to measure their skill as an artist. So I grabbed a pencil and just drew it. I tore the page out and mailed it in."
"Six months later, I was living in Sioux Falls and got a letter from the school saying they'd like to meet me. They came from Minneapolis to meet me and my wife. I began taking courses, then I earned a scholarship," he said.
Soon after, in 2008, Curriel took his U.S. Citizenship Test at the U.S. Citizenship and Immigration Services Center – an office that was, at the time, housed in a former train depot just off 8th Street in Sioux Falls. Today, that same train depot is now home to the Sioux Falls Area Community Foundation.
Reflecting on his life and career, Curriel said he feels lucky to be in Sioux Falls. "It's a very unique city. We're growing and changing – and I hope we can embrace that growth and change in a positive way so we can grow together as a community," he said.
"Driving positive change and supporting our growing community are central to the mission of the Sioux Falls Area Community Foundation," said Andy Patterson, president. "We're honored to support local artists like Hector whose work illustrates the fabric of our community. Through this artist's lens, we are reminded of the beauty and diversity which have helped make our community such a vibrant and dynamic place to live, work and play. And at the Foundation, this piece of art feels like a reflection of our mission to enrich the quality of life for our community."