Each year, we award grants to area nonprofits doing important work for our neighbors in need.
This is the story of Sioux Empire Wheels to Work, an organization that's changing lives and empowering families, one car at a time.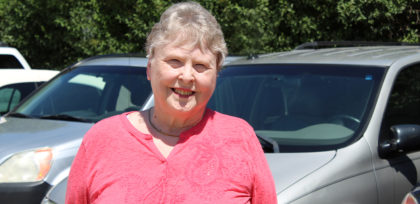 Sometimes, before you can make a difference, you have to get mad.

As an attorney for East River Legal Services, Karen Hattervig had spent most of her career representing abused women. She described the role as one part lawyer, one part social worker. At times, the work was difficult and challenging; at other times, heart-wrenching. Still, she loved the job and believed her efforts mattered.
But, through the years, she said she identified a troubling trend. While representing her clients in divorce hearings, Hattervig saw a number of legal decisions that awarded the woman custody of the family's children while awarding the man ownership of the family's primary vehicle.
After the hearings, Hattervig said she would watch these women try to navigate life as a single, working parent without a car. "These mothers had to work – staying home was not an option. So these women would have to take the bus to get their kids to daycare, then get themselves to work, then do the whole thing over again at the end of the day."
At that point, Hattervig got mad.
"I was so frustrated. I went back to my office and started thinking," she said. "I called all my friends who worked in other helping agencies and we got together to brainstorm how we could help people. We started by doing a survey to establish proof that transportation was indeed a problem."
After researching vehicle donation programs throughout the U.S., Hattervig made the decision to form Sioux Empire Wheels to Work, a nonprofit organization dedicated to empowering families through safe, reliable and affordable transportation. Since its founding about 20 years ago, Hattervig estimates the organization has given away between 400-500 cars.

Today, thanks to a recent grant from the Community Foundation, Sioux Empire Wheels to Work is now poised to embark on a new awareness campaign designed to further advance its mission.
The grant was provided through the Community Fund, our most visionary endowment supported by unrestricted gifts and designed to provide useful funding for local nonprofits.
"Thanks to the generosity of donors who make unrestricted gifts, we're able to award meaningful grants to nonprofits like Sioux Empire Wheels to Work – organizations who are doing important work to serve our neighbors in need throughout the area," said Patrick Gale, the Community Foundation's vice president for community investment.
Changing Lives
Over the years, Hattervig says she's learned a lot and has refined her processes. "At first, we started out just accepting any car we were given – trusting that people would only donate cars that worked. Then, it turned out a lot of cars we were receiving were junk – filled with more problems than they were worth," she said.
At that point, Tires, Tires, Tires, a local automotive repair business, heard about Wheels to Work and contacted Hattervig with an offer to help.
Today, Tires, Tires, Tires evaluates Wheels to Work's donated vehicles and makes any necessary repairs, free of charge. Once a car has been reviewed and has had any repairs done, Hattervig can begin the process of awarding the car to someone on the organization's waiting list.
To qualify for a vehicle from Wheels to Work, applicants must meet the following criteria: He or she must be a single parent; must be living alone with his or her children; must have a job or be going to school to train for a job; must have a South Dakota driver's license; must live in either Minnehaha or Lincoln County; and must not own another working vehicle.
"We give them the car, they just have to pay for the cost of transferring the title to their name, along with a $45 administrative fee," she explained.
New Beginnings
Looking back over the years, Hattervig said she has countless memories of individuals whose lives were changed after receiving a car through Wheels to Work.
"One parent told me that receiving a car meant that now, she could go to parent-teacher conferences," she said. "Another parent said having a car meant that her child could finally be involved in extra-curricular activities. Without a car, she had no way to get her child to or from school for the practices and games. Now she could."
Gale called the program a game-changer for families in need. "Most of us get in and out of our cars multiple times a day – taking for granted how very blessed we are to have a reliable source of transportation," he said.
"For those in our community who do not have a car, an average day is so much more complicated. So we're inspired by the work Karen is doing on behalf of Sioux Empire Wheels to Work to connect families with vehicles and we're proud to support this great program that is enhancing the quality of life for so many in our community."