Innovating Through Uncertainty
Using Technology to Bring People Together
While the pandemic continues to keep us apart, an endowment held at the Community Foundation has responded and adapted to help local churches use technology to share the faith and bring people together.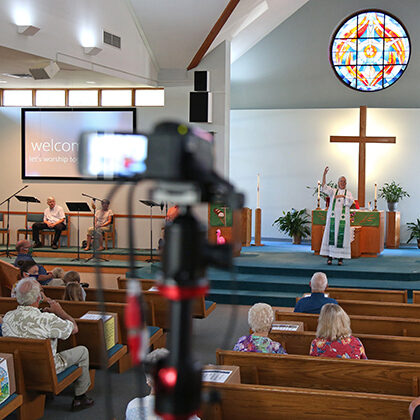 As the first wave of the pandemic swept across the U.S. last spring, thousands of churches nationwide grappled with how to keep their congregations safe while also nurturing the spiritual needs of their parishioners during a time of unprecedented uncertainty and painful loss.
Many made the difficult decision to pause in-person worship services and instead shared sermons, devotions and prayers online via social media. Others saw weekly in-person attendance decline and proactively began to publish content online for those who didn't feel comfortable leaving their homes.
For churches throughout South Dakota, the onset of COVID-19 has made trying new things and thinking outside the box part of daily operations throughout much of 2020.
Recognizing the pandemic's impact to both churches and churchgoers, an endowment held at the Community Foundation originally designed to help churches build and develop their media ministry efforts stepped up to help, adapting to provide funding to help area churches acquire the technology and tools to necessary to serve their congregations amid the uncertainty of COVID-19.
Continuing a Mission
The Hour of Hope Endowment takes its name from the Hour of Hope radio show, a ministry program that first began in the mid- 1950s and, at its height, aired on more than six radio stations in more than 13 states throughout the U.S.
David Brunkow was a member of the program's board of the directors.
"The program was Lutheran in its foundation and provided sacred music and preaching," Brunkow said. "The most recent pastor for Hour of Hope was based in Brookings, South Dakota. He produced the entire broadcast. But, he was growing older and expressed a desire to retire. So, we started thinking about what was next. We wanted to continue reaching those for whom the radio show was originally created — those who wish to have their faith nourished, but are either unable or choose not to participate in regular congregation worship activities."
After the Hour of Hope's final radio broadcast in April 2017, the program's board of directors made the decision to place its assets into an endowment at the Sioux Falls Area Community Foundation.
"Little did we know how vital media ministry would come to be — certainly it has been critical during this time to be able to engage with people," Brunkow said.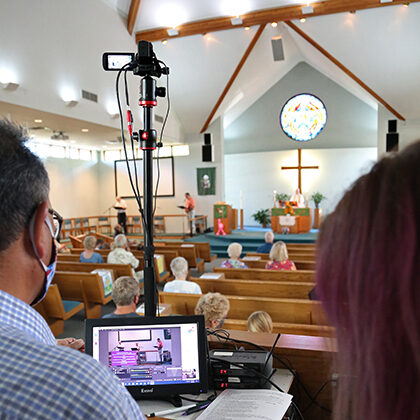 The Power of Endowment
Today, the Sioux Falls Area Community Foundation holds more than 700 endowments valued at more than $150 million.
Endowment funds are invested to provide returns which replenish the dollars distributed to charity each year, ensuring they are "forever funds," said Mary Kolsrud, vice president for philanthropy.
"In the case of the Hour of Hope Endowment, an advisory board awards grants from the fund to local churches to help advance their media ministry efforts. Those grants have been especially meaningful to churches during this moment in time, when so many are balancing the need to keep their congregations safe with the need to remain connected in sharing the faith," Kolsrud said.
"The notable aspect of this endowment is that no one could have predicted the role and importance technology would play for churches today. Which is truly the power of an endowment held at the Foundation — they offer the promise of knowing the Foundation will be here in the future to ensure the original charitable intent continues, even in unforeseen ways."
Churches Without Walls
Grace Lutheran Church in Sioux Falls is a past recipient of a grant from the Hour of Hope Endowment.
Siri Sorenson serves as Grace Lutheran's senior pastor. She said the grant has been instrumental in helping the church advance its media ministry.
"With the mobility of people today and varied schedules — life has changed so much," Sorenson said. "People travel for work on a regular basis and jobs aren't just 8-5 Monday through Friday anymore. All that means that regular church attendance has changed."
"In our preaching, we talk a lot about how the church is not just a building; the church is the people," she said. "We wanted to find ways to keep people connected to their church."
The grant from the Hour of Hope Endowment helped Grace Lutheran purchase new equipment to enhance its livestreamed service.
"We purchased a camera and tripod that we could hook into our soundboard. We also bought a small computer that would run the camera and connect in to Facebook Live. It's really made a difference in the quality of what we are doing."
When our members watch the worship service on Facebook, they can make comments and greet each other — they stay connected. We've had many people tell us that the ability to follow along and engage on Facebook made them feel like they were still part of church, even though they were still in their homes.

Siri Sorenson, senior pastor, Grace Lutheran Church, a recipient of a grant from the Hour of Hope Endowment
Kevin Jensen serves as the senior pastor for two churches — Nathanael Lutheran Church in Alcester, South Dakota, and Hudson Lutheran Church, located just west of where the Big Sioux River separates South Dakota and Iowa. Both churches have received grants from the Hour of Hope Endowment.
One church used the grant to purchase SlingStudio, a portable and wireless multi-camera broadcasting platform that allows church staff to broadcast worship services live on YouTube. Another church used the grant to purchase an FM radio transmitter that helped church-goers tune in to worship services earlier this summer when services were held outside.
"We would really be in a difficult place if we weren't able to utilize our media ministry — it's been crucial during this pandemic," Jensen said. "The Hour of Hope Endowment has been instrumental in helping us."
Looking Ahead
Moving forward, Brunkow hopes the Hour of Hope Endowment will grow so that even more churches can benefit from its grants, "making it possible for churches to touch more lives," he said.
"These grants are seed money for churches who are ready to take the next step in their media ministry efforts. These grants give congregations the courage to take the first step toward meeting the challenge in front of them."
---
Your Sioux Falls Area Community Foundation holds 722 endowed funds with more than $150 million in assets providing good in our community today, and forever.

Individuals and organizations can establish an endowment at the Foundation to ensure their philanthropic intent and legacy is carried on in the future.