Creating Dialogue Through Art
Using Creativity to Spark Change
Meet Chad Nelson, the creative force behind "Agent of Change," featured on the cover of our 2020 Annual Report.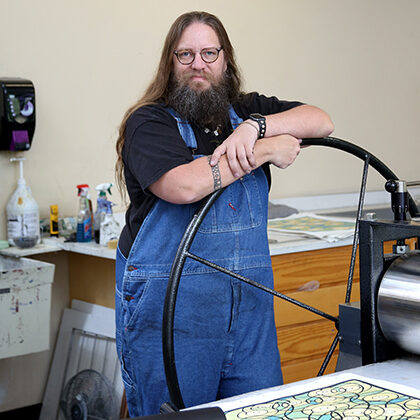 Each fall, students file into Chad Nelson's classroom at Brandon Valley High School expecting to learn about art history and artistic concepts while building experience working with different media like ink, watercolor, charcoal, clay and more.
It doesn't take long for Nelson's students to realize they're actually learning about far more than just drawing, painting, printmaking or sculpting.
"I know my purpose as an art teacher is not to teach everyone to be an artist. I see my function as an art teacher to teach my students creative problem solving skills," he said. "To look at things in new ways and to synthesize different variables together. These are such important skills in the world we live in today. Not only having the facts, but to be able to think around problems. If we can come up with different ways of thinking about things, we'll all get further."
Nelson's teaching philosophy also helps inspire his own artwork, including his latest piece, a reduction relief woodcut titled "Agent of Change," featured on the cover of the Community Foundation's 2020 annual report.
Nelson shared with us his inspiration behind the piece: "When we decide to act, we change the world in small ways, each of these actions are like ripples in a pond expanding and affecting the world beyond our perception. When put in the context of society we can use this concept, strategically to become true agents of change," Nelson said. "Dropping that pebble into the pond of society disrupts the status quo as the ripple flows through each of us, affecting us, changing us. The more pebbles we drop in the pond with positive intention the more energy is released creating more and more potential for opportunity and change."
Inspiring Positive Change Through Art
Nelson's efforts to use his creativity to spark dialogue is exactly what our world needs right now, said Andy Patterson, president of the Sioux Falls Area Community Foundation.
"We've long believed that art can help inspire us, connect us and motivate us to pursue bold ideas for a better tomorrow," Patterson said. "It's why for years, the Community Foundation has been intentional about investing in local arts organizations and it's why we're proud to commission a piece of original art for use in our annual report each year as a way to support a local artist."

Andy Patterson, President, Sioux Falls Area Community Foundation
"Chad's piece, 'Agent of Change,' speaks to the important role each of us can play in building a better, brighter future," Patterson said. "When engaged and passionate individuals come together as one community, our collective ability to impact positive change can be so much greater. Through our lens at the Foundation, we know that philanthropy can create and accelerate that momentum. Without question, we believe unity will help us develop the best solutions for the complex problems we're facing during this extraordinary moment in time."
"We continued to be honored to support local artists like Chad whose work has the power to prompt important dialogue about the potential and promise before us," Patterson said.

Finding a Calling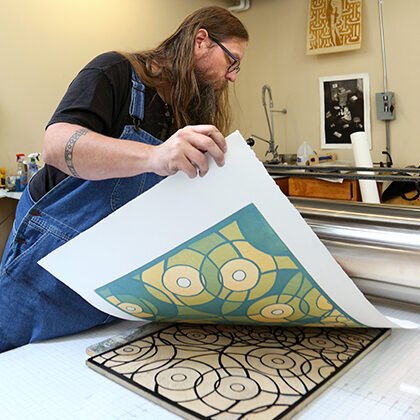 A native of Sioux Falls, Nelson grew up in an artistic household. His dad is skilled in fine woodworking and his mom shares her creativity through needlepoint and sewing.

"My parents definitely encouraged and valued my creativity for sure," he said.
He found his love for art during his sophomore year at O'Gorman High School.
"It's kind of what I put all my focus into. And the more I improved as an artist, the more I improved in other subject areas in school. Once you get that taste for success, you're able to apply that mode of thinking into other things."
After focusing primarily on drawing and watercolor painting in high school, Nelson's use of media broadened at Augustana University where he was influenced by iconic art professors Bob Aldern and Carl Grupp.
"Bob Aldern kind of took me under his wing. He helped me a lot in terms of learning how to apply my success in art to my academics. He drove the point home that,
'You may not be interested in other subjects, but the more you know about everything, the better artist you'll be. Your knowledge of the world will make you a better artist.'"
"Carl Grupp taught me how printmaking was the ultimate form of drawing," Nelson said. "From there, I became really drawn to printmaking and pottery."
After double majoring in studio art and art education, today Nelson calls himself a full time teacher and a full time artist. In addition to teaching at Brandon Valley,
Nelson also teaches printmaking and art education classes at Augustana, where he's served as the printmaker in residence for the last 14 years.
"I teach beginning through advanced art classes. I love teaching; I love being around students and watching them discover things about themselves they didn't know before," he said.
To see more of Nelson's artwork, visit vinlandprints.com.