Instead of reports and spreadsheets, what if we looked at trends, challenges and opportunities through a different lens? What if we used the basic principles of art — shape, color, line — to break down issues and develop solutions?
It's what our cover artist Jana Anderson has been doing all along.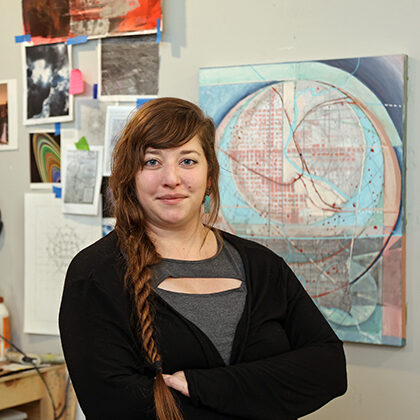 For mixed media painter Jana Anderson, the artist behind "Hometown Enchiridion," featured on the cover of our 2022 Annual Report, art has been central to her life for as long as she can remember.
Growing up in Sioux Falls, "I was always just drawn to visual things and making visual things," she said.
After graduating from Washington High School, Anderson went on to Hamline University where she quickly gravitated to oil painting and the studio art department.
"I wanted to learn everything but didn't quite know where to specialize," she said. "Then I realized that, for me, making artwork and studying art is ultimately the study of everything. You can study economics and history and science and math and all of that through the lens of art history and creating artwork."
So instead of choosing to major in philosophy or science or some other course of study, Anderson chose to study art as a way to "study the culture creators throughout time — to learn about everything and translate that through a visual language."
After Hamline, she went on to earn her MFA in painting from Indiana University's Eskenazi School of Art, Architecture, and Design.
She was working on the east coast when the pandemic hit. At that point, she made the decision to return to Sioux Falls.
Today, she serves as the Washington Pavilion's assistant curator and also teaches art classes for South Dakota State University and Dakota State University.
In between all that, she says, she's thinking — thinking about art, thinking about making art, and thinking about how art can be a means for understanding.
"When you make art, you're finding solutions," she explained, so applying the practice of art in different ways can lead to more solutions.
"I think sometimes ideas can be hard to understand if they're represented by a number or word. In painting, I can take those concepts that are invisible and put shape, color, line — the basic principles of art — to create something that's more understandable," Anderson said.
Community Foundation President Andy Patterson called Anderson an artistic innovator.
"As our community grows and changes, we need creative, critical thinkers to help us develop solutions to the complex challenges we face today, and those we'll face in the future," he said. "Jana's use of art to evaluate information, break down data and illustrate connections is a powerful reminder of how art — and artists — can impact, inspire and improve our community. We couldn't be more proud to feature her work on the cover of our annual report as a testament to our belief that art can help build and strengthen our community."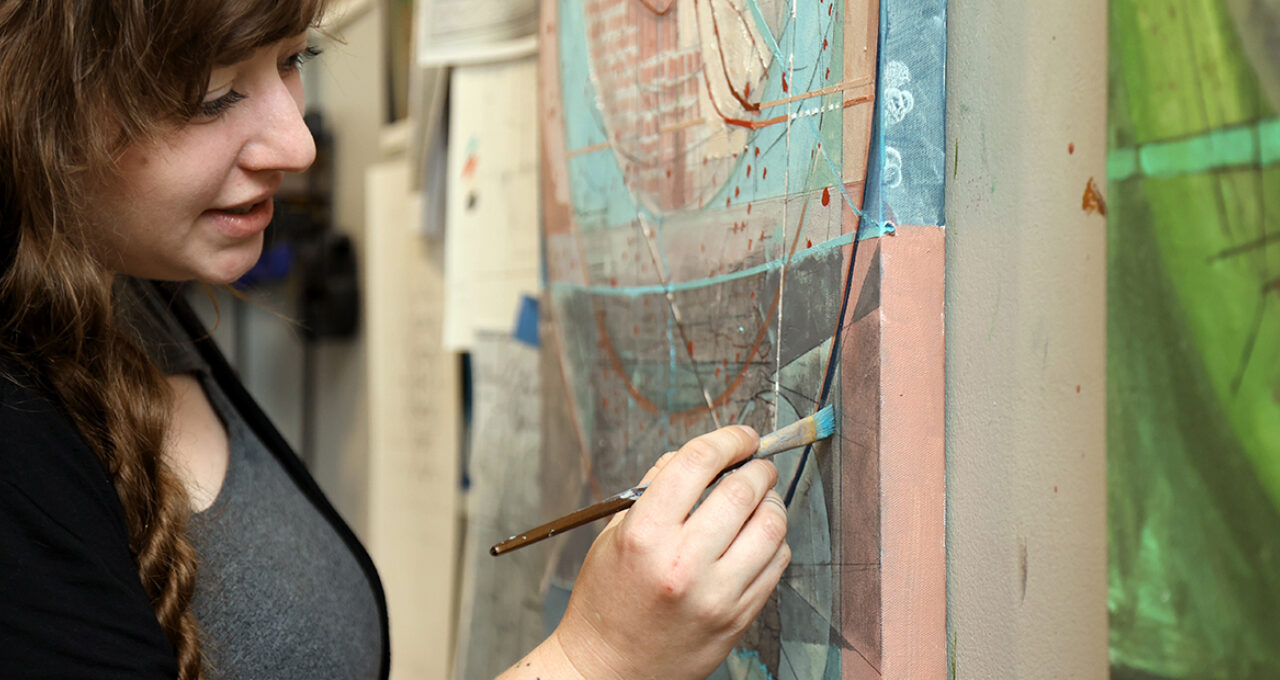 Hometown Enchiridion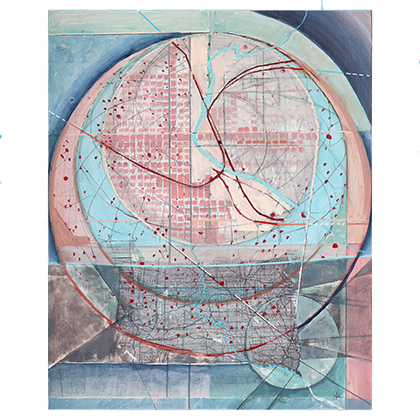 Working with oil, photo transfer and graphite, Anderson was inspired by an enchiridion, a small manual or handbook that provides instruction about a subject or place.
"This painting serves as an enchiridion of my hometown, a guide through the past, present, and future of this community," Anderson wrote. "I used three maps to structure the composition: A railroad map of South Dakota from 1939, an undated map of Downtown Sioux Falls clearly showing the old depot on 8th Street, and a map of the stars as visible from this longitude and latitude in the summer of 2022. Layered together they are a way to look at a place, or an organization, or an entity, through intersecting goals and entwined missions. Moving parts must align to be effective. To create an effective road map into the future, one must consider the intersecting histories that have come before. The building that houses the Sioux Falls Area Community Foundation has a rich history. The land it sits on has a deeper history yet. Through layers, intersections, and revolutions we can find connections that tell a visual story and lead us on a path forward."
Supporting Our Local Arts Community
In an effort to celebrate and support local artists in our community, each year the Sioux Falls Area Community Foundation commissions an original piece of artwork to feature in our annual report. Learn more about our commitment to the arts and meet our past Annual Report artists.