South Dakota natives John and Jeanelle Lust believe that every child deserves a fair shot at finding success.
So they're using their charitable fund to support local nonprofits dedicated to helping kids succeed.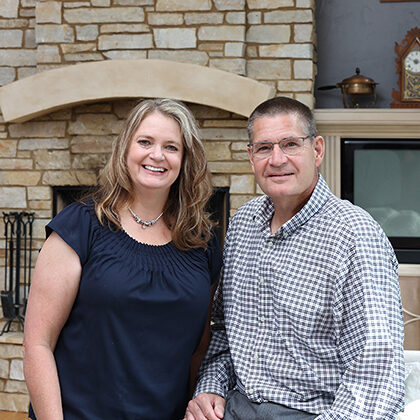 They say kindness inspires kindness. It's true — and John and Jeanelle Lust are proof of it.
As students, John and Jeanelle each experienced love, care and generosity from family members, teachers and philanthropists — all of whom were passionate about helping young people succeed.
So today, the Lusts are doing all they can to pay that kindness forward, directing much of their philanthropy to nonprofits and programs that focus on kids and education.
"I didn't grow up in a wealthy family — far from it," Jeanelle said. "But I was able to get a scholarship to Augustana University and, later, to Creighton University for law school. I was the recipient of someone's generosity and now, I have the opportunity to give back to help others."
John agreed, recalling his mother, Sharon, as another inspiration for the couple's charitable giving.
"My mom was very passionate about education and reading in general. She was a teacher in Aberdeen for many years. So I had the opportunity to grow up surrounded by books. I know that for many kids in Sioux Falls that's not the case," he said. "We want to help address that."
Returning Home
After spending more than 20 years in Lincoln, Nebraska, in 2019 the Lusts made the decision to return to their South Dakota roots. After moving back to Sioux Falls, they quickly sought out new opportunities to support the community through charitable giving and volunteerism.
In 2020, they made gifts to Augustana University to establish the Sharon Lust School of Education and a scholarship for secondary education majors in honor of Jeanelle's grandparents, LaVerne and Ava (Davis) Williams, two individuals who also dedicated their careers to education.
"Our gift to Augie is to train teachers who can help kids like me — to let them know they can do anything," Jeanelle said.
Beyond supporting aspiring teachers, the Lusts also wanted to find ways to impact the lives of younger students.
Seeking a resource who could provide philanthropic expertise as well as insights on local nonprofits, especially those dedicated to kids and education, they turned to the Sioux Falls Area Community Foundation for help in establishing a donor advised fund.
"To have a resource like the Community Foundation that can give us the insight on any charity we come across — so we're not just donating blindly — that's huge for us," John said.
After learning about the Promising Futures Fund and its work to end the poverty disadvantage for kids at Title 1 schools in Sioux Falls, the couple reached out to the Community Foundation for additional information and insights. From there, the Foundation team arranged a meeting between the Lusts, Promising Futures Founder Steve Hildebrand and Sioux Falls School Board Member Cynthia Mickelson.
"Having a service like this just gives the donor a new level of comfort with the charity," John said. "And it gives the charity such legitimacy."
The Lusts have since used their charitable fund to provide support for Promising Futures, as well as other education-focused organizations.

I think our philanthropy is really focused on leveling the playing field for kids. We want to make sure that all kids have chances and opportunities to dream big dreams."

— Jeanelle Lust
Hearts for Service
In addition to their charitable giving, the Lusts are also active community volunteers. Jeanelle serves on the boards for the Great Plains Zoo & Delbridge Museum and SculptureWalk, while John serves on the board for the Promising Futures Fund.
Through their servant leadership, the couple say they've witnessed the important role the Community Foundation plays in serving both donors and nonprofits across the Sioux Falls area.
"For nonprofits, knowing that the Foundation is here to help talk through ideas and connect you with resources is so beneficial," Jeanelle said.
John agreed.
"In my work for the Promising Futures Board, I've seen first-hand everything the Community Foundation has done for that effort. The Foundation was instrumental in helping to set up Promising Futures, providing administrative support, and in connecting donors to the opportunity. The Foundation's support is incredibly valuable to that organization."
Looking ahead, the couple is excited to continue their philanthropy in a city that, they say, has a spirit of giving.
"We love being back in Sioux Falls. There's such a charitable aspect to this city — there's a real culture of philanthropy here," Jeanelle said. "It's exciting to be part of it."