Providing Shelter, Offering Hope
As Children's Inn embarks on its next chapter, including a facility to provide even more support to victims of domestic violence and abuse, endowments held at the Community Foundation are providing long-term, sustainable sources of annual revenue to help the organization sustain its mission.
At the Community Foundation, we recognize the important role nonprofits play in creating a vibrant and thriving community. So we make it our job to build and foster collaborative partnerships with charities throughout our area to help these critical organizations advance their missions of care.
One example: Our work with Children's Inn, a program of the Children's Home Society of South Dakota.
Today, endowments held at the Foundation are providing Children's Inn with long-term, stable sources of annual revenue to help the organization move its mission forward — a mission that's more critical today than ever before.
"We're here to help build a brighter, stronger tomorrow, and our work with Children's Inn illustrates that. Together, we're helping to drive social impact, usher in positive change and solve some of our community's most complex challenges," said Mary Kolsrud, the Community Foundation's vice president for philanthropy.
Open Arms and Acceptance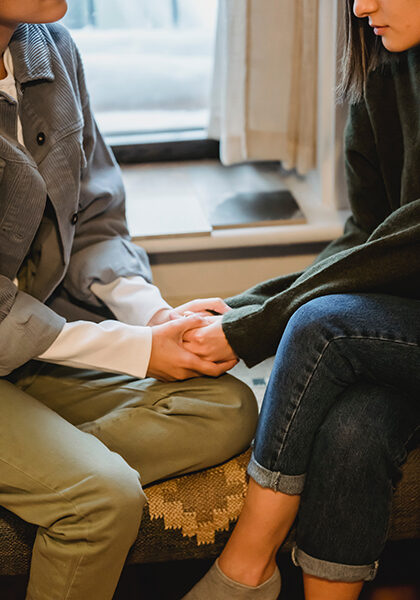 "Kate" and her young daughter arrived at the door of Children's Inn late one night just over a year ago. It wasn't the first time her husband had hit her — he'd been doing it for years, always careful to land punches to her stomach or back so the bruises couldn't easily be seen — but it was the first time he'd hit their daughter.
As scared as she was to leave — he told her he'd really hurt her if she tried to run, plus, she didn't work, and had no money of her own to support herself — she knew she had to make a change.
When she arrived at Children's Inn, staff welcomed her with open arms.
"People arrive at Children's Inn in a variety of different ways. Sometimes with law enforcement, sometimes on their own or another agency refers them. Depending on how they arrive, that affects how they may be feeling. There's a lot of anxiety, a lot of fear, a lot of unknown. Some people come with bruises. Some people come literally fearing for their life," explained Amy Carter, program director for Children's Inn. "Our goal is that when they call or just show up, that there's someone there to accept them, wherever they're at, with whatever they're going through."
Arriving at the door is the first step. From there, staff at Children's Inn begin the work of helping victims rebuild their lives. In addition to free 24-hour shelter services, the organization also provides meals and transportation, counseling services, parenting education, support groups, safety planning, community referrals, community education and more. In addition to victims of domestic violence, the nonprofit also serves victims of child abuse and neglect, stalking, sexual abuse or elder abuse in Minnehaha, Lincoln, McCook, Turner and Union counties.
It's essential work — and it's made possible thanks, in part, to a long-standing collaboration with the Community Foundation.
Collaborating — For Good. For Ever.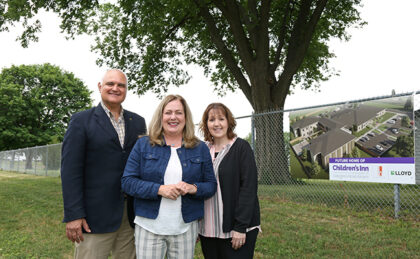 The Community Foundation-Children's Inn collaboration stretches back many years, and features a variety of elements that all work together to help the organization advance its mission.

"Our collaboration with the Community Foundation is multi-faceted," said Rick Weber, development director for Children's Home Foundation. "They provide so much support for us on the administrative side by holding not only some of our own endowment, but the endowments of many other donors who have chosen to designate Children's Inn in their charitable giving plans. The Foundation also serves as an amazing link for us as well — connecting donors to giving opportunities at Children's Home Society."
In addition to Children's Inn, the Foundation serves as the steward for the organizational endowments of more than 140 area nonprofits. These endowments provide long-term, stable sources of revenue for our nonprofits, ensuring their continued sustainability. Nonprofits benefit by leveraging our assets and investment expertise, as well as our administrative support so they can focus on their mission and purpose — serving those in need throughout our community.

It's like the Foundation is an extension of our team.

— Michelle Lavallee, Chief Executive Officer, Children's Home Society of South Dakota
Carter agreed.
"I feel like the Community Foundation believes in our mission as much as we do. It feels like they're in it with us," she said.
"That's because we do, and we are," Kolsrud said.
"Along with the services we provide through our organizational endowment program, we're also working to connect donors to giving opportunities that support the good work of Children's Inn," Kolsrud said. "This happens through a variety of ways. Some donors direct gifts to Children's Inn through their donor advised funds. Others choose to include the organization in their legacy plans, ensuring that their charitable support of Children's Inn will continue on, even after their lives."
Today the Sioux Falls Area Community Foundation holds 743 endowments valued at more than $212 million. Endowment funds are invested to provide returns which replenish the dollars distributed to charity each year.
"When we talk about 'for good, for ever,' this is just what we mean," Kolsrud said. "Endowments allow someone's legacy of care to live on, essentially allowing good things to happen in their name, forever. It's an absolute definition of selfless love and generosity, and it's a beautiful thing to witness."
Smitty's Story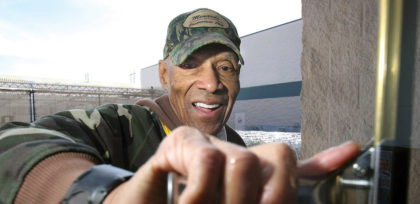 If you've lived in Sioux Falls long enough, odds are you might remember Charles Smith.
"Smitty," as he was often called, wasn't a big guy — he was about 5'6" and weighed about 126 pounds. But his personality? Well, it was larger than life.
His story began in 1917 just outside of Jackson, Mississippi. It's a story of hard work, heartbreak, ingenuity, grit and, perhaps most of all, compassion for others. It's also tale of one man's desire to be part of something bigger than himself — a yearning to give back; to help influence meaningful change and to make tomorrow's world better than today's.
Smitty grew up picking cotton during early mornings that stretched into long days under the hot Mississippi sun. As a teenager, he made the decision to move north to Chicago, where eventually he took a job as a restaurant cook. He later joined the U.S. Army, eventually landing on a base in South Dakota where he worked as an Army cook.
After his discharge, he worked as a café and hotel cook and collected tin cans off the street to save money to start Smitty's Cleaning in 1945. He would go on to spend the next 67 years running that business and raising his family, along with his wife, Dorothy.
Before he passed away in 2018 at the age of 101, Smitty worked with the Sioux Falls Area Community Foundation to establish his legacy plan — a plan for giving after his life.
Today, thanks to his endowment, Children's Inn and other local nonprofits are receiving critical, ongoing support to support their good work in our community.
Smitty is one of many donors who have chosen to support the work of Children's Inn through their planned giving.
"People give to Children's Inn for so many reasons," Weber said. "Domestic violence touches a lot of lives — it crosses all economic backgrounds and all demographics. I think a lot of people give because they've been touched by domestic violence in some way — maybe a personal experience, maybe a friend or a family member or a co-worker. Sometimes, after they learn about the challenges and the issues, people give to Children's Inn because they feel so blessed that they had a healthy family growing up, or that they have a healthy family now — and they want to help others to be safe."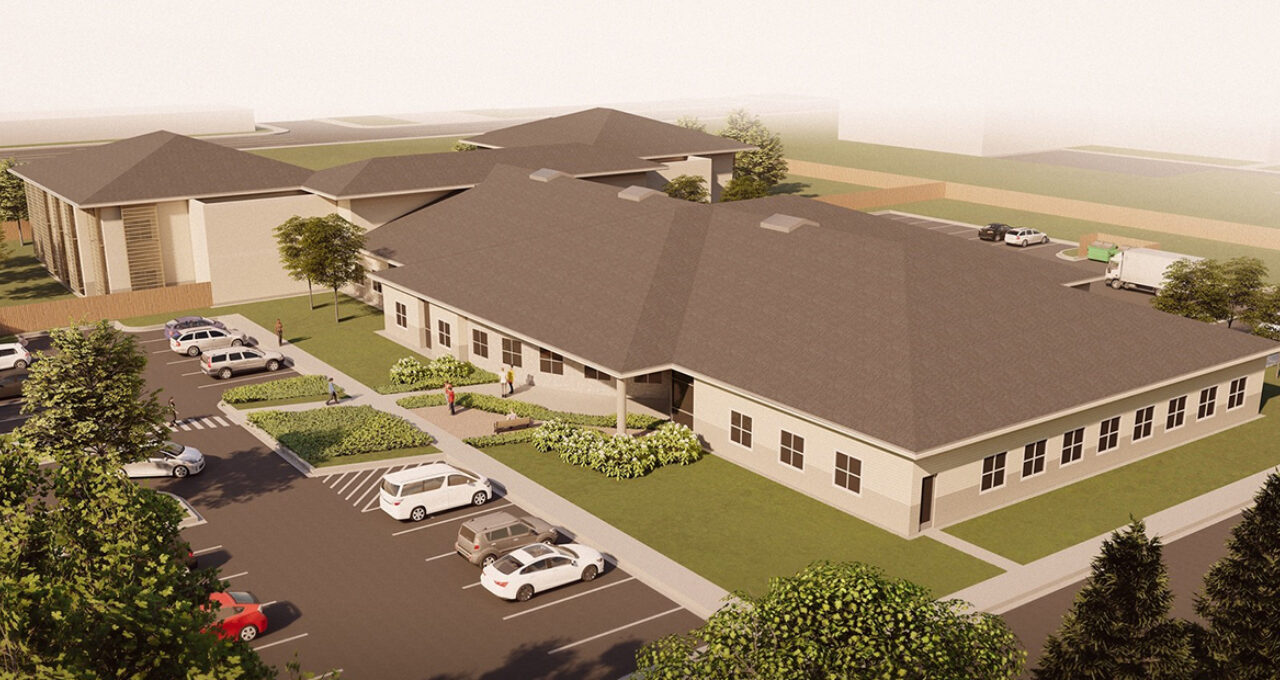 The Next Chapter
As a city grows, so do the number and complexity of its challenges.
"The city of Sioux Falls is growing and changing, and tough stuff comes with that growth. As the city's grown, so have its challenges, including domestic violence issues. At the same time, the issues we see today are more complex," Weber said.
Complex issues call for outside-the-box thinking and a willingness to pursue bold dreams, Carter said.
"If services are available to those who need it, the entire city benefits. Our kids stay safe. Our entire city is safer. People might say, 'Well, I don't want to take care of someone else's problems.' But, as a community, it's our problem. And if we don't develop solutions, the problems will not only persist — they'll grow. As a community, we need to come together for the greater good."
Which is exactly why Children's Inn is embarking on its next chapter — a new 48,000 square-foot facility featuring enhanced dining facilities, larger family rooms, increased indoor and outdoor play spaces, additional room for case management and support services, and 56 more beds. Once it's open next year, the new facility will be equipped to serve more men, women and children who are victims of violence.
"For the last six years, Children's Inn has been at or above capacity the majority of the time. We take more than 3,000 crisis calls a year. And we have about that many people who show up at our door seeking help. Sometimes those turn into shelter stays, but sometimes they're just needing other resources or protection orders and law enforcement sent them to us. But, can you imagine if we did have to turn someone away? Can you imagine if a mother and her kids came to our door and found a sign that said, 'Sorry, we're full.' That is heartbreaking to imagine. So we knew we needed to do something," Carter said.
A major gift from philanthropist T. Denny Sanford will help build the facility, help with operating expenses for the first five years, and help start an endowment fund, but Weber says charitable support will still be needed to fund the entire construction costs and build all the needed endowment for long-term sustainability.
The 'One Safe Place to Go'
As Children's Inn begins a new era, the Community Foundation will remain a steadfast collaborator — working to inspire charitable giving for the organization, for the benefit of the community we all call home, Kolsrud said.
"Since 1977, victims of domestic violence in the Sioux Falls region have had one safe place to go for shelter, hope and healing — and that's been Children's Inn," Kolsrud said. "We know the important role it plays in our community, so we're committed to helping this organization, and those it serves, in any way we can."
Weber said the Foundation plays a major part in helping Children's Inn, and many other nonprofits, advance their missions.
"I think as Sioux Falls grows, and businesses expand and new businesses emerge, business leaders understand that in order for their organizations to be successful, we need a strong community. And to have a strong community, you need social services dedicated to making it a good, safe place to live, work and play," he said. "The Community Foundation is the link and the hub for that — the Foundation brings it all together — business leaders, philanthropists, civic leaders, nonprofits."