Strengthening Our Community Through Education
Helping Students and Supporting Workforce Needs
A long-standing collaboration between the Community Foundation and Southeast Tech that includes scholarships, grant support and annual distributions from endowments is helping students pursue their educational dreams and supporting the workforce needs of our region.
We believe philanthropy and education can and must intersect to help drive positive change. So we're proud to support organizations and efforts dedicated to teaching and inspiring young people from across our area to pursue big dreams and bold ideas for a brighter tomorrow.
And today, thanks to a longstanding collaboration between the Community Foundation and Southeast Tech that includes scholarships, grant support and annual distributions from endowments, it's never been easier for students to pursue their educational dreams.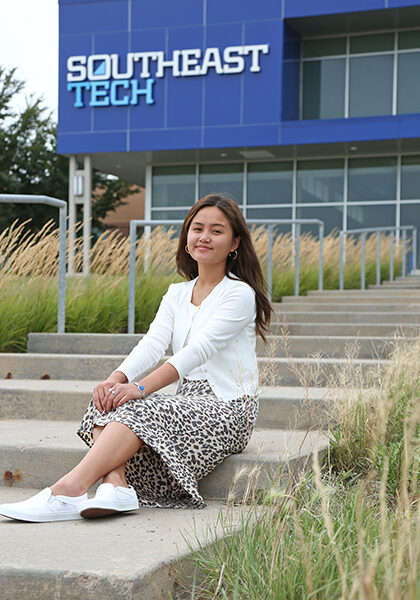 Anisha's Story
From a young age, Anisha Gurung knew she wanted to spend her life helping others.
She grew up in a refugee camp in Nepal with her parents and two siblings. It was a tough life, but the family worked hard to find happiness and joy wherever they could. However, when Gurung was just seven years old, her mom suffered a massive stroke and later died due to a lack of medical equipment in the camp.
The family was crushed.
"It was so hard. My mother's last wish was to see me become successful and happy," Gurung recalls.
Two years later, Gurung's dad moved the family to Sioux Falls to start over. He took a job at Smithfield and worked hard to provide opportunities for his children.
With memories of her mother always on her mind, Gurung became determined to find a way to help others. She made the decision to pursue a career in healthcare and today, the 2021 Washington High School graduate is enrolled in the Medical Assistant program at Southeast Technical College.
As a medical assistant, she'll take vital signs, perform blood draws, record patient history, and more. It's a high-demand field, with the Bureau of Labor Statistics projecting a 19 percent growth in the employment of medical assistants over the next decade.
The year-long program is an investment for Gurung's family, but thanks to a longstanding collaboration between the Community Foundation and Southeast Tech that includes scholarships, grant support and annual distributions from endowments, it's never been easier for Gurung and other students to pursue their educational dreams.
For Gurung, a scholarship from the Community Foundation is making her financial burden easier.
Gurung is a recipient of an award from the Ralph and Doris Wallin Scholarship Fund, established by Ralph Wallin, the former owner of Mailway Printers, and his wife, Doris, "to pay back the community for supporting (my dad) and his business for 30 years," said couple's daughter, Debra.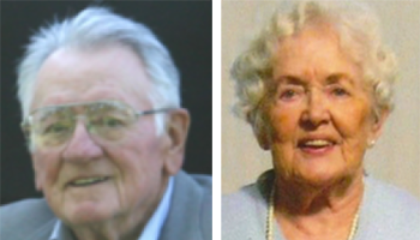 As a graduate of the Dunwoody College of Technology in Minneapolis, Ralph Wallin was a believer in technical education. He wanted his scholarship to support local technical schools.

"He was a firm believer that with determination and hard work, all students have many opportunities for success if they want it," Debra said.
The words "determination" and "hard work" sum up Gurung's personality and outlook on life perfectly, said Martha Miller, an educational talent advisor for TRiO, a state-wide program that works to help youth from disadvantaged backgrounds complete high school and pursue secondary education.
"She's just a great kid," Miller said, noting that Gurung has talked about her long-range plan to one day pursue a career as a registered nurse.
Reflecting on the scholarship, Gurung said she's thankful and grateful.
"This scholarship is truly life-changing for me," Gurung said. "We are a single-income family. This scholarship will help so much from a financial standpoint."
"I want to work in healthcare so I can help others get the care they need. I speak English and Nepali, so I also want to use my language skills to help patients and families who speak Nepali," she continued. "After I finish the program at Southeast Tech, I want to stay and work in Sioux Falls."
A Collaboration That Works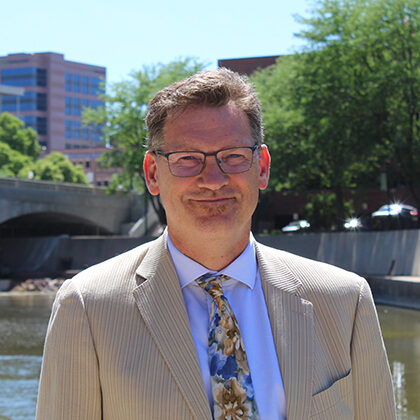 Stephen Williamson is the Foundation Director at Southeast Tech. He says the collaboration with the Sioux Falls Area Community Foundation plays a key role in helping Southeast Tech advance its mission to educate students for careers that meet the workforce needs of the region.
The Southeast Tech Foundation first established an endowment at the Sioux Falls Area Community Foundation nearly 20 years ago. Since then, individuals, families and businesses have established nearly 30 different scholarship endowments at the Community Foundation to benefit Southeast Tech students. These scholarships not only help to ease the financial burden for students as they pursue a wide variety of academic programs, they also directly impact the state's workforce. According to Southeast Tech's most recent Career Outcomes report, 89 percent of its 2020 graduates are working in South Dakota.
"In working with the Community Foundation, we've been very satisfied with not only how our money is managed, but also the ability to get that money to our students in a timely manner when school starts each fall," Williamson said.
Southeast Tech has also been a recipient of grants from the Community Foundation's competitive grantmaking programs, including a recent grant to support a dynamic initiative called Southeast First, an effort to engage, matriculate, retain and graduate first-generation and underrepresented student populations.
The program's goals are to improve student success and graduation rates, as well as to facilitate relationships with alumni and industry partners. The program will feature a strong support platform for students as they learn to navigate college and transition to work.
The initial phase of the program began in 2018, was based in local high schools. The second phase will be campus-based and will begin this fall.
Williamson said partnering with the Community Foundation helps make it possible for Southeast Tech to step forward and open more doors.
"One example — some people who are interested in going into the nursing field need to take the TEAS exam, a preliminary placement test. The test costs $75. That cost is a barrier that, for some people, is a 20-foot wall. We made the decision that if there were students who had difficulty paying for the test, the Southeast Tech Foundation would cover the cost. The annual support we receive from our endowment held at the Community Foundation allowed us to respond and problem-solve that situation. Because of the support the Foundation provides, we can be nimble and innovative to serve the needs of students, to meet the needs of area employers, and to strengthen our region," Williamson said.
Patrick Gale serve as the Foundation's vice president for Community Investment. He called the Foundation's collaboration with Southeast Tech a "win-win."
"From working with industry leaders to develop relevant academic programs that meet the needs of our workforce, to preparing students for meaningful careers in those fields, Southeast Tech has been a key driver of economic development across our area for more than 50 years," Gale said. "It's an honor for the Community Foundation to help this important organization work toward its mission."