Collaborating For a Brighter Tomorrow
A New Chapter in Philanthropy
For Tim and Nancee Sturdevant, retirement marks the beginning of a new chapter, which includes new opportunities to make a difference through philanthropy and community-building.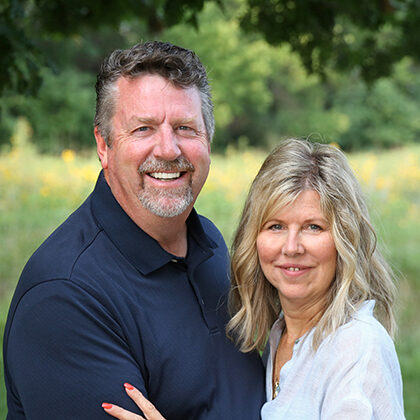 Odds are, when most of us think of retirement, we think about slowing down a bit.
That's not the case for Tim and Nancee Sturdevant.
In fact, this local couple sees their retirement as the beginning of a new chapter — a chapter which includes new opportunities to make a difference through philanthropy and community-building.
The transition feels natural, Nancee said, since giving back has always been central to their lives, both professionally and personally.
Tim previously served as president of Sturdevant's Auto Parts, a company well known for its philanthropic efforts, including corporate charitable giving in communities throughout its five-state service area. Wanting to take the business to the next level, last December Tim announced he was selling Sturdevant's to Auto Parts Headquarters, a third-generation, family-owned auto parts distributor based in St. Cloud, Minnesota.
Nancee has served in leadership roles for human service organizations throughout her career, including the Helpline Center and EmBe, and has also spent time spearheading different volunteer efforts throughout the community, even serving as a member of one of the Foundation's grants committees.

To know that your gift can make a difference, that it can make an impact in someone's life — that's life-changing not only for those who are receiving the gift, it's life-changing for the giver as well.

— Nancee Sturdevant
"Giving back has always been important to us," Nancee said. "We've seen the joy, and felt the joy, that philanthropy brings. We love this community and want to do what we can to make it an even better place. We're excited to explore new aspects of philanthropy as we begin our retirement."

Caring for Our Community

Businesses, individuals and families with a Donor Advised Fund at the Community Foundation distributed more than $19 million to nonprofits and causes throughout our area last year.

Interested in establishing a donor advised fund? Call us at 336-7055 to get started.
After announcing the sale of Sturdevant's, the couple turned to the Community Foundation to establish their charitable giving plans. Today, they have a donor advised charitable fund and an endowment fund at the Foundation.
"When we sold the company, it was just a no-brainer that we wanted to start working with the Foundation," Tim said. "The reputation of the Foundation, the caliber of the people here and their expertise. It's so easy. And the help we get with managing our funds has been great."
The couple also chose the Foundation because of a desire to involve their children and future generations of their family in their philanthropic pursuits.
"We really appreciate the opportunity, working with the Sioux Falls Area Community Foundation, to deepen our outreach and make an even greater difference. As our kids were growing up, we tried to role model the importance of philanthropy. But now, working with the Foundation, we see so many opportunities for our children to be more deeply involved in our family's philanthropy," Nancee said. "And, God-willing, maybe someday our grandchildren will be helping with the endowment and making decisions with that. There are many new opportunities to give back as we begin this next chapter in our lives and it's meaningful to know our family legacy will live on to help future generations."
Photo at top by Paul Schiller, Acts of Nature.