The Veterans Community Project is designed to help veterans heal, rebuild and find peace.
Made possible thanks entirely to philanthropic support, this special place is a symbol of honor, gratitude and unity — reminding us that every hero deserves a place to call home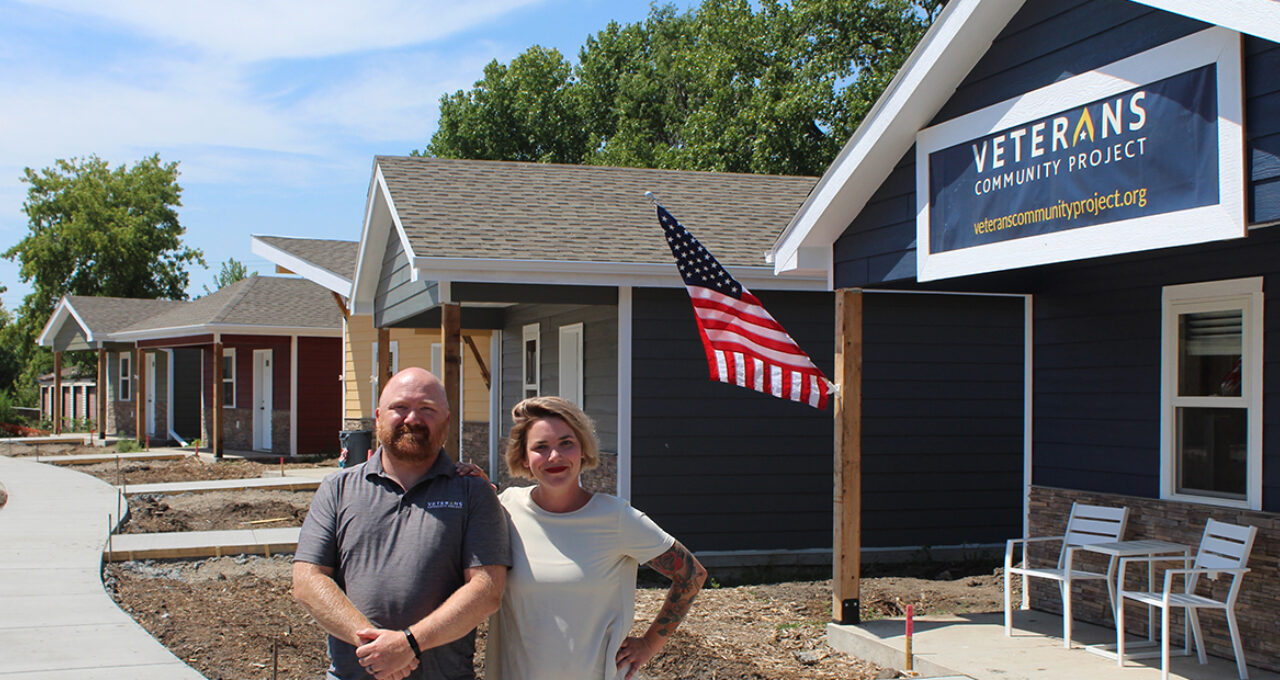 The Veterans Community Project (VCP) was founded in 2016 by combat veterans in Kansas City, Missouri, after volunteers counted more than 33,000 veterans who were experiencing homelessness across the U.S. The mission of the nonprofit is "to support every man and woman who took the oath for our country."
In Sioux Falls, the Veterans Community Project officially began serving veterans in September.
Located on two acres in the northwest part of the city, the VCP will provide veterans with a place to call home and, once completed, its Village Center will also provide wraparound services to equip veterans with the tools they need to return to stable, prosperous and independent lives. In the Village Center, veterans will be able to access resume-writing workshops, mental health support services, counseling, cooking classes, yoga, and more.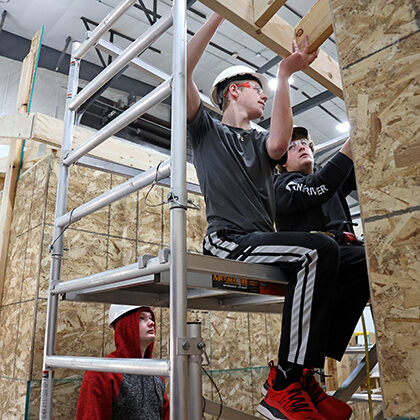 The homes — eight of which were built by students in the Residential Construction class at Harrisburg High School — are thoughtfully planned to accommodate residents who may be dealing with conditions such as PTSD and anxiety. For example, beds face the main doors and interior doors don't extend to the floor or ceiling in order to provide better sound flow. Some of the homes are ADA compliant and family units can house up to six people.
Harrisburg students Zyen Hovdestad and Carson Christensen helped on the construction of the homes.
"I have a lot of respect for veterans," Hovdestad said. "This project is great because it gives veterans a new beginning."
Christensen agreed. "My grandfathers were both veterans, so I know the sacrifice," he said.
For Eric Gage, executive director of the VCP in Sioux Falls, the project is all about community. "Here, veterans have a chance to rebuild their lives in a neighborhood filled with their veteran brothers and sisters," Gage said.
Serving Every Veteran
According to research, the veteran population is at an increased risk for mental health issues, physical illness, substance abuse, and unemployment. These risk factors make veterans twice as likely to become chronically homeless.
It's also why many veterans fall through the cracks, Gage said. "There's a lot of federal funding available to nonprofits who serve veterans who are eligible for VA benefits, but not for nonprofits who serve the 40% of vets who are ineligible for VA benefits. Those are the vets who are being left behind," Gage said. "We serve every veteran, regardless of their time of service and discharge status."
A Pathway to Success
The VCP is designed to provide veterans with a pathway to success. Everything is free to veterans during their stay, from the use of the home, to food and case management services. In exchange for their stay, each veteran is graded on their use of, and success with, the VCP's five pillars: health and well-being, income stability, fiscal understanding, education and training, and a network of support.
It's all in an effort to help veterans move from homelessness to hopefulness. And it's working.
Gage said the VCP model has an 85% success rate of successfully placing veterans in stable housing within 10-14 months (compared to a 40% success rate over two years from other transitional housing solutions).
For Gage, seeing the Sioux Falls community step forward to support the project has been especially meaningful.
"We've had such great support — from students and builders helping with the construction, to those who've donated furnishings, to those who've made gifts in support of the project — many from charitable funds held at the Sioux Falls Area Community Foundation. It's really special to see how Sioux Falls has stepped forward to support our veterans."