His philanthropic leadership and spirit of collaboration have ignited ripples of positive change, and his transformational generosity has reshaped the destiny of our community.
T. Denny Sanford's story reminds us that the most profound legacies are created not by what we build for ourselves, but by the lives we impact along the way. Join us in celebrating our 2023 Friend of the Foundation honoree.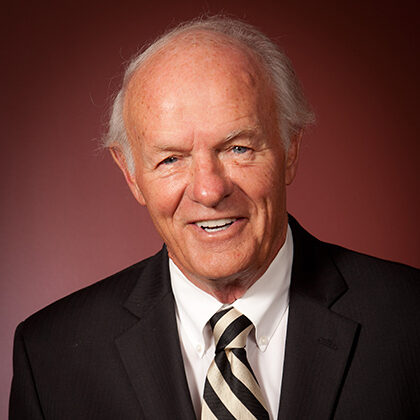 It's almost impossible to measure the impact of T. Denny Sanford's philanthropy.
His generosity has transformed health care and advanced medical research, opened doors for those in need, created possibilities for students, and fostered joy through the arts. The breadth and depth of his philanthropy has touched the lives of people from all ages and has enriched our area in beautiful and meaningful ways.
For our community, he is, without question, the most impactful philanthropist of our time.
"The impact of Denny's philanthropy on our community is simply profound," said Andy Patterson, president of the Sioux Falls Area Community Foundation.
"Through his giving, he's been an architect of hope for Sioux Falls. Our community would not be the strong and thriving place it is today without his generosity. His giving has touched the lives of thousands in truly meaningful ways — and it will continue to do so for generations to come."
"Denny's legacy will be defined by his leadership, his commitment to innovation and collaboration, his passion for giving, and the wonderful ways in which he has inspired the spirit of giving in others. We couldn't be more honored to name him our 2023 Friend of the Foundation award recipient."
For more than 27 years, the Friend of the Foundation Award has recognized philanthropic individuals, families or businesses whose innovative and collaborative leadership and consistent generosity have impacted the Sioux Falls area and those who call it home.

The award will be presented at the Foundation's 2023 Donor Reception this fall.

Reflecting on a Legacy of Giving
We caught up with Sanford to learn more about the inspiration behind his giving, his fondest philanthropic memories, and his hopes for the future.

Friend of the Foundation Honorees

2023: T. Denny Sanford
2022: Steve Hildebrand
2021: Paul and Mary Ellen Connelly
2020: Garry & Dianne Jacobson
2019: Bill & Lorrae Lindquist
2018: Sue Brown*
2017: Al Schoeneman
2016: Jerry & Mary Pat Sweetman
2015: Miles & Lisa Beacom
2014: Paul & Koni Schiller
2013: Stephen & Mary Lynn Myers
2012: Tom & Barb Everist
2011: Helen Madsen
2010: Joe & Elaine* Floyd
2009: Jeff & Katie Scherschligt
2008: Steve & Allison Garry
2007: John & Eileen Quello
2006: Karl* & Margaret Cash Wegner
2005: Jerry & Pat Walton
2004: Tom & Mary Jane Reardon*
2003: Dale & Dorothy Weir*
2002: The First National Bank in Sioux Falls
2001: Sarah Richardson Larson
2000: Dick & Barbara Auld*
1999: John Foster*, Larry Ritz*
1998: Dan & Arlene Kirby
1997: Marvin K. Bailin*
1996: Bill Barlow*

*Deceased
Q. Can you share what or who first inspired your spirit of giving?
A. Although my father had a very modest income, he was one of the most giving people I've ever met. He was philanthropic. Sometimes I thought he was a little too philanthropic with my allowance, but he really became my inspiration for giving.

Q. You've done so much for Sioux Falls. Can you share why this area is so special for you?
A. Like many in the financial services industry, I originally came to Sioux Falls because of the tremendous business climate. South Dakota's business-friendly atmosphere and its hard-working people allowed my business to prosper and flourish. I have always been thankful for that.
I was raised in a nice city, St. Paul, but I quickly discovered that Sioux Falls was a special place. It's a great place to work, live and play; and it's located in a great state. The people here are wonderful. They have a work ethic like no other and their value system is like nothing I have witnessed in other parts of the nation.
Q. Is there a certain gift that means the most to you? Or a gift you're most proud of?
A. There are two gifts that come to the top of my mind. The first is my initial gift to Sanford Health. That organization means so much to me and it benefits so many people and families in this area. Its accomplishments in medical research and family health care have inspired me to continue giving and continue making our community strong.
The second gift that makes me incredibly proud is the initial funding for my Harmony Program, an effort that provides teachers with the tools to advance social-emotional development among students in grades Pre-K through 6. The exercises and activities emphasize communication, empathy, critical thinking, collaboration and problem solving skills. The results have been tremendous. Today, 22 million children have been involved in the Harmony Program through their schools.
Q. Your gifts to Sanford Health have been truly transformational — expanding and enhancing patient services, sparking medical education and research, creating jobs and fueling our economy, and, perhaps most importantly, offering individuals and families hope and healing through world-class health care. As you reflect on how Sanford Health has grown and changed since your initial gift, how does it make you feel to see the extraordinary impact of your giving?
A. I am trying to live a life of significance by giving back to my community, and it's a wonderful feeling knowing that I can make a difference.
Looking back, I was kid who was raised on the wrong side of town in St. Paul. Now, I have the ability to make a positive impact on my community. That's wonderful — just wonderful.
Q. In Sioux Falls, we can see the impact of your philanthropy across so many sectors — health care, education, youth, community. How did you ultimately land on those areas of focus for your giving?
A. I look at giving in a similar manner to the way I look at business. I'm a "Return on Investment" kind of guy. When you look at an investment in health care, in young people, education and community, there are no greater areas in terms of the potential return. In my opinion, these are areas where a charitable investor can get the biggest "bang for his buck." My hope is that these investments will continue to have a positive return for generations to come.
Q. We believe your legacy will be one of care and compassion for others — a legacy that will no doubt live on through your philanthropy. From the standpoint of philanthropy, how do you want others to remember you?
A. I hope that people remember me as a good person who helped make a difference in his community. One of my favorite sayings is, "Aspire to inspire, before you expire." If I can inspire others to give back to their community, that would be a wonderful legacy.