Welcome to Rock Ranch, where ropes and reins symbolize the power of trust, where the bond between humans and horses is unbreakable, and where healing begins with each hoof print.
Buoyed by philanthropy and an endowment at the Sioux Falls Area Community Foundation, this special nonprofit is creating stories of resilience and transformation for those from every generation.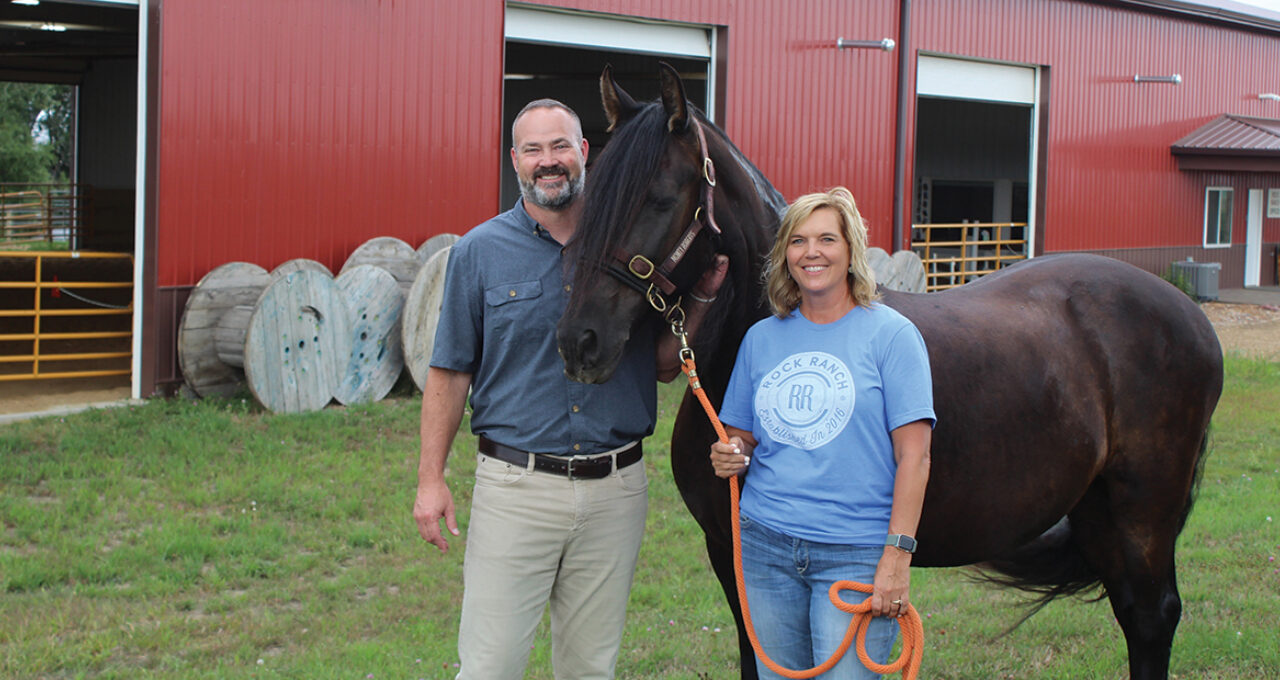 Just east of Sioux Falls, down a gravel road bordered by farm fields and sunflowers, there's a place where wounded hearts are mended, where shattered confidence is restored, and where those who are lost can begin to find their way forward thanks to the healing power of horses.
Rock Ranch was founded in 2016 by Dan and Marie LaRock with a mission to help people of all generations improve physically, cognitively, socially and emotionally while learning the art and skills of horsemanship.
It's a mission that's changing lives every day.
Equine Therapy: The Healing Power of Horses
As a founding certified member of Arenas for Change (ARCH) and Horses for Mental Health (HMH), and with additional certification in Equine Assisted Growth and Learning Association (EAGALA), Marie LaRock leads the programming efforts for Rock Ranch.

With a background in speech therapy and a love for animals big and small, Marie believes that horses have the ability to sense the unspoken struggles and fears that burden us all.

It's just one reason, she says, why equine therapy is so powerful.

Horses are so intuitive. They're in tune to everything that's going on around them. They don't miss a beat. So if you can allow yourself to be still and observe a horse, you realize they're seeing everything — they can completely focus on everything that's going on around them.

— Marie LaRock, Rock Ranch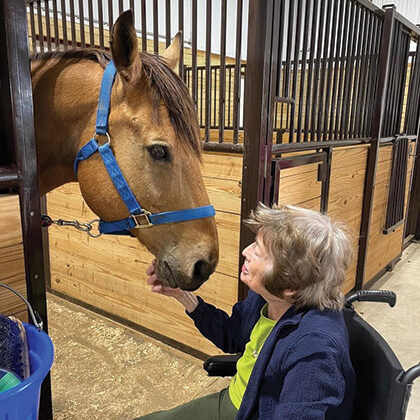 "Human beings are so distracted. When we allow ourselves to be still with a horse and let ourselves be open to exploring that stillness, it can be life-changing," she said, explaining that while many people respond well to traditional talk therapy, others such as veterans, trauma survivors, children with challenges, and troubled teens can gain insight by doing and talking."
Healing can happen in positive, meaningful ways by spending time with a horse, by learning to care for a horse, and by learning to ride.

In addition to equine therapy and programs for seniors, Rock Ranch also offers riding programs for kids of all abilities. Along with teaching horsemanship skills and building confidence, these programs help promote understanding and compassion.
"One example is how kids with autism will ride with kids who don't have autism. The kids learn to embrace their differences. They learn acceptance. They learn to see and recognize that everyone has different gifts," Marie said.
Collaboration and Partnership
Since its founding, Rock Ranch has grown each year. In 2022, the nonprofit provided more than 700 lessons through its RideRockRanch Program and hosted another 400 people through its Senior Saddles, Girl Scouts and Women's Programs. Its success is a testament to the collaboration of its owners.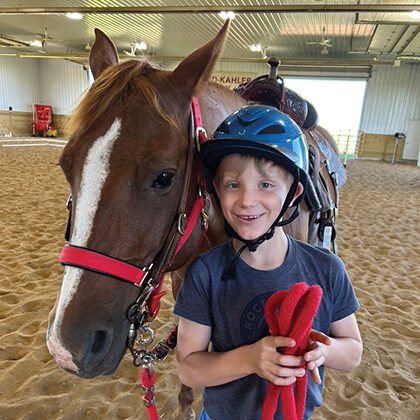 "Marie's mind created all the beautiful things that became part of Rock Ranch's service and delivery. The reason we have a waiting list as long as our arms is because those programs are so awesome," Dan explained. "My mind works toward the management, marketing, finance, strategic development and organizational structure."
With a focus on continued growth and long-term planning, the couple made the decision to establish an organizational endowment at the Sioux Falls Area Community Foundation.

"We believe an endowment will help with future operational costs and will help us reach a level of sustainability for the future," Dan said.

"The Foundation not only knows and understands how our programs impact people, their expertise and experience has also been valuable as we've worked to advance the mission of Rock Ranch. They're a great partner."
Learn more about Rock Ranch at riderockranch.org.
---
The Sioux Falls Area Community Foundation is proud to serve as the steward of organizational endowments for area nonprofits. With an organizational endowment, nonprofits receive administrative and professional management expertise, achieve greater investment performance and diversity, and secure protection for future use. Learn more and meet our organizational endowment partners.