Youth Advisory Council Issues Call for Proposals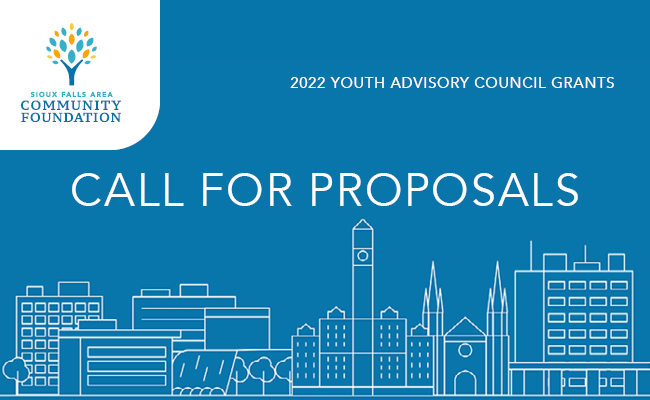 The Sioux Falls Area Community Foundation's Youth Advisory Council has announced a call for proposals for its 2022 grant-making season.
Proposals are requested from 501(c)(3) tax-exempt or governmental organizations dedicated to serving youth in the Sioux Falls area. Proposals must outline the organization's efforts to serve area youth (defined as ages 0-18) who are impacted by one of the following:
Mental and Physical Health
Substance Abuse
Access to Education
"After an analysis of current community needs, we identified mental and physical health, substance abuse and access to education as three significant issues impacting youth throughout our area," the Council said. "We see the ability to maintain one's mental and physical health and well-being as an ever-increasing issue impacting kids throughout our community; we see substance abuse as an urgent and growing issue among our middle and high school communities; and we see access to education — from preschool through higher education — as a barrier to success for so many across our area."
"Our goal is to focus on these issues and provide philanthropic support for nonprofits working to solve these complex challenges."
Proposals are due by Friday, April 8. Submit your proposal online today.
About the Youth Advisory Council
Teens from Sioux Falls Roosevelt, Lincoln, Washington and Jefferson high schools are participating in the 2021-22 Youth Advisory Council. The program is designed to provide teens with opportunities to explore and assess the most pressing needs of our community, meet with professionals to raise support for neighborhood causes, and participate in local grant-making efforts.
The program is facilitated by YouthRoots, a nonprofit dedicated to youth empowerment.

2021-22 Youth Advisory Council Members
Hala Abdalla, Washington High School

Tesfamichael Assefa, Jefferson High School
Rachel Bruggeman, Lincoln High School
Faith G, Roosevelt High School
Michael Grismer, Roosevelt High School
Taylor Johnson, Lincoln High School
Taggert Lamb, Roosevelt High School
Angeth Mayen, Jefferson High School
Kirsten McFarling, Washington High School
Laura Santos-Elvires, Washington High School
Ellie Shane, Lincoln High School
Zachary Wrightsman, Lincoln High School